Posted March 21, 2012 on AP on Fox
PLAYERS:
Ryan Howard
,
Chase Utley
,
Hunter Pence
,
Roy Halladay
,
Chris Carpenter
,
Cole Hamels
,
Cliff Lee
,
Roy Oswalt
,
Vance Worley
,
Joe Blanton
,
Jonathan Papelbon
,
Charlie Manuel
,
Jim Thome
,
Freddy Galvis
,
Placido Polanco
,
Jose Reyes
,
Heath Bell
,
Mark Buehrle
,
Carlos Zambrano
,
Jimmy Rollins
,
Ryan Madson
,
Ty Wigginton
,
Laynce Nix
,
Scott Podsednik
,
Juan Pierre
,
Ruben Amaro
TEAMS:
Philadelphia Phillies
,
St. Louis Cardinals
,
Miami Marlins
,
Atlanta Braves
,
Washington Nationals
,
Cincinnati Reds
,
New York Yankees
,
San Francisco Giants
The Philadelphia Phillies have reached the point where they will be judged on whether they win their last game. Anything less is unacceptable. Five straight division titles, two National League championships and one World Series victory have raised expectations to enormous proportions. It's all-or-nothing in Philadelphia, though key injuries may give the Phillies some kind of an excuse this season. With opening day two weeks away, the Phillies are without their Nos. 3-4 hitters: Ryan Howard and Chase Utley. Howard is recovering from surgery on his left Achilles and may be out until June. Utley has chronic knee problems, and his return is uncertain. Can the World Series-or-bust Phillies win without the five-time All-Star second baseman and their former MVP first baseman? ''I think it'll be tough, but of course we can win,'' general manager Ruben Amaro Jr. said. ''We've had bumps in the road like this before. There's not a lot of offense, h...
Original Story:
http://msn.foxsports.com/mlb/story/Wi...
THE BACKYARD
BEST OF MAXIM
RELATED ARTICLES
So we've learned that Chase Utley probably won't be ready for Opening Day, a reality many of us assumed but wanted badly not to hear this season.In the last episode of Phillies Nation TV, Pat asked why Utley hadn't yet seen an inning in the field or a plate appearance against live pitching. It was a valid question that offered more and more room for pessimism the longer you...
It's the latest edition of Phillies Nation TV with Pat Gallen, Corey Seidman, and Natalie Egenolf. On this weeks episode, the talk is about Chase Utley's knees and the dreaded microfracture word. Also, Pat was in Clearwater for Spring Training and got a chance to talk with Ryan Lawrence of the Delco Times and Kevin McAlpin, Braves Beat Reporter from 680 the Fan in Atlanta.Lawrence...
According to a recent story by the Courier-Post, chronic knee pain could end Chase Utley's career. Utley, who left the Philadelphia Phillies spring training camp on Monday to see a knee specialist, has been suffering from a combination of damaged cartilage and severe tendinitis in both knees. "I worry about Chase because it's a chronic knee problem," Phillies GM Ruben Amaro...
Ryan Howard, Phillies 1st Baseman, has been cleared to stop using a walking boot. This is the first step in Howard getting back to the Phillies. After what has seemed like an unending litany of bad news out of Clearwater from the Philadelphia Phillies, finally comes some good news. Slugger Ryan Howard, who has been recovering from a ruptured Achilles tendon and then an infection...
Philadelphia Phillies injured first baseman Ryan Howard shed a boot on his left foot and fielded grounders on a stool on Thursday. Howard suffered a setback on his surgically repaired left Achilles tendon on Feb. 27, but was cleared to begin light exercises. There is no expressed timetable for the return of Howard, who suffered the injury during the final out of the team's...
Last season, Chase Utley opened the season on the disabled list due to knee tendinitis. He would miss 46 games. Now, reports are surfacing at CSN Philadelphia that the 33-year-old second baseman has left Phillies camp to see a specialist for his continually sore knees. It's now considered "likely" Utley will begin the season on the disabled list, putting the Phillies' entire...
Phillies' second baseman, Chase Utley, has been battling a knee injury this Spring. Right now, young prospect Freddy Galvis is expected to be the Phillies' second baseman on Opening Day. Todd Zolecki of MLB.comsays that Utley could be out "indefinitely," but the team has no plans to look for a replacement outside the organization, or at least not yet. The problem with...
Have you already penciled the Phillies in atop your projected NL East standings? Well, you might want to find an eraser. Ryan Howard is going to miss the first two months of the season while recovering from the Achilles injury he suffered last October, and it now appears that Chase Utley will be joining him on the disabled list with recurring knee woes. Roy Halladay, Cliff Lee...
It has become a war of attrition at second base in Philadelphia. On Monday, we heard that Phillies second baseman Chase Utley has plateaued in his rehab. He is not expected to be healthy by Opening Day. To make matters worse, utility infielder Michael Martinez broke a bone in his foot after being struck by a pitch from Orioles' reliever Jim Johnson on Tuesday afternoon. The 29...
Chase Utley, Philadelphia Phillies (Bilateral Knee Soreness) Both of Utley's knees are in pain. They likely degenerated further from his 2011 condition despite modifications to his strength and conditioning program. Last year, the second baseman dealt with chronic patellar tendinitis and trouble with the cartilage on the back of the kneecap. The patellar cartilage has very little...
Just a head's up, the GMs are currently recovering from a long, long weekend (our best friend got hitched at the Stoudt's Brewery in Adamstown...) and are neck deep in actual work because a few weeks ago we lost most of our advertisers because we called Jose Reyes a "slut" and had to get real jobs to make our child support payments. So, bear with us the next few...
  The Phillies say they aren't seeking a replacement for second baseman Chase Utley, who left the team Monday to be evaluated by a specialist.   But their latest injury – a broken bone in infielder Michael Martinez's foot – almost certainly means that the team will pursue a utility man.   Martinez suffered his injury Tuesday when he was hit by a pitch in a Grapefruit League...
MLB News

Delivered to your inbox

You'll also receive Yardbarker's daily Top 10, featuring the best sports stories from around the web. Customize your newsletter to get articles on your favorite sports and teams. And the best part? It's free!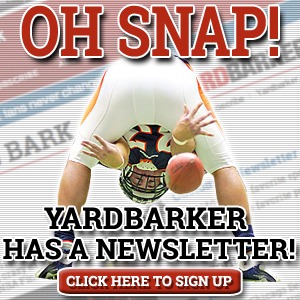 Latest Rumors
Best of Yardbarker

Today's Best Stuff

For Bloggers

Join the Yardbarker Network for more promotion, traffic, and money.

Company Info

Help

What is Yardbarker?

Yardbarker is the largest network of sports blogs and pro athlete blogs on the web. This site is the hub of the Yardbarker Network, where our editors and algorithms curate the best sports content from our network and beyond.