Found September 22, 2012 on Bronx Pinstripes:
PLAYERS:
Eduardo Nunez
,
Ivan Nova
,
Stephen Drew
,
Clay Rapada
,
Derek Lowe
,
Boone Logan
,
Cody Eppley
,
Joba Chamberlain
,
Freddy Garcia
,
Justin Thomas
,
Cory Wade
,
Travis Blackley
,
Ichiro Suzuki
,
Alex Rodriguez
,
Robinson Cano
,
Nick Swisher
,
Andruw Jones
,
Raul Ibanez
,
Eric Chavez
,
Melky Mesa
,
Brandon Moss
,
Tyson Ross
,
Jonny Gomes
TEAMS:
Oakland Athletics
,
New York Yankees
Oakland Athletics 9 — New York Yankees 10 (14 innings)   In an unlikely series of events, Eduardo Nunez brought in the winning run on an error in today's 10-9 win over the Oakland Athletics in 14 innings.   Ivan Nova started today's marathon of a game and was not good. In just 2.1 innings, Ivan Nova gave up 3 runs on 5 hits. Nova opened the game with 3 consecutive doubles and 2 runs. He would also give up a home run to shortstop Stephen Drew to leadoff the 3rd. Nova would issue 2 walks and a single before being taken out of the game with 1 out and the bases loaded. The bullpen would take on a tremendous workload and Clay Rapada was called on first. The left-hander would induce a double play and get out of the jam. Rapada would start the 4th inning with a hit batter and 2 singles, giving up a run, before striking out his next 2 batters and letting Derek Lowe take it to the mound next. Derek Lowe would pitch 2.2 innings of solid work, and would exit in the 7th inning with 1 on and Boone Logan taking over with the lead at 1. A single and a sacrifice fly would bring in the tying run before Logan gets out of the inning. Logan would get 2 outs in the 8th inning but would leave with the bases loaded with Cody Eppley facing Yoenis Cespedes. Eppley would get the only batter he faced to fly out and keep the game tied. Joba Chamberlain pitched an outstanding 9th inning by getting 2 strikeouts. Freddy Garcia would be brought in for 3 innings of relief in extra innings, his first appearance since his September 9th start in Baltimore. Garcia would start the 13th inning but would not be touched up for 3 runs on 2 home runs. Reliever Justin Thomas would also give up a home run before he would get out of the inning. In an unlikely turn of events, Cory Wade would be needed in the 14th inning and would get the 3 outs needed to get the win in this unbelievable game.   The offense got to starter Travis Blackley quick and waited him out. Ichiro Suzuki put the first run on for the Yankees with a laser of a home run into right field. It seemed like Blackley lost command of his breaking ball as he would walk Alex Rodriguez on 4 pitches and would throw 3 more balls to Robinson Cano before he would hit a 3-2 pitch for a run-scoring single. Nick Swisher would walk again. The problem with walks is that the defense also becomes stagnant and are more prone to errors as the third baseman would commit an error that could have ended the inning but instead required more pitches from Blackley. The next 4 pitches he threw would walk Andruw Jones with the bases loaded as he would give up 3 runs in the 1st inning. Blackley continued to be erratic as a run would come in on a wild pitch following another error. In the 5th inning, Raul Ibanez would be asked to pinch-hit in a tie game and hit a home run into deep right to put the Yankees ahead. The Yankees had a chance to break the 5-5 tie in the 6th inning but Robinson Cano would hit into a double play following the intentional walk of Alex Rodriguez. There would be another opportunity in the 7th inning with runners on 2nd & 3rd with 1 out but a pop out and a strikeout would end that threat too. Raul Ibanez would get to 3rd in the 12th inning but, with the infield in, he was caught at home and extend the game further. After giving up 4 runs in the 13th inning, the Yankees didn't put their head down and give up but fought on in an amazing rally. The Yankees opened the bottom half of the 13th inning with 3 consecutive singles, putting the tying run coming to bat. A wild pitch and a sacrifice fly would bring in 2 runs before Raul Ibanez would deliver an amazing game-tying, 2-run home run. The game would continue into the 14th inning and it started with an Eric Chavez single. Pinch-running for Chavez was rookie Melky Mesa, making his major league debut. After moving over to 2nd, Ichiro Suzuki gets walked for Alex Rodriguez. On a single to right center, Melky Mesa would score but when running to 3rd, he missed the base and was forced to scramble back. Robinson Cano would ground out back to the pitcher, forcing Mesa at home and seemingly set into motion more innings of baseball. Eduardo Nunez came up with the bases loaded and hit a ground ball to first baseman Brandon Moss who mishandled it and would create a walk-off error. Unbelievably, Eduardo Nunez was on the beneficial end of an error in this marathon game.   The Yankees clearly had numerous opportunities to win the game and hit 4 for 17 with runners in scoring position. They benefited from poor defense and poor pitching and managed to get this win after persevering through a 3 home run outburst in the 13th inning.   Win – Cory Wade (1-1) Loss – Tyson Ross (2-10)   Notables Athletics *Yoenis Cespedes – 2 for 5, 2 R, 2 BB, 2B, Solo Home Run (20) in the 13th, 2 RBI (75) *Jonny Gomes – 1 for 1, R, 2-Run Home Run (17) in the 13th, 2 RBI (45) Yankees *Raul Ibanez – 3 for 4, 2 R, 2B, 2 HRs (17; Solo & 2-Run) in the 5th & 13th, 3 RBI (56) *Ichiro Suzuki – 3 for 5, 2 R, 2 BB, Solo Home Run (9) in the 1st, RBI (51)   Current Yankees Record: 88-63
Original Story:
http://bronxpinstripes.com/game-day/y...
THE BACKYARD
BEST OF MAXIM
RELATED ARTICLES
SAY IT ISN'T SO
When asked if he could envision himself leaving his long-time team like Peyton Manning did this season, Yankees captain Derek Jeter didn't necessarily rule it out.
Sometimes, it's better to be lucky than good. Ichiro Suzuki has been a little bit of both lately, but it's hard to argue he was being "good" when he lightly tapped a grounder back to the mound off A's starter Jarrod Parker on Friday. Then, the "lucky" took over. The ball somehow found its way into Parker's jersey, and the right-hander was unable...
Oakland Athletics 1 — New York Yankees 2 (10 innings)   Russell Martin walks off in the 10th inning of tonight's win over the Oakland Athletics.   The Yankees turned to CC Sabathia to continue the winning ways and he gave them the effort fitting of an ace. Sabathia didn't give up his first hit in the 6th inning. Through 8 innings, Sabathia would give up just 3 hits and 2...
How hot is Ichiro Suzuki? He got a shirt hit compliments of the A's Jarrod Parker last night. Why not click the Google +1 & the retweet buttons? **Follow us on Twitter. Subscribe, or Return... Full story at Bob's Blitz ~ http://www.bobsblitz.com
Raul Ibanez hit his second home run of the game during a startling rally in the 13th inning, then the New York Yankees won a thriller when first baseman Brandon Moss' two-out error in the 14th lifted them over the Oakland Athletics 10-9 Saturday. The AL East leaders came back to hold their one-game edge over Baltimore. Down 9-5 in the 13th, the Yankees won for just the second...
NEW YORK -- The ball soared off Alex Rodriguez's bat in the bottom of the ninth, flying deeper and deeper to right field, threatening to tie the game for the New York Yankees. As the Oakland A's tracked the ball's flight, the memories of the past two games could easily have flown through their heads. Two nights before, Russell Martin sent the Yankees home with a game...
We would have had pie, but the Yankees gave away the guy who brought the pie, because everybody knew they had too much pitching and didn't need a guy who would be one of the best pitchers in the National League, but then again, everybody knows he wouldn't have been any good if he stayed with the Yankees, so it was really wise to trade him for absolutely nothing. But it&...
NEW YORK -- After watching the New York Yankees' four-run rally in the 13th inning lead to an epic loss in the 14th on Saturday, the Oakland A's struck back after New York's latest comeback Sunday. No. 9 hitter Cliff Pennington had three hits, including a home run and three RBIs, and he drove in the eventual game-winning run as the A's eked out a 5-4 win at Yankee...
It's OK to admit it...there's a part of you that is actually pulling for the Orioles to take the American League Eastern Division from the Yankees...even if it means the Red Sox have to lose to Baltimore in the process.So while the Yankees beat the A's 2-1 on a 10th-inning home run by Russell Martin, the Red Sox lost to Baltimore 4-2 at Fenway to keep the O's a game...
NEW YORK -- Russell Martin has had a frustrating season, spending much of it under the .200 mark in batting average. But he has been a valuable September asset for the New York Yankees, and on Friday night he had the kind of hit that can wipe out months of hitting futility. Martin led off the 10th inning with a home run to lift the Yankees to a 2-1 victory over the A's in the...
Mike Francesa hates Twitter so he'll help spread the Robinson Cano rumor himself, OK? Why not click the Google +1 & the retweet buttons? **Follow us on Twitter. Subscribe, or Return to... Full story at Bob's Blitz ~ http://www.bobsblitz.com
Just how far can playing the matchups on free agency take you? Could a full season of waiver wire-caliber second basemen equal a year's worth of Neil Walker? Those are the questions we seek to answer with another edition of our Spot Start Squad. Expanded Notes There are a lot of new names on today's edition of the Spot Start Squad, and that begins at catcher with Josh Donaldson...
MLB News

Delivered to your inbox

You'll also receive Yardbarker's daily Top 10, featuring the best sports stories from around the web. Customize your newsletter to get articles on your favorite sports and teams. And the best part? It's free!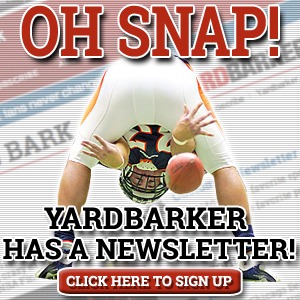 Latest Rumors
Best of Yardbarker

Today's Best Stuff

For Bloggers

Join the Yardbarker Network for more promotion, traffic, and money.

Company Info

Help

What is Yardbarker?

Yardbarker is the largest network of sports blogs and pro athlete blogs on the web. This site is the hub of the Yardbarker Network, where our editors and algorithms curate the best sports content from our network and beyond.