Found February 05, 2013 on ChadMoriyama.com:
PLAYERS:
Clayton Kershaw
,
Matt Kemp
,
Adrian Gonzalez
,
Hanley Ramirez
,
Luis Cruz
,
AJ Ellis
,
Andre Ethier
,
Mark Ellis
,
Carl Crawford
,
Tim Federowicz
,
Alex Castellanos
,
Nick Punto
,
Skip Schumaker
,
Alfredo Amezaga
,
Juan Uribe
,
Elian Herrera
,
Joc Pederson
,
Felix Hernandez
,
Zack Greinke
,
Chad Billingsley
,
Josh Beckett
,
Chris Capuano
,
Aaron Harang
,
Brandon League
,
Kenley Jansen
,
Ronald Belisario
,
Javy Guerra
,
Matt Guerrier
,
JP Howell
,
Ted Lilly
,
Chris Reed
,
Zach Lee
,
Matt Magill
,
Stephen Fife
,
Shawn Tolleson
,
Scott Elbert
,
Steven Ames
,
Paco Rodriguez
,
Frank McCourt
,
Ned Colletti
,
Scott Van Slyke
,
Jerry Hairston jr.
,
Hyun-jin Ryu
TEAMS:
Los Angeles Dodgers
,
Seattle Mariners
The 2013 projection for the Dodgers from Dan Szymborski's ZiPS system was released last week, and given that it's probably my favorite forecasting tool, it's worth a look to see how the team fared. Forecasting is not a complete science, obviously, and I'll address some of the potential pitfalls as we go along, but it's better to use objective tools like these than the hopes/dreams of fans or the bitterness/wishes of haters. To start us off, how does the team fare, generally speaking? A solid playoff contender, for sure, but a super team? Doesn't seem likely. —– The Field Players Despite all the hype over the recent acquisitions, the key cogs in this machine are still Clayton Kershaw and Matt Kemp. It's a promising sign then, that Kemp projects at a 144 OPS+ and the system has confidence in him continuing to put up offensive numbers in the ~.900 OPS range. His defense in center still lags below average, but his bat more than makes up for it. His playing time projection has dropped due to his injury woes last season, and quite frankly, it's hard to fault it for that. Regardless, he still figures to be the most valuable field player on the team. Adrian Gonzalez is slated to be another bright spot, as ZiPS pegs him to bounceback a bit, though not as much as some want, clocking in at an ~.830 OPS/128 OPS+. That would still be his lowest OPS+ since 2008 (besides 2012, of course), but it's a marked improvement considering his age and negatively trending skills. A-Gon compensates for that lagging bat a bit by putting up plus defense almost worth a win by itself. Hanley Ramirez factors in as yet another bounceback candidate, projecting at a 115 OPS+, which is an upgrade over last year's 106 and is closer to his pre-2011 production. Defensively, even his horribad -8 run defensive rating is optimistic to me, as he was truly terrible with the glove last year. Given that I already wanted to barf seeing him trying to turn a double play in 2012, I wouldn't be surprised at all to see him put up horrid defensive numbers after basically not playing the position all of spring. Unfortunately, that's where a lot of the offensive optimism ends. Luis Cruz checks in at 84 OPS+ (106 last year), which will anger many fans, but is completely reasonable given the track record. He remains valuable through plus defense, though given the sample size, there's reason to be skeptical there as well. A.J. Ellis at 96 OPS+ (118) is another depressing but completely logical projection, as evidenced by everybody's surprise in 2012 at his potent bat. Andre Ethier at 112 OPS+ (123) is hard to figure for me, because he has been consistently putting up ~120 OPS+ seasons even if it has come down from the ~130 OPS+ range two years ago. I suppose the projection system thinks he'll get old in a hurry … or maybe it just thinks he'll face an inordinately high amount of lefties. Mark Ellis at 81 OPS+ (93) shouldn't be much of a surprise considering he's 36 and put up an 80 OPS+ at Coors Field in 2011. The last guy of the starters is Carl Crawford, who is the enigma of the 2013 season. He checks in at 104, which is notable because it's basically his career OPS+ and it's about what he did in limited time in 2012 over in Boston. That's of particular note for me, because what he did in Boston in 2012 can be attributed to a mechanical fix that I pointed out in an article for Baseball Prospectus. Understandably, his playing time checks in low, but if he can produce like he did in 2012 but over a whole season, the Dodgers will be much better for it. Overall, after fixing the playing time of A.J., adjusting Ethier's offense up a bit, and adjusting Hanley's defense down a bit, the starting lineup totaled about 22 WAR. —– The Bench & The Prospects Assuming a bench of Tim Federowicz, Scott Van Slyke or Alex Castellanos, Jerry Hairston Jr., Nick Punto, and Skip Schumaker, we're looking at around 3 WAR here after playing time is adjusted back to realistic bench levels. I'm guessing Alfredo Amezaga or Tony Gwynn Jr. work their way in somehow, but a five-man bench seems likely initially if the Dodgers can't deal multiple pitchers before the season starts. Neither player would affect the WAR projection much though. Honestly? I have to hope the Dodgers do something to improve the bench, because the current configuration looks rather mediocre, and the other options are keeping Juan Uribe and/or Elian Herrera. Yuck. The good news is that Joc Pederson, T-Fed, SVS, and Castle are projected to be solid at the MLB level, though it sees Dee Gordon basically languishing behind. —– The Rotation Clayton Kershaw is simply a beast, and he figures to check in with a 75 FIP-. This might seem high considering his 2011 and 2012 ERA- figures of 63 and 67, respectively, but when you consider that Felix Hernandez clocks in at 78 FIP- for 2013, you get the picture. What might surprise is how close new acquisition Zack Greinke comes in behind him, as he figures to put up an FIP- of 81. Granted, he has always projected favorably, as his career FIP- is 80, while his career ERA- is 88, but even adjusting slightly for that, there's a definite case there for the best 1-2 punch in the majors. Unfortunately, this is where it gets murky, as Chad Billingsley has the stuff to be the #3, but if I were a betting man, I would bet his elbow implodes before July. He projects at 92 FIP-, which would put him around last year's performance, which was his arguably his best season since 2008. However, given the nature of his injury and its history in the league, you can basically never rely on him to stay healthy again until he has Tommy John surgery. Next in the pecking order are Josh Beckett, who comes in below-average at 103, and foreign import Hyun Jin Ryu, who comes in well below-average at 116. As mentioned before, the scouting reports for Beckett match this projection, as he's no longer a front-line starter due to his decrease in velocity. However, if he can manage to learn to pitch a bit more, he still has the curve to perhaps slot in as a #3 more than a #4. Ryu is a case where I would take any projection with a mound of salt, because there's hardly anything to base objective projections on. Personally, I don't think Ryu has the stuff to be a #2, nor do I think he'll be a #3 on a team with a $250 million payroll, but he should slot in comfortably in the back-end of the rotation for years. I would project something slightly below-average for 2013 and then hope for better. The rotation is a strong point because it has both arguably the best 1-2 punch in the majors and depth, with Chris Capuano (108 FIP-) and Aaron Harang (114 FIP) presumably traded for upgrades (or maybe kept somehow?), and it checks in at about 17 WAR. —– The Bullpen & The Prospects As of right now, I'm assuming a bullpen of Brandon League, Kenley Jansen, Ronald Belisario, Javy Guerra, Matt Guerrier, J.P. Howell, and Ted Lilly. Jansen is the best of the bunch (63 FIP-) and League projects a distant second (92 FIP-), but Belisario has the most upside in these projections (101 FIP-). After that, Guerra, Guerrier, and Howell are all around replacement level. Lilly projects as a league-average pitcher, assuming he's healthy, which would be a boon to a team that has a ticking time bomb in the rotation. As far as prospects go, ZiPS thinks Chris Reed could be a replacement-level fill-in right now, but Zach Lee, Matt Magill, and Garrett Gould need more seasoning. And for all of you who have Stephen Fife wet dreams (yes, you're out there), he projects at a 4.91 FIP, so keep it in your pants. Speaking of replacement level, that especially applies to the Dodgers bullpen because of Shawn Tolleson, Scott Elbert, Steven Ames, and Paco Rodriguez, so the 4 WAR projection for this pen figures to be solid. —– Team Projection A replacement-level team figures to win 43 games, and the team with the lowest amount of wins to get into the playoffs last year was the Cardinals at 88 wins, so 42 WAR puts you in the contender range and 45 WAR makes you viable, while 50 WAR will generally make a team a safe bet to be in the postseason. The Dodgers total 46 WAR, which puts them well within the playoff hunt: good but not great. The Dodgers basically project neck-and-neck with the rival Giants, while the D-Backs lag behind a bit by maybe a half dozen wins or so, but they're well within striking distance as well. So make no mistake, the Dodgers recent spending habits did not make them an elite team, as the money simply duct-taped over both a flawed team and farm system depleted by Frank McCourt's ownership and Ned Colletti's questionable decisions. But that's not to denigrate the job the new owners have done, as they turned the franchise into a legitimate playoff contender seemingly overnight, which is still saying a lot about what money can do. Granted, "we gave you a team that has the chance to make the playoffs" is not what fans want to hear, but it's an acceptable scenario as they lay the foundation to rebuild the franchise the correct way in their own minds. The 2013 projections might not reflect world-beaters like most seem to expect, but it's a projection based on historical trends rather than hopes and dreams. The 2013 Dodgers are indeed a team with a lot of upside, and if everything breaks correctly, they could very well end up being one of the best teams in the league, but they also carry a ton of inherent age and injury risk, which is why the projections come in understandably conservative. Either way, if nothing else, this team figures to be never boring.
Original Story:
http://feedproxy.google.com/~r/ChadMo...
THE BACKYARD
BEST OF MAXIM
RELATED ARTICLES
The Dodgers have officially converted former starting pitcher Chris Withrow to relief and former third baseman Pedro Baez to pitching. FINALLY Personally, I've seen both Withrow and Baez in those roles for a couple years now (maybe Baez for longer given his swing), and I think most evaluators began to agree within the last year, so it's good to see the Dodgers follow suit. Withrow...
Keith Law is the third noted prospector to rank the Dodgers' farm system in the middle-third, joining John Sickels of Minor League Ball and Baseball America. Law ranked the system 18th, while Sickels and BA ranked it 19th. This is what Law had to say about the Dodgers' system: "They are a little underrepresented in the top 100, but with a lot of guys who'd...
Clayton Kershaw related to Dylan Hernandez that the hip injury which felled him during the 2012 campaign has not been an issue this offseason. "It was never a problem for me," said Kershaw. The Dodgers allowing Kersh to pitch on the balky hip late last season – in what was a lost season towards the end, no less – still does not sit right with me. Luckily for them and all...
Magic Johnson brought five titles to the city of Los Angeles during his time with the Lakers. Eight days before pitchers and catchers report to Spring Training, Johnson wants everyone to know that it will be a disappointment if he does not bring them a sixth. Last August, the Dodgers pulled off a blockbuster deal with the Red Sox, acquiring Josh Beckett, Carl Crawford and Adrian...
This is the third in a four-part series projecting the Dodgers' full-season minor league teams. Up next, the Chattanooga Lookouts. Part 1 of 4: Great Lakes Loons Part 2 of 4: Rancho Cucamonga Quakes Of all the Dodgers' minor league teams, this one should be the best. Once you see the roster, you'll see what I'm talking about. The Lookouts were the only...
On this episode of "Dugout Blues," Jared Massey (L.A. Dugout) and I interview Dodgers' pitching prospect Ross Stripling. He was the team's 2012 fifth-round selection and gives us a lot of insight to his increased velocity, his first season as a pro and what he did on draft day. We examine the Dodger prospects who made Keith Law's Top 100 list. There were...
The Los Angeles Dodgers came to spring training a year ago with a myriad of issues: Ownership was in flux, right fielder Andre Ethier wanted a contract extension and skeptics wondered if Don Mattingly could do much with his team. This year is a very different story. Since being sold last April, the Dodgers have become the Yankees of the West, seemingly spending however much it takes...
2013 Fantasy Preview: Los Angeles Dodgers The Dodgers won 86 games while finishing a disappointing second to the eventual World Champion Giants in the NL West, but that was still a four-win improvement over 2011, and given the massive payroll increase over the past few months, big things are expected from this team in 2013. The July trade deadline saw the club acquire SS/3B Hanley...
2013 Fantasy Preview: Los Angeles Dodgers The Dodgers won 86 games while finishing a disappointing second to the eventual World Champion Giants in the NL West, but that was still a four-win improvement over 2011, and given the massive payroll increase over the past few months, big things are expected from this team in 2013. The July trade deadline saw the club acquire SS/3B Hanley...
I completed my eighth trade with Spiegel of Nomo's Sushi Platter. You can check out the first here, second here, third here, fourth here, fifth here, sixth here, and seventh here. Mike had a team bag full of cards for me when we met up at the Dodgers' recent FanFest event held at Dodger Stadium.Mike included two new additions to my major player collections in the form of...
Goodbye, Boston! In two seasons with the Red Sox, Carl Crawford played just 161 games. In those 161 games, he hit 14 homers, stole 23 bases, scored 88 runs, and tallied 75 RBI with a paltry .260 batting average. That's not quite what Red Sox fans were expecting from a player who was marketed as "dynamic" by Boston's brass. After missing the beginning of last season with a...
MLB News

Delivered to your inbox

You'll also receive Yardbarker's daily Top 10, featuring the best sports stories from around the web. Customize your newsletter to get articles on your favorite sports and teams. And the best part? It's free!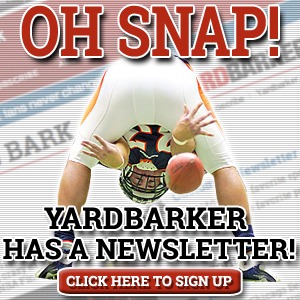 Latest Rumors
Best of Yardbarker

Today's Best Stuff

For Bloggers

Join the Yardbarker Network for more promotion, traffic, and money.

Company Info

Help

What is Yardbarker?

Yardbarker is the largest network of sports blogs and pro athlete blogs on the web. This site is the hub of the Yardbarker Network, where our editors and algorithms curate the best sports content from our network and beyond.