White Sox pitcher Carson Fulmer goes 1-on-1 with Chuck Garfien at camp.
White Sox pitcher Carson Fulmer goes 1-on-1 with Chuck Garfien at camp.
Things didn't start so great for Carson Fulmer, but after a strong finish to 2017, the top-10 draft pick hopes to take advantage of his opportunity in 2018.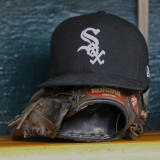 Chicago White Sox fans are positively giddy about the teams' rebuild. The annual fan convention was sold out, which is a rarity for the South Side franchise. The talk around town has been so positive that I'm thinking they might be getting fitted for rings any day now. Maybe they should curb the enthusiasm just a bit.After seeing the Cubs successful rebuild culminating in the World...
Sit back, relax, and strap it down. We're going for a ride Ah, the esoteric. We (read: me) have a long tradition at SSS of celebrating and embracing both the odd and the arcane. And the mysterious fourth option is a perfect example. It's a widely held belief that, after a player is added to the 40 man roster, a team has three years (which need not be consecutive) in which it can...
Below is an analysis of the prospects in the Chicago White Sox farm system. Scouting reports are compiled with information provided by industry sources as well as from my own observations. The KATOH statistical projections, probable-outcome graphs, and (further down) Mahalanobis comps have been provided by Chris Mitchell. For more information on the 20-80 scouting scale by which...
Carson Fulmer has an enigmatic identity. As Eric Longenhagen wrote last month, the 22-year-old right-hander "was perhaps the 2015 draft's most polarizing prospect," thanks in part to an electric arsenal and a delivery "paced like a hummingbird's heart beat." He got to the big leagues in a hurry. Fourteen months after being taken 8th overall out of Vanderbilt University, Fulmer has...
Carson Fulmer was perhaps the 2015 draft's most polarizing prospect. He was, on one hand, a college prospect with a career-long track record of success (sub-2 ERAs as a sophomore and junior, 167 Ks in 127.2 IP in '15) and objectively hellacious stuff, while, on the other hand, both inefficient and the owner of an ugly-duckling delivery that scared off many more scouts than just the...
It is not 2019 and Carson Fulmer is not an ace for a last-place club that is looking to trade the Cy Young contender for a boatload of prospects. It is simply July 2016 and Chicago White Sox righty Carson Fulmer has two career innings under his belt in the major leagues. So don't let your eyes deceive you when the title of this column says the Sox should deal Carson Fulmer, called...
The White Sox are promoting right-hander Carson Fulmer to the Majors today to work out of their bullpen, according to Dave Williams of Barstool Sports (links to Twitter). MLBPipeline.com's Jesse Burkhart first tweeted that Fulmer was likely heading to the Majors. Fulmer will inherit the 40-man roster spot that was vacated by yesterday's outright of right-hander Scott Carroll. The...
MORE STORIES >>
White Sox News

Delivered to your inbox

You'll also receive Yardbarker's daily Top 10, featuring the best sports stories from around the web. Customize your newsletter to get articles on your favorite sports and teams. And the best part? It's free!