The clock is ticking on a potential move for the DFA'd All-Star Things went from cold to a boiling over for Rays fans over the course of about 30 minutes Saturday night. The Rays acquired CJ Cron, designated Corey Dickerson for assignment, and traded Jake Odorizzi. It's here I'd like to apologize for the slow off season. Apparently all I needed to do was have planned family time...
On Saturday evening, the Los Angeles Angels traded first baseman C.J. Cron to the Tampa Bay Rays for a player to be named later. Cron suffered an off year in 2017, hitting a career low .248 and striking out 96 times in a 0.8 WAR campaign. Cron, once one of the top prospects in the Angels development system, essentially had to be traded, for more than one reason. His troublesome numbers...
His offensive numbers provide a lot of red flags On February 27th, 2018, the Tampa Bay Rays decided to DFA 2017 all-star Corey Dickerson as a move to create roster space for incoming 1B CJ Cron, acquired from the Angels for a PTBNL. Let's review these transactions now that we've had some time to let the news sink in. On the surface, this move makes absolutely no sense. Dickerson...
The Rays had a busy Saturday evening as they traded away Jake Odorizzi for a prospect. Along with that move, they acquired 1B/DH C.J. Cron from the Halos for a player to be named later and, to many people's surprise, designated for assignment OF/DH Corey Dickerson as the corresponding move. The deal for Cron makes sense for the Angels as the Halos already had Luis Valbuena, Albert...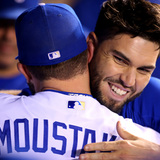 The Eric Hosmer era is over in Kansas City, and free agent third baseman Mike Moustakas could become the next Royals cornerstone to head elsewhere. Although general manager Dayton Moore said earlier this month that Moustakas hasn't prioritized re-signing with the Royals this offseason, it's still possible he'll re-up with KC, according to Jon Heyman of FanRag (Twitter link). Now...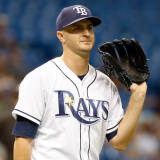 The Minnesota Twins may have missed out on Yu Darvish in free agency, but they have managed to upgrade their starting rotation this offseason.The Twins acquired pitcher Jake Odorizzi in a trade with the Tampa Bay Rays on Saturday night, as first reported by the Tampa Bay Times' Marc Topkin. Yahoo's Jeff Passan says Jermaine Palacios is going back to the Rays as part of the deal.Odorizzi...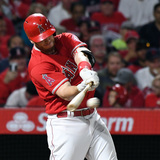 In what has to be considered a pretty shocking move during an otherwise quiet MLB offseason, the Tampa Bay Rays announced on Saturday night that they have acquired first baseman C.J. Cron from the Los Angeles Angels for a player to be named. In a corresponding move, the team also designated 2017 All-Star Corey Dickerson for assignment. Tampa Bay had previously been in discussions...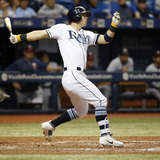 The Los Angeles Angels and Tampa Bay Rays made a trade on Saturday that led to a head-scratching move.The Angels traded first baseman/DH C.J. Cron to the Rays for a player to be named. To make room for Cron, Tampa Bay designated outfielder/DH Corey Dickerson for assignment. In case you don't actually believe the news — and we didn't at first — here's the Rays' official Twitter account...
The Cron days have come to an end in Anaheim C.J. Cron didn't get a lot of playing time in 2017 and with Pujols moving to first base more (thanks to the Ohtani signing), and Zach Cozart coming in to play third, maybe wondered what would become of Cron with Luis Valbuena also on the roster. One of the questions many of us asked around here was - what value does Cron have? Now we...
The Angels alleviated their logjam at first base on Saturday, trading C.J. Cron to the Rays in exchange for a player to be named. With Luis Valbuena and Albert Pujols projected to earn the majority of starts at first base this season, the Angels had little playing time to offer Cron, who is out of Minor League options.
MORE STORIES >>
Angels News

Delivered to your inbox

You'll also receive Yardbarker's daily Top 10, featuring the best sports stories from around the web. Customize your newsletter to get articles on your favorite sports and teams. And the best part? It's free!