Topics: 1)  Ben Zobrist's playing time (13:00); 2) Brandon Morrow announced as closer (22:30); 3) Mike Montomgery cool with role (30:00); and 4) Chili Davis on Jason Heyward (43:30). The post New Cubs Related Podcast: Early Spring Training Review, Heyward's Swing, Zobrist's Health, Morrow Defined Closer appeared first on Cubs Insider.
Say what you want about Jason Heyward, the Gold Glover's work ethic is admirable. Immediately after celebrating a World Series title in 2016, he was cage working on retooling his swing. And once again this offseason, Heyward was hard at work trying to find a comfort level with his mechanics. It's still very early, but … The post Jason Heyward's New (Old?) Swing on Display in BP Video...
New Cubs hitting coach Chili Davis wanted to call outfielder Jason Heyward this offseason to introduce himself. But as Davis was scrolling down the alphabetical list of names, he mistakenly linked pitcher Kyle Hendricks' name to Heyward's number. Davis left a message, saying, "Hey, are you ready to work?"
As the discussion continues to persist over who will leadoff these Chicago Cubs in 2018, there's been some speculation that it could be Jason Heyward. Of course, this purely a hypothetical scenario and not likely something that the team is actively considering. However, given the right set of circumstances that would obviously feature a return to […]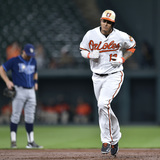 Some significant news has already come out of the Orioles' annual FanFest event, and here are some more items from some reporters on hand (including Eduardo A. Encina and Jon Meoli of the Baltimore Sun, PressBoxOnline.com's Rich Dubroff, and MASNsports.com's Roch Kubatko)… The Orioles expect Manny Machado to be on the roster on Opening Day and, while they didn't entirely close the...
As a self-proclaimed, high-ranking member of the Jason Heyward Fan Club, the past calendar year-and-a-half hasn't been particularly easy. Despite his glove being as elite as advertised, the lack of offensive production that Heyward has demonstrated at the plate has proven to be too much (too little?) for most Cub fans to handle, leaving the […]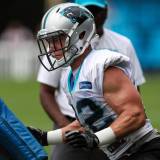 Want more news first thing in the day? Sign up for the Yardbarker Morning Bark newsletter here.Good morning and welcome to the YB Box Score, what we're reading while sorting through all of our fantasy football notification emails. Happy birthday today to Jason Heyward, JaMarcus Russell, Joel Anthony, Chamique Holdsclaw, Matt Morris, Derek Fisher, Rod Brind'Amour, Deion Sanders, Vinny...
Lineup construction certainly stands as one of the more heavily analyzed elements of Major League managers, and there's probably an argument to be made somewhere that it's also a largely overrated element. (Aside: I'm not saying that's a sentiment that I share, as I put quite a bit of stock into that aspect, but it […]
David Ross put himself to good use between innings during Sunday's Chicago Cubs-St. Louis Cardinals game.Ross, a former Cubs catcher who retired after winning the World Series, is now serving as a broadcaster for ESPN. He was an analyst on "Sunday Night Baseball" in place of Jessica Mendoza, who's covering the College World Series, and decided to warm up ex-teammate Jason Heyward...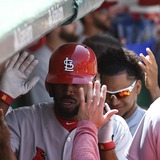 Friday marked Dexter Fowler's return to Wrigley Field for the first time since leaving the Chicago Cubs. It was certainly a memorable return.Prior to the game, Fowler, now with the St. Louis Cardinals, finally received his well earned World Series ring. Jason Heyward and Anthony Rizzo presented the ring to Fowler in a pregame ceremony, which included a standing ovation from the Wrigley...
MORE STORIES >>
Cubs News

Delivered to your inbox

You'll also receive Yardbarker's daily Top 10, featuring the best sports stories from around the web. Customize your newsletter to get articles on your favorite sports and teams. And the best part? It's free!