From Wrestle Chat:
I don't know if this is really shocking or not, but it definitely came out of nowhere.
Brock Lesnar is strongly considering a return to the UFC. Lesnar appeared at Saturday's UFC 146 right before the Junior dos Santos vs. Frank Mir main event.
Lesnar's presence caught many off guard as the wrestler and former fighter didn't even enter the arena until before the big match. He was even acknowledged on the telecast.
Questions arose immediately about why Lesnar was in attendance since it's well known that he doesn't leave home unless the trip involves lots of dollar signs.
The reason for his appearance was cleared up at the UFC 146 post-show press conference where Dana White admitted that Lesnar is "seriously considering" a UFC return.
When asked if there was anything more to Lesnar being in attendance Saturday, White responded "yeah."
The possibility of a Lesnar comeback is big news for the UFC; he was easily the biggest draw in the history of the company. With their buy rates floundering, Lesnar will almost undoubtedly be welcomed back.
Bryan Alvarez of f4wonline.com is reporting that Dana White first contact Lesnar last week about coming to the show but wanted it to be "kept a secret." White confirmed that he was planning to speak with Lesnar after the fights regarding future plans.
As far as speculation, fans have clamored at the thought of a third fight between Brock Lesnar and Frank Mir, who lost the main event to Junior dos Santos. Lesnar destroyed Mir in both bouts, but Mir caught the inexperienced Lesnar in a heel hook during their first fight to secure the win. The second matchup was nothing but Lesnar mauling Mir to pieces. A finale to the Lesnar/Mir trilogy would be a huge success for the UFC.
As of right now, we don't have any information regarding what this means for the WWE contract that Lesnar signed on WrestleMania Sunday. According to the terms of that deal, Lesnar is slated to make $5 million dollars for between 30-40 appearances. Lesnar has already appeared at multiple RAW episodes and one pay-per-view event, but he hasn't increased TV ratings at all. On "Extreme Rules," the lone pay-per-view show he's appeared on, the WWE saw a modest increase of 35,000 buys over the same event last year.
Also from Wrestle Chat
The Rock reveals when he'll make his WWE comeback
WWE threatens lawsuit against writer
MORE FROM YARDBARKER
MMA News

Delivered to your inbox

You'll also receive Yardbarker's daily Top 10, featuring the best sports stories from around the web. Customize your newsletter to get articles on your favorite sports and teams. And the best part? It's free!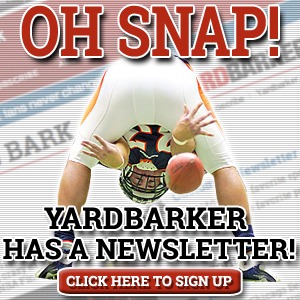 Latest Rumors
Best of Yardbarker

Today's Best Stuff

For Bloggers

Join the Yardbarker Network for more promotion, traffic, and money.

Company Info

Help

What is Yardbarker?

Yardbarker is the largest network of sports blogs and pro athlete blogs on the web. This site is the hub of the Yardbarker Network, where our editors and algorithms curate the best sports content from our network and beyond.