Found February 04, 2013 on Juiced Sports Blog:
When former Ultimate Fighting Championship (UFC) Heavyweight and Light Heavyweight Champion Randy Couture put pen to paper last week and joined the ranks of Spike TV, UFC President Dana White said he was happy. Not happy as in "Good for him," happy as in "Don't let the door hit you in the ass on the way out." As it turns out, the Las Vegas fight boss already knew his Hall-of-Fame ex-champion had signed a deal with Viacom, who used to house ZUFFA programming before the world's largest mixed martial arts (MMA) promotion graduated to the FOX network. The same network that employed "The Natural" in the broadcast booth. In fact, Couture was expected to appear one last time as per the terms of his contract, but according to White's comments at a recent press conference scrum, 'Naytch jumped ship once the big money came rolling in. "I'm happy that he's gone. I'm happy that he's gone forever and that he's with them. I don't respect him at all. Not even a little. The only time that Randy Couture is ever a man is when he steps foot the cage. As soon as his big toe steps out of the cage, he's the furthest thing from it. That's it. That's the way I feel about him. I don't at all disrespect what he did in this sport. As much as a man that I think he's not, he was 100 percent man when he stepped in that cage. It is what it is. And just to clarify to you guys, Randy Couture, it was around Christmas time and his lawyer sends in a letter and bails on the last [FOX] show that he's doing for us, after they begged me for a ******* job. So I'm like, 'What the hell's going on around here?' I dig around and I find out that he's talking about doing a deal with Bellator and Spike. I call his lawyer and I went 'me' on the lawyer — is the best way I can explain it — and then I called Randy. I called him over and over again and he wouldn't even answer his phone. Then he texts me and says, 'What's up boss? I hear you're flipping out. I did not sign a deal with Spike or Bellator but I'm talking to two other networks right now.' I said, 'If you tell me that you did not bail on my last ******* fight and go do a deal with them, I don't give a **** what network you sign with. I don't care if it's freakin' HBO, The Food Network, I could care less who it is. Are you saying you did not sign a deal?' 'I did not sign a deal with them. Stop worrying, relax, and have a great Christmas. We'll talk later.' To this ******* day sitting right here right now we still have not talked. I knew the whole time that he was doing the deal even when I was talking to him and he was lying to me not even to my face, not even though the phone but through texts." See White's full comments here. The cable television network has arranged for a media conference call tomorrow (Feb. 5, 2013) where Viacom execs, along with Couture, will go into more detail. As of now, "Captain America" is expected to appear as a coach on the upcoming Bellator MMA reality show. For more background on Couture's new Spike TV deal as well as White's reaction, or if you just want to hear Dana go nuts on the guys at Viacom, click here and here.
Original Story:
http://juicedsportsblog.com/2013/02/d...
THE BACKYARD
BEST OF MAXIM
RELATED ARTICLES
When former Ultimate Fighting Championship (UFC) Heavyweight and Light Heavyweight champion Randy Couture signed a multi-year deal with Bellator MMA, UFC president Dana white was elated because that meant he never had to work with the Hall of Famer who, in Dana's words, "stops being a man when his big toes step out of the cage." So why the animosity? According to White...
Is this the moment where we realize Rashad Evans is no longer at the top of the light heavyweight division, or is this the moment where the former champion turns himself around after an unprecedented two fight losing streak and decides he's still hungry for this game of MMA. After making a reported $300,000 for [...]
Dana White might be critical of his performance, but that didn't stop the UFC from making Rashad Evans the highest paid fighter at UFC 156.  In a losing effort Evans took home $300,000 (if he had won he would have earned another $210,000). Here is the official fighter purse info for UFC 156, released from the Nevada Athletic Commission. Read more ...
No fight team had more on the line at UFC 156 than the talented Blackzilians. The squad's top two superstars were on display: Alistair Overeem (Pictured) returned from a nine-month steroid suspension would have earned a shot at Cain Velasquez's heavyweight crown with a win over Antonio "Bigfoot" Silva, while Rashad Evans could have found himself in a tango with middleweight...
After losing another championship fight via decision where he thought he had done enough to win, a disappointed Frankie Edgar (Pictured) said it was too soon to decide whether he'd return to the lightweight division where he recently held the title or remain in the featherweight class. Unfortunately (or fortunately) for "The Answer," UFC president Dana White saw enough in Saturday's...
Now that "UFC 156: Aldo vs. Edgar" is officially in the books, make sure to stream tonight's post-fight press conference live right here on 5thRound.com. The presser is scheduled to start at approximately 1:30AM ET/10:30PM PT. In addition to UFC president Dana White (Pictured) and the card's featured fighters, the other notable athletes who won't require medical attention...
Wow. Just, wow. The roundhouse kick that Uriah Hall planted right on the side of Adam Cella's head was one of the worst looking KO's we've seen in a long time. The fight was aired during last night's episode of The Ultimate Fighter 17. Hall, who has already been impressing UFC brass, showed no hesitation. A mere :06-seconds into the match and he had already connected with...
Featherweight king Jose Aldo must be wondering why these lightweights think they can beat him. After defending his crown against former 155-pound champion Frankie Edgar at UFC 156, Anthony Pettis (Pictured) texted UFC president Dana White and said he was willing to give up his lightweight top contender spot for a shot at "Scarface." Pettis finally secured an opportunity at the...
Alright, let me first introduce this as a new weekly staple here at HOV-MMA.  Every Monday I will write an editorial piece about what moves me.  It might be an amazing fight recap, interview or news item, but by and large it will be a forum for me to mouth off about whatever I want.  God bless America.  Dana White is as forgiving as a failed parachute.  Usually you can take...
MMA News

Delivered to your inbox

You'll also receive Yardbarker's daily Top 10, featuring the best sports stories from around the web. Customize your newsletter to get articles on your favorite sports and teams. And the best part? It's free!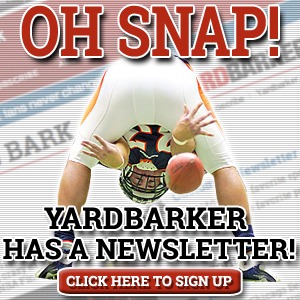 Latest Rumors
Best of Yardbarker

Today's Best Stuff

For Bloggers

Join the Yardbarker Network for more promotion, traffic, and money.

Company Info

Help

What is Yardbarker?

Yardbarker is the largest network of sports blogs and pro athlete blogs on the web. This site is the hub of the Yardbarker Network, where our editors and algorithms curate the best sports content from our network and beyond.