Found June 20, 2012 on Fox Sports:
I didn't really think too much of fighting a Brazilian in Brazil until I started doing interviews ahead of the fight. I thought taking a rematch with Wanderlei Silva -- I beat him in a classic fight at UFC 99 three years ago -- would be a good fight to get me back up there in the middleweight division. But now I'm starting to realize it's a bigger deal than I first thought. Still, it's great to be able to check Brazil off my to-do list on Saturday, as I've yet to fight in this country and it's something I've always wanted to do. Right now I'm all about completing remaining goals, and fighting Brazil is definitely one of those goals. I've fought in Northern Ireland, southern Ireland and Germany and here I am in Brazil about to fight here, too. Any time you go into an opponent's territory you have to stand up and be counted, perhaps even raise your game to that next level. It seems as if the whole arena is against you, and that kind of scrutiny can either make or break a fighter. If you don't know how to deal with it, you could just collapse right there and then. However, I've been in a few of these situations before and I know that stuff like this brings out the best in me. It forces me to take a deep breath, look around the arena and go that little bit harder in order to get the victory. I'm prepared to do that on Saturday night against Wanderlei at the UFC 147 pay-per-view. I actually have a decent amount of support from fans in Brazil, at least according to Facebook and Twitter and stuff like that. I'm always receiving messages from Brazilian fans and have done so for years. I think, ultimately, the Brazilian fans are extremely knowledgeable and respect all fighters, regardless of where they come from or whom they happen to be up against. I'm sure many of the Brazilians in the arena on June 23 will have watched me and rooted for me in many other fights over the years. Sure, I understand the majority will want Wanderlei to win, but that doesn't mean they hate me. Looking at the fight as a whole, I think this rematch will play out much like our first fight in 2009. You'll see two guys coming out looking to trade shots and make an exciting fight. It then all boils down to who gets caught and who is savvy enough to avoid getting caught. I plan to be the one punching and not getting punched, and I'm sure Wanderlei will be intending to be that same guy, as well. In the end, the UFC and our fans know this fight is going to be a great one, and that is the reason why it was put together at late notice in the first place. You can count on me and Wanderlei to deliver. I can promise you that much. Also, as well as being excited to fight this coming weekend, I'm also incredibly relieved. It's been 16 long, hard months since my last fight in the UFC and you'd better believe that I'm raring to go. I was supposed to fight last August against Antonio Rogerio Nogueira and ended up going through nearly an entire camp for that fight before Nogueira had to pull out because of a shoulder injury. So, for me, it doesn't feel like I've had 16 months away from the Octagon because I did prep that whole time. As soon as that fight got pulled, several weeks later I ended up dislocating my shoulder and having surgery. Yes, I'm a 37-year-old man and have my bumps and bruises and am pretty banged up, but oddly enough, of all the things on my body that don't hurt, my shoulder is one of them. My shoulder is in really great shape right now. Retirement has never really crossed my mind, despite the fact I'm clearly at an advanced stage in my career. Honestly, I couldn't imagine a life without mixed martial arts. I don't know what I would do. I enjoy competition and, while I might not have anything left to prove to anyone, making another title run would really be a Cinderella story for me, and the hope of doing that gets me out of bed in the morning. If it doesn't happen for me, I won't lose sleep at night, but it's still good to have goals and to be blessed and able to try and reach those goals. The feeling you get when winning a fight cannot be matched in any other walks of life. In fact, the only job better than being a fighter is that of a rock star. I can fight only three times a year and experience the buzz of performing and winning, whereas a rock star can perform every day or every other day and lap up a similar kind of adulation. They also suffer far less headaches and bruises than we do. Now, at 37, I'm taking each day and each fight as it comes. Every win you get as a fighter feels great and I'm looking to cherish them all from this point on. There's going to come a day when you stop winning fights and there will also come a day when you stop competing in fights. And it's then that you'll look back on your career and think, "Damn, why didn't I do this, or why didn't I do that? Why didn't I enjoy that moment more?" Right now, I'm living for the moment and making the most of all the opportunities that come my way. Wanderlei Silva was an opportunity that came my way, and I plan on making the most of it. UFC 147 will be live on pay-per-view Saturday at 10 p.m. ET/7 p.m. PT. Follow me on Twitter at @RichFranklin
Original Story:
http://msn.foxsports.com/ufc/story/Fa...
THE BACKYARD
BEST OF MAXIM
RELATED ARTICLES
As prevalent and important fighters are to making MMA as big as it is today, the exposure of them and their product cannot be overlooked at all. In a market that is almost entirely fan driven, people knowing who you are and how you are perceived is important. Wanderlei Silva is known inside the locked [...]
The rematch between Wanderlei Silva and Rich Franklin is on as both fighters successfully made weight for their main event clash at UFC 147. Silva tipped the scales at 188-pounds while Franklin weighed-in at 190-pounds for the catchweight bout. UFC 147 also features the featherweight and middleweight finals of TUF Brazil, as well as, a key heavyweight bout between Fabricio Werdum...
Today's UFC 147 weigh-ins took place at Estadio Jornalista Felipe Drumond in Belo Horizonte, Brazil. Both Wanderlei Silva and Rich Franklin successfully made weight in their 190 lb. catchweight bout. The most intense moment came when Rodrigo Damm and Anistavio "Gasparzinho" Medeiros had a brief scuffle as Medeiros approached Damm. Damm responded by pushing Medeiros away...
The UFC's long awaited return to Brazil has been marred by injuries and cancellations, but UFC 147 still features heavy star power. Wanderlei Silva, one of the all-time mixed martial arts greats, returns home for a rematch against former UFC middleweight champion Rich Franklin, while elite Brazilian heavyweight Fabricio Werdum looks to move one step closer to a shot at the gold...
All the major players participating in Saturday's "UFC 147: Silva vs. Franklin II" extravaganza will be hitting the podium today in Brazil. Stream Thursday's pre-fight press conference live right here on 5thRound.com starting at 10:30AM ET/7:30AM PT. Headliners Wanderlei Silva (Pictured), Rich Franklin and all the athletes participating in the pay-per-view portion of the...
It looks like the UFC had a real last minute scramble trying to find a good enough fight to replace the hugely-anticipated rematch between Anderson Silva vs Chael Sonnen. The lineup has now been changed on the pay-per-view UFC 147 event to Wanderlei Silva vs Rich Franklin. These guys will be facing off Saturday, June [...]
Main Card Wanderlei Silva vs Rich Franklin Cezar Ferreira vs Sergio Moraes Godofredo Pepey vs Rony Mariano Bezerra Fabricio Werdum vs Mike Russow Yuri Alcantara vs Hacran Dias Prelims Medeiros vs Damm Heleno vs Trinaldo Teixeira vs Viana Perpétuo vs Mafra Borges Pancini vs Campos Arantes vs Vieira
Who will join B.J. Penn and Wanderlei Silva inside of the celebrated Hall of Violence? It's time for you the for you, the fan, to decide. Voting has already started and so far it's Randy "The Natural" Couture, and Chuck "The Iceman" Liddell running away with it. You have about a month to either agree with what the masses have voted so far, or change...
If you happened to miss Monday's premiere of "Countdown to UFC 147" on FUEL TV, no worries because we've located the footage for you. UFC 147 takes place this Saturday and features a 190-pound catchweight contest between Rich Franklin (Pictured) and Wanderlei Silva. The 30-minute documentary focused on the icons as they prepare for their shootout. Fans can also catch a glimpse...
UFC 147: See Silva, Franklin weigh in
MMA News

Delivered to your inbox

You'll also receive Yardbarker's daily Top 10, featuring the best sports stories from around the web. Customize your newsletter to get articles on your favorite sports and teams. And the best part? It's free!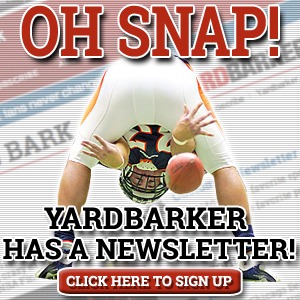 Latest Rumors
The Backyard

Today's Best Stuff

For Bloggers

Join the Yardbarker Network for more promotion, traffic, and money.

Company Info

Help

What is Yardbarker?

Yardbarker is the largest network of sports blogs and pro athlete blogs on the web. This site is the hub of the Yardbarker Network, where our editors and algorithms curate the best sports content from our network and beyond.