Found March 28, 2013 on Awful Announcing:
UFC welterweight champion Georges St Pierre will star in Captain America: The Winter Soldier, playing the role of French mercenary Batroc the Leaper. Production hasn't begun on the film yet, but it's expected to begin filming in May.  Now, here's why this is so relevant to the UFC: St Pierre is the company's biggest draw, and his role in the film will likely take him out of any potential fight until the end of the year at the earliest. St Pierre's last seven fights on PPV have led to at least 700,000 buys, levels that no other UFC fighter (not even Anderson Silva) can match. With him out of action until the end of the year, the UFC will be missing their top draw for a fall schedule that is currently a blank slate.  It's going to be interesting to see what the pay-per-view and Fox cards past what's already announced will look like with GSP out of the picture for now, and all of the UFC's other champions already booked for fights in the coming months. The UFC is banking on a November show at Madison Square Garden being headlined by Jon Jones, potentially against Silva in a huge superfight. If those two get tied up in that fight, the UFC will likely be banking on Cain Velasquez escaping his title defense against Antonio Silva in May healthy and being able to headline a card sometime in the fall. Ideally, St Pierre would be able to return for the New Year's card to defend his title while the lighter weight champions (Jose Aldo, Benson Henderson, Demetrious Johnson, Renan Barao) continue to highlight free TV shows in the fall. The UFC has a lot of their wagon hitched to St Pierre, and the company's buyrates slagged during the 18 months he missed with a torn ACL. The company has been in good shape since his return, but things could spiral out of control with him out of action. Couple that with Ronda Rousey coaching The Ultimate Fighter and knocking her out of action for the summer as well, and the UFC needs to keep pushing forward and building stars to avoid relying too heavily on their proven draws. [Slash Film]
Original Story:
http://www.awfulannouncing.com/2013/m...
THE BACKYARD
BEST OF MAXIM
RELATED ARTICLES
PERFECT CASTING
Rumor has it that UFC fighter Georges St-Pierre is slated to portray Batroc the Leaper in the upcoming film, Captain America: The Winter Soldier.
UFC welterweight king Georges St-Pierre (pictured) may have finally met his match. According to Latino Review, St-Pierre will be taking his talents to the silver screen to play a villain on "Captain America: The Winter Soldier."  GSP will serve as Batroc the Leaper. The film is currently in production and is slated to open April 4, 2014. St-Pierre's inclusion comes as a...
Georges St-Pierre is coming off a relatively easy win over Nick Diaz and GSP is now looking to try his hand in Hollywood. St-Pierre  has locked in a pretty prominent role in Marvel's next installment of the Captain America series, Captain America:The Winter Soldier: SportsNet MMA analyst Joe Ferraro confirmed the role via twitter:   Just received confirmation that GSP will play...
Georges St. Pierre has made it trademark of his walk-out to the cage to do battle, wearing a GI, along with Japanese sun logo headband. However, this time around, Georges St. Pierre's choice of apparel, provided by Hayabusa, led one fighter, Chan Sung Jung, the Korean Zombie to question Georges knowledge of the symbol emblazoned [...]
The UFC welterweight champion GSP will be cast in the upcoming film 'Captain America: The Winter Soldier'. He will be playing the villain "Batroc the Leaper", who is a mercenary and master of French kickboxing known as savate. GSP's last fight was at UFC 158 against Nick Diaz where he defended his welterweight title, but now it looks like he will be doing some kickboxing...
Is it possible for the Nick Diaz/GSP drama just stop already? No? Alright, that's fine, because I haven't been this fascinated by pure drama since highschool. This is absolutely incredible. Today, in a somewhat shocking turn of events, Nick Diaz's lawyer has made it known that he plans on filing a complaint against the Quebec Athletic Commission stemming from the fallout of...
Georges St. Pierre is one of the most feared fighters in Ultimate Fighting Championship history, but he'll soon take on his toughest opponent yet — Captain America. In a move first reported by Latino Review on Monday, the UFC champion has agreed to portray Batroc the Leaper, one of the super hero's nemeses,  in the upcoming Marvel film Captain America: The Winter Soldier...
MMA News

Delivered to your inbox

You'll also receive Yardbarker's daily Top 10, featuring the best sports stories from around the web. Customize your newsletter to get articles on your favorite sports and teams. And the best part? It's free!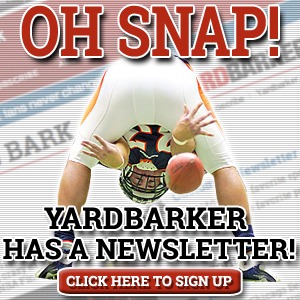 Latest Rumors
Best of Yardbarker

Today's Best Stuff

For Bloggers

Join the Yardbarker Network for more promotion, traffic, and money.

Company Info

Help

What is Yardbarker?

Yardbarker is the largest network of sports blogs and pro athlete blogs on the web. This site is the hub of the Yardbarker Network, where our editors and algorithms curate the best sports content from our network and beyond.