Found December 07, 2012 on Fox Sports:
What might be the biggest contrast in public image and fighting style in UFC history will be on display this weekend, when a gentlemanly Mama's Boy from Seattle defends his lightweight title against the Bad Boy from Stockton, Calif. OK, Nate Diaz isn't really all that bad of a dude. It's an image thing that he can't really get over and honestly doesn't care about. ("Whatever," he shrugged at a Thursday press conference for this weekend's UFC on FOX fight. "It's more something people try to stick on me than anything I do.") People -- and when I say people, I mean the media, myself included, who enjoy an athlete who takes media responsibilities seriously, but scoff when an athlete seems put out when he talks with reporters -- think of him as the man of few words who spends his press-conference time texting instead of paying attention to questions. More than being the thug portrayed in his public image, the 27-year-old Diaz is simply a born fighter, obsessed with training, committed to a raw, vegan diet and utterly unconcerned about how people view him. But Benson Henderson? He's the current lightweight champ after two impossibly close decision victories in a row over Frankie Edgar and, as the UFC moves into the mainstream and softens its image, a marketer's dream. He's a vocal Christian whose walkout songs are gospel music. He likes to quote scripture. He's a kind, soft-spoken mama's boy. (After winning the lightweight title at UFC 144 in Japan last year, Henderson gave his tiny mother the UFC belt and draped his arm over her). He's the ethnically ambiguous son of a Korean mother and an African-American father. He has long, curly black hair that's reminiscent of Troy Polamalu and ought to net him his own Head & Shoulders commercial someday. At the stare-down for the cameras at the pre-fight presser, the contrast couldn't have been more stark. Diaz, wearing a hoodie, a buzz cut and an icy glare, leaned forward, stared directly at Henderson and put his two fists up in Henderson's mug. Meanwhile, Henderson, sporting a smart charcoal suit, a sky-blue shirt and a navy tie, put his hands in his pockets and shrugged at the ground, refusing to be intimidated by the typical Diaz antics. All of which makes a UFC fan wonder: Why in the world does Benson Henderson, who'd be a perfect face for the UFC's lightweight division, never seem to get the respect a champion deserves? Part of the reason must be because of the way Henderson has won his fights. His average fight has lasted 19 minutes, according to FightMetric, and that's the longest average fight time in UFC history. He has won his last five fights by decision. That's not a formula for popularity in the UFC, where fans prefer a crushing knockout or a dominating submission over a tactical, decision victory that values endurance over flash. All of that being said, Henderson's stamina and toughness are never in doubt. He's never been knocked out. He has lost once by submission and once by a decision. He has been awfully close to submitting in fights against Donald Cerrone and Jim Miller but avoided tapping out in both and went on to win. "I don't think he has had his due yet," UFC president Dana White said of Henderson. "He's had some tough fights, some close fights, with some people saying Frankie (Edgar) might have won. (But) this is the fight for him right here. Nate Diaz is mean and nasty and finishes people by knockout or submission. I think this is the fight for him. (If) Ben Henderson wins this fight decisively -- or wins by decision -- he should finally start getting the respect that Ben Henderson is the guy." Yet even at the press conference for the nationally televised fight on the biggest stage Henderson has ever fought on, the ultimate good guy was upstaged by not just one piece of news, but two. First was White's announcement of the creation of the UFC's first women's division, the bestowing of the first women's championship belt upon former Olympic medalist Ronda Rousey and the announcement of Rousey's first UFC fight on Feb. 23. Then there was White telling reporters that UFC legend Georges St-Pierre returned from his post-UFC 154 vacation and told White he wanted to fight Nick Diaz, dashing fans' hopes for a GSP-Anderson Silva superfight in early 2013. Henderson was even overshadowed by the obvious antipathy between BJ Penn and Rory MacDonald, who kept throwing verbal jabs at each other throughout the press conference. Nice guys fly under the radar. That'd be the biggest mistake Diaz could make leading into his Saturday night title fight: Not taking Henderson seriously. It ought to make for a scintillating fight from different schools of fighting, where Diaz will try to finish Henderson with his superior boxing and submission skills while Henderson will try to keep coming back from Diaz's attacks with his relentless, keep-coming-at-you manner. "We go about it in different ways," Henderson said. "But once we get inside that Octagon, it's going to be fun." Follow Reid Forgrave on Twitter @ReidForgrave or email him at ReidForgrave@gmail.com
Original Story:
http://msn.foxsports.com/ufc/story/be...
THE BACKYARD
BEST OF MAXIM
RELATED ARTICLES
The UFC on FOX 5 pre- fight press conference took place earlier today inside of the Key Arena in Seattle, Washington. As far as pre-fight press conferences go, I'd have to say this was one of the most entertaining, meaningful, and star studded UFC pressers I've witnessed in my handful of years covering the sport.  I've attached the full presser below along with a bonus...
After 17 UFC fights, Nate Diaz (Pictured) finally got to taste a championship fight. Although Diaz came up short in Saturday's title bout against reigning lightweight champ Benson Henderson, he believes his Gracie Jiu Jitsu homie and current Strikeforce 155-pound king Gilbert Melendez would take it to "Smooth" and likely take his belt in the process. "[Gilbert's] got...
Benson Henderson vs Nate Diaz Round 5: The two are yet again fighting in the clinch up against the cage. The stalemate is ended by a huge slam from Henderson. Henderson threatens with a choke when Diaz gives up his back, but settles for laying in some heavy elbows and punches when the challenger rolls back onto his back. Diaz gets back to his feet but Henderson is still right...
The lightweight title is on the line at UFC on FOX 5 when champion Ben Henderson takes on challenger Nate Diaz. The stacked main card also features the return of MMA legend BJ Penn who takes on welterweight prospect Rory MacDonald. In addition, the next number one light heavyweight contender will be determined when Alexander Gustafsson meets Mauricio "Shogun" Rua. The Key Arena...
The official weigh-ins for "UFC on FOX: Henderson vs. Diaz" take place today inside Key Arena in Seattle, Washington. Stream Friday's weight contest live right here on 5thRound.com starting at 7PM ET/4PM PT. Nate Diaz (Pictured) challenges lightweight champ Benson Henderson for his crown in Friday's featured attraction. A light heavyweight top contender bout between Mauricio...
  Main Card Weight Class Method Round Time Notes Lightweight  Benson Henderson (c) vs.  Nate Diaz Note 1 Light Heavyweight  Mauricio Rua vs.  Alexander Gustafsson Welterweight  B.J. Penn vs.  Rory MacDonald Welterweight  Mike Swick vs.  Matt Brown Preliminary Card (FX) Lightweight  Yves Edwards vs.  Jeremy Stephens Bantamweight  Raphael Assunção vs.  Mike Easton Lightweight...
The UFC on FOX 5 wweigh-ins are in the book's for tonight's event. Title challenger Nate Diaz initially weighed in at 155.6 lbs. and later looked surprised he did not get the one pound allowance in a title fight. In a title fight, you are not allowed to come in one pound over the weight limit. Diaz weighed in a second time at 155.2 lbs., but on his third try he was able to finally...
Steelers News

Delivered to your inbox

You'll also receive Yardbarker's daily Top 10, featuring the best sports stories from around the web. Customize your newsletter to get articles on your favorite sports and teams. And the best part? It's free!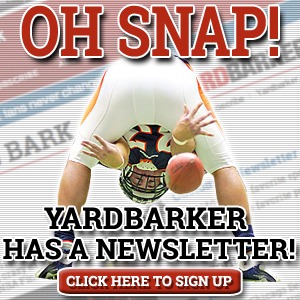 Latest Rumors
The Backyard

Today's Best Stuff

For Bloggers

Join the Yardbarker Network for more promotion, traffic, and money.

Company Info

Help

What is Yardbarker?

Yardbarker is the largest network of sports blogs and pro athlete blogs on the web. This site is the hub of the Yardbarker Network, where our editors and algorithms curate the best sports content from our network and beyond.