Found December 05, 2012 on Fox Sports:
PLAYERS:
Lance Armstrong
,
BJ Penn
,
Rory Macdonald
,
Randy Couture
,
Chuck Liddell
,
Tim Sylvia
,
Kenny Florian
,
Joe Stevenson
,
Matt Hughes
,
Georges St-Pierre
,
Lyoto Machida
,
Nate Diaz
TEAMS:
Pittsburgh Penguins
This isn't Michael Jordan coming back to the NBA amid media hyperventilation after a year of flirting with playing professional baseball. This isn't Lance Armstrong returning to cycling after beating testicular cancer, or Mario Lemieux un-retiring and becoming a player/owner for the Pittsburgh Penguins. BJ Penn's return to the Octagon for his UFC on FOX fight against 23-year-old Canadian phenom Rory MacDonald (8 p.m. ET/5 p.m. PT Saturday on FOX) isn't even the most anticipated comeback in mixed martial arts history. That honor would go to UFC legend Randy Couture, who decided to retire at age 42 after losing to light heavyweight Chuck Liddell -- then came back a year later in 2007, moving up a weight class and ripping the heavyweight belt off Tim Sylvia's waist. None of this is to diminish the accomplishments of the Hawaiian fighter, who turns 34 the week after his UFC on FOX fight. At this point, Penn is only applying polish to his amazing fighting career. Penn has spent his UFC career fighting luminaries across weight classes, from the 155-pound lightweight class (where he has held the title belt and beat impressive fighters such as Kenny Florian and Joe Stevenson), to the 170-pound welterweight class (where he took the belt from UFC Hall of Famer Matt Hughes and lost twice to future Hall of Famer Georges St-Pierre), to the 185-pound middleweight division (where he defeated Rodrigo Gracie of the famous Brazilian Gracie fighting family), and even to fighting Lyoto Machida in an open weight class fight where Machida weighed in at 220 pounds. Penn's welterweight fight against Rory MacDonald, which comes with several scintillating storylines -- from MacDonald's place as the protege of St-Pierre, the fighter who twice beat Penn, to Penn's intimations that MacDonald may engage in performance-enhancing drug use, which brought both fighters to take voluntary doping tests before the fight -- isn't even the top fight of this stacked UFC on FOX card. Saturday's main event will be the lightweight title fight between title holder Benson Henderson and challenger Nate Diaz; the fight before that will feature former light heavyweight champion Mauricio "Shogun" Rua against up-and-coming Swede Alexander Gustafsson in a fight that ought to provide clarity to the top of a packed division. What BJ Penn's UFC on FOX fight will be is a test of MacDonald's youth against Penn's experience. It will give fans one more glimpse -- and who knows, perhaps plenty more -- at what could be one of the greatest fighters of all time in the UFC's lighter divisions. And it'll give Penn the feeling he has yearned for since he stepped away from the sport for the past 14 months. "I like the camaraderie with everyone on my team, but there's a lot of bad feelings fighting can give you," Penn told FOXSports.com. "You spar with somebody you don't know. The day of the fight, the week of the fight, cutting weight and doing media, it's not a lot of fun. But you can't get those emotions and feelings anywhere else. You have to get into a dark place before you go into the Octagon." The funny thing? Over the past year, Penn has missed that dark place. He's been living on Hilo, on Hawaii's largest island, a quiet, peaceful place. It's not like Waikiki, with white sand beaches and mai tais. Penn has been teaching self-defense classes and enjoying the quiet life, swimming in far-flung ponds, chilling at the beach, surfing and going to the gym. But he missed something about the fighting life. Not the cutting weight or brutal training routine or doing the promotional rounds with the media. That's all fine and good but really just part of the job. "Why am I fighting again?" Penn said. "You're hanging out and everyone starts talking about who is the best, who is the best of all time. And my name never comes up anymore. Everyone else's name comes up. And I'm like, 'I'm just as good all these guys.' " The moment he realized he was sick of no longer being part of the conversation, and decided to do something about it? "It was the moment right before I called Lorenzo (Fertitta, the CEO of the UFC) and said, 'Find me a fight, Lorenzo. I want to go down as one of the top guys. I don't just want to hear all the other guys' names called. I want to be one of the best of all time." He already is, really. He's been around the sport for more than a decade, an eternity in the history of the UFC. He's one of two fighters in UFC history to hold titles in two different weight classes, the other being Couture. He's faced plenty of the best fighters in the history of the sport, and beaten many of them. People keep asking him about ring rust. Will it be difficult to step back into the Octagon on Saturday night after more than a year away? "I don't think it's going to be tough," he said. "As soon as you get in there your body turns to fight or flight. And unless you go crazy and jump out of the ring, take flight and run away, you stand there and you're going to fight. That dark place, it's going to come back." Follow Reid Forgrave on Twitter @ReidForgrave or email him at ReidForgrave@gmail.com
Original Story:
http://msn.foxsports.com/ufc/story/uf...
THE BACKYARD
BEST OF MAXIM
RELATED ARTICLES
Fast rising welterweight Rory MacDonald is set to take on mixed martial arts legend B.J. Penn on the main card of Saturday's UFC on FOX 5. Many consider MacDonald to be the heir apparent to the welterweight title currently held by his teammate Georges St-Pierre. Penn appears to be at a crossroads in his career as he has only one win in his last five fights. However, he also appears...
Even with a title fight, Shogun vs. Gustaffson and a slew of other great fights on the card, BJ Penn vs. Rory MacDonald is slowly but surely stealing the spotlight. Old guard, new guard, a motivated Penn and more storylines than a daytime soap opera, this fight has it all. The guys at Fighters.com have [...]
a href="http://www.fighters.com/" > Rory MacDonald vs BJ Penn – UFC on Fox 5 Read more ...
Did you catch the UFC's "Road to the Octagon" after football on Sunday? If not, no worries as we've got the entire episode here for you to check out. The episode follows BJ Penn, Rory MacDonald, Shogun Rua, Alexander Gustafsson, Benson Henderson and Nate Diaz as they prepare for this Saturday's fight-night. Highlights include MacDonald [...]
  "When they talk about the greatest fighters of all time, I don't ever hear my name coming up any more, and I'm just sick of it. I wanna get back to the glory days." - The Prodigy" B.J. Penn"As a young kid, I looked up to BJ. As a man I don't anymore. He's just another fighter on his way to losing....to me." - Rory "Ares"...
Penguins News

Delivered to your inbox

You'll also receive Yardbarker's daily Top 10, featuring the best sports stories from around the web. Customize your newsletter to get articles on your favorite sports and teams. And the best part? It's free!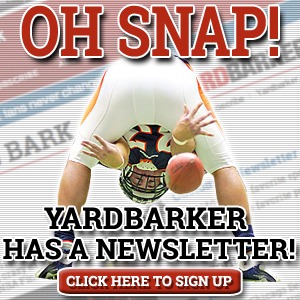 Latest Rumors
The Backyard

Today's Best Stuff

For Bloggers

Join the Yardbarker Network for more promotion, traffic, and money.

Company Info

Help

What is Yardbarker?

Yardbarker is the largest network of sports blogs and pro athlete blogs on the web. This site is the hub of the Yardbarker Network, where our editors and algorithms curate the best sports content from our network and beyond.