Found September 12, 2013 on hov-mma:
It's that time again folks where I come at the 717 members of the Twitter branch of #SheehanNation looking for the brightest and best questions regarding MMA today in an attempt to figure them out for the awaiting public. Some are thoughtful, some are hard to answer, some are funny but all are undoubtedly answered in an expert fashion. So sit back and relax as I take you through the roller coaster that is Mixed Martial Arts, or scroll down along to see if I answered your question and then send me an abusive tweet asking why I didn't. Either way, as one of our questioners would say, Lets do this sh*t!!!!! @SeanSheehanBA @hovmma do you think 2 or more titles in each division helps in the UFC or not? I personally am against it. — Aaron_OBrien (@The_AaronOBrien) September 10, 2013 Well you can look at this two ways. If the UFC were to have two permanent champions it would be running into one of the problems which has dogged boxing for so many years. And that is nobody knows who the real champion is because there are so many belts and different versions of champions. It might not be as bad with just two in each division but it would certainly be going that way. I think its just fine as it is now. Secondly ,having a belt for an interim-champion is also an option. As it's worked at the moment only long term divisional absentee champions have to be replaced in the short term (see Dominic Cruz and Renan Barao) but there is also the possibility of making the number one contender in each division the interim title holder to ensure a fight against the "real" champion. The fighters would probably love this because it would stop them from being overlooked for a title shot (See Lyoto Machida and Ricardo Lamas) but the UFC would never allow it because, lets face it, they make the fights they think are the best at the time regardless of he fact someone else has been promised a title shot or not. I kind of like it that way too. If it ain't broke, don't fix it. @SeanSheehanBA Jones vs Cain superfight. Champ vs Champ. Who wins and why? — Brian McLoughlin (@bmcdublin) September 11, 2013 Cain. The takedown is my main reason for saying that. Jones certainly wouldn't be able to rag-doll Cain to the ground like he has the rest of his opponents. He also would be coming up against one of the best offensive wrestlers in the UFC. Nobody has been able to stop the Velasquez takedown so far when he hasn't been knocked out inside of two minutes. Jones has elite striking but against a heavyweight the possible lack of real power would show. If you can't take Velasquez down, can't knock him out and can't stop his takedown then how do you beat him? You don't. Saying that we don't know how the additional weight may help Jones and how his current weight cut affects him but at the moment I have to pick Cain. @SeanSheehanBA @hovmma on a serious note. What prevents dana from letting the fans vote for who fights in one match per event? Interactive! — Mike Mathison (@ptr2mm) September 11, 2013 In theory it sounds like a wonderful idea but if you read Ben Fowlkes' wonderful piece over at mmajunkie.com a few weeks ago where he spoke to UFC matchmakers Sean Shelby and Joe Silva you can see why it would be tough to pull off. Its hard enough for them to make a fight between the right fighters, at the same level and at time which allows both sufficient time to train and be ready for fight night. In all my wisdom though, I may have just come up with a solution. Take four fighters from the same division who will be ready to fight on the same event and let the fans pick who fights who. Let me give you an example. At the upcoming UFC fight night 29 Erik Silva, Dong Hyun Kim, Mike Pierce and Rousimar Palhares all fight at welterweight. Maybe twelve weeks ago the UFC could have let the fans vote for which match-up they would like to see the most. Possible but, very unlikely @SeanSheehanBA Will @TheNotoriousMMA make a full recovery and be at his previous level or will the hype die and become forgotten? #hovMMA — David Musgrave (@muzzyboi) September 10, 2013 As luck would have it one of my best friends is a chartered physio therapist and part-time MMA fan so I text him about the physical side of things and this was his response, "He will make a recovery alright but compared to other sports where you can ease back in this is difficult because when you come back and have to win immediately. He can't shake off the rust over one or two games. Psychological it will be very tough too considering it's such a high contact sport" I agree with the point that he won't be able to ease his way back in but luckily he hasn't quite taken the next step into the top 10 just yet. A comeback match against someone like Andy Ogle or Akira Corasanni would be quite good for both McGregor and UFC matchmaker, Sean Shelby. Neither are terrible fighters, both have a name and McGregor shouldn't have too much trouble dispensing of them, even if it did take a round or two to shake off the rust. Add to that the fact he trains in SBG with the likes of Gunnar Nelson and Cathal Pendred who will be a more than able preparation in sparring. MMA fans can be a fickle bunch, should he come back and win the hype will all come rolling back immediately. ESPECIALLY if he fights in Ireland. Then the hype will even be more intense than Boston. What will happen after that? Let me answer in the next question. I may be slightly biased here, being Irish, but I really do think Conor McGregor can be UFC champion. Can he do it with Aldo still in the division? I think he can but the bigger question might be can he do it before Aldo leaves the division? I'm not so sure on that one given the fact the Irishman is out injured for the bones of a year and the Brazilian looks destined to fight Anthony Pettis at some point in that time after cleaning out almost all of the featherweight division. If it were to materialise, an Aldo v McGregor fight would be one of epic proportions. Both men love to boss the pace, Aldo at a slower more controlled rate and McGregor at 100 mph moving straight forward. I don't think Aldo can last the pace of McGregor over five rounds, especially with the power striking of the Irishman. Aldo has wilted often in the past against lesser fighters late in the fight and if he did that against McGregor he would get finished. But hey, I'm biased. Maybe Aldo loses to Lamas. Maybe McGregor doesn't come back the same fighter. Or maybe I'm right and Conor crushes him... Only time will tell. Vince has got... NO CHANCE IN HELL. This is how it plays out. First of all its a "Keys to the company" match and whoever loses has to hand over his company to the other man. It's fought inside a WWE style steel cage (but it's octagonal). Brock Lesnar is special guest referee. Dana comes out with his boxing style and has Vince in trouble early until Shane McMahon comes in and bursts Dana through a hole in the cage with coast-to-coast which allows Chael Sonnen to sneak in, catch Brock in a kimura and break his arm before slapping on the referee's t-shirt, elbow-dropping Shane and giving Dana the 1-2-3 quick count win off the distraction. KABOOM @SeanSheehanBA Which fighter is most likely to win a UFC title in the future even though presently they are not employed there?#hovMMA — Patrick Noonan (@PatrickNoonan87) September 11, 2013 Great question. First people to come into my head are Eddie Alvarez, Michael Chandler, Tyrone Spong, Ben Askren, Josh Burkman, Cathal Pendred and Sergio Pettis. I think all of those would have a chance. If I had to pick one, though, I'm going with Bibiano Fernandes. Even though he's 33 and had issues signing with the UFC in the past I think he will eventually end up there and will push very close to winning the title. This guy fought Urijah Faber and Kid Yamamoto in two of his first three fights and has been on a tear ever since. Would love to see him fight Renan Barao. @SeanSheehanBA @hovmma . Do you think there shud be a wrestle mania , Super Bowl event for ufc every year #askhovamma — Vinny C (@vinnyc86) September 10, 2013 Sounds good to me. They already have set shows like the new years eve event and the one on Superbowl weekend. The latter, I suppose, could be classed as a marquee event (even though it will probably be a free TV) if we get the kind of stacked card that has been talked about. Fox is looking the make that its biggest weekend of the year and it would be wise of the UFC to follow suit. @SeanSheehanba #hovMMA now that Anderson & Benson have lost their titles whats the likelihood of Jones,Cain & GSP individually losing theirs — JJ Murphy (@JJMouseMurphy) September 10, 2013 Jones – I can't see Gustafsson giving him any trouble, Jones will retain his title. GSP – Again I think he will retain his title quite easily. Hendricks has unbelievable power but his striking is wild and messy. GSP is going to stand with him and pick him off at will, set up the takedown and then put him on his back. This happens five times and GSP will win the unanimous decision. Cain – I'm not sure. Before the second fight with Junior Dos Santos the majority of people were picking Cain to win the fight, I was one of them. He did it, though, in a way nobody expected – on the feet. This fight has a different feel. Its 1-1 going into the third and I don't think anyone is certain how it will pan out. The first fight was blighted by an injury to Cain, the second by person problems for JDS but coming into this one both men seem to be going well after decisive wins in their last respective last fights. At a push I would have to pick Cain but I really hope this isn't the last time they fight. It's most definitely worth the watch. This is Mayweather's toughest fight since Oscar De la Hoya. Canelo is a power puncher who can fight in all area's. He was known mostly as an attacking aggressive fighter before his last fight. Against Austin Trout, Canelo showed he can box too. It was a total philosophy change from his previous fights, possibly with one eye on Mayweather, and although he didn't set the world alight in that fight he certainly showed his versatility. No doubt he will be even better this time. Will it be enough to dethrone the pound-for-pound king though? I'm not so sure. Floyd is a masterful boxer. He is the best defensive fighter off all time and wins his fights with twelve round processions of counter punching brilliance. That will be his gameplan. For Canelo to win he needs to be patient. He can't bum rush Floyd because he will get caught on the counter. He needs to use he fakes and try to get Floyd to attack him. The left-hook to the body is the money punch, no pun intended, for the Mexican. He will have to land that regularly to have any chance of winning this. It's going to be a great fight. Heart says Canelo, head says Floyd. Also, Lucas Mathysse is going to knock out Danny Garcia in the co-main and finally shut up his Garcia's father. @SeanSheehanBA @hovmma Can Affleck pull off Batman!?!?!? — Tommy Toe Hold (@TommyToeHold) September 11, 2013 NO WAY!!!! He is a truly terrible actor. The town is the only film he was ever good in and that's because he was basically playing himself. Argo was a great film and he wasn't bad but his hair looked like it was stuck on with duck-tape, who can buy that? Don't get me started on Daredevil, he was even worse than Colin Farrell. What about the piece de resistance? Pearl Harbor. The single worst film ever made. Now considering this is an MMA Q&A, Tommy, I feel your question infers who would I choose from MMA to be Batman. I'm glad you asked my animated friend because there is an obvious answer. Matt Brown. Firstly his nickname is "The Immortal" when he isn't actually immortal, if that's not Batman then what is? Secondly, have you seen that guy in a press conference? He sits there with a dead-pan facial expression just waiting for something to happen so he can suit up and rescue someone. I can imagine seeing just his mouth and eyes peeking out of a leather mask when he exits the arena to save his city after leaving yet another welterweight unconscious inside the Octagon. If I were him I would answer every question "I'm Batman". Who's going argue? Nobody. That's who.
Original Story:
http://www.hov-mma.com/2013/09/sean-s...
THE BACKYARD
BEST OF MAXIM
RELATED ARTICLES
Despite recently being diagnosed with a knee sprain that is expected to keep him out of action for 7-8 weeks, newly minted UFC lightweight champion Anthony Pettis is aggressively pursuing his first title defense, telling UFC Tonight's Ariel Helwani that he wants to fight No. 1 contender T.J. Grant at a UFC on FOX event scheduled for Sacramento on Dec. 14. That timeline would...
  Urijah Faber (29-6) will take on Michael McDonald (16-2) at the upcoming UFC on Fox event on December 14th, with the UFC confirming this evening that the pair will battle it out in the co-main event slot of the Sacramento card, set to take place at the Sleep Train Arena.   December 14th #UFConFOX […]
If Anthony Pettis' (pictured) injured left knee heals in time, the UFC would love to have their new lightweight champ defend his throne against TJ Grant at UFC on FOX 9. Reporter Ariel Helwani passed along the rumor during this week's edition of "UFC Tonight." Pettis suffered a grade two PCL sprain and an LCL strain on his left knee during this month's submission victory...
As expected, "The California Kid" Urijah Faber (pictured) will appear in the UFC's return to Sacramento. On Wednesday night, it was announced Faber will co-headline UFC on FOX 9 against Michael McDonald. Faber has won four of his last five fights, including three straight. Interesting, Faber's fought for a title five times in his last 13 outings. The 34-year-old has lost...
Get the latest MMA News in :60by: ItsYourCorner.comThe California Kid has his next fight, Bisping has been promised a title shot and EA Sports has been inspired by Anthony 'Showtime' Pettis...Details in The MMA Minute.
August 31st may be remembered as an important date in the history of the UFC and the lightweight championship. If you were watching that night, you watched something special occur. Anthony Pettis, the final WEC champion who missed his promised title shot for the UFC belt, fulfilled his destiny and snatched the belt away from the same man as before. But this time he made a statement...
Face it, you can't read our articles while driving your car, but you can download the latest MMA Roasted podcast. Comedian and longtime MMA aficionado Adam Hunter takes a look at the lighter side of life and mixed martial arts. This podcast is more than just a weekly breakdown fights, it dives in to what fans really want to know. In this week's episode, TJ Grant discusses...
MMA News

Delivered to your inbox

You'll also receive Yardbarker's daily Top 10, featuring the best sports stories from around the web. Customize your newsletter to get articles on your favorite sports and teams. And the best part? It's free!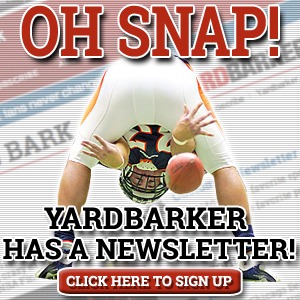 Latest Rumors
Best of Yardbarker

Today's Best Stuff

For Bloggers

Join the Yardbarker Network for more promotion, traffic, and money.

Company Info

Help

What is Yardbarker?

Yardbarker is the largest network of sports blogs and pro athlete blogs on the web. This site is the hub of the Yardbarker Network, where our editors and algorithms curate the best sports content from our network and beyond.