Found May 27, 2013 on Juiced Sports Blog:
It's always interesting to observe mixed martial arts (MMA) and how differently the sport is played out in various divisions, and how tactics unfold accordingly. For example, few top contenders below heavyweight could expect to stay there for long without a proven good gas tank, while bouts below the 155-170 range, and especially down at 125-135, often resemble lengthy kickboxing matches. In fact, with the flurry of action and lack of big-time, fight-changing strikes you see at 125-135, it's obvious that the human head can take a lot more punishment from someone that size than guys that weigh twice as much. Necks and trapezoids on heavyweights are bigger, but they're nowhere near big enough to sustain the terrifying increase in striking power the big guys bring. That's why heavyweight slugfests carry their own brand of high-octane charm, and Junior dos Santos' thrilling third-round knockout of Mark Hunt (watch it here) at last Saturday's (May 25, 2013) UFC 160 event in Las Vegas, Nevada, was an eminently tense affair, one that unfolded slowly, bit-by-bit, giving anyone viewing more than a few gut-wrenching thrills. It was also a nice hat tip to Dos Santos' technical acumen, as he slowly broke Hunt down, forcing the Samoan to display his unreal chin after landing some walloping right hands early, including one in the first that would've knocked out virtually anyone. Yet Hunt popped back to his feet and merely waved Dos Santos back in. As he stuck to a very strict game plan, Dos Santos was in dire trouble a couple of times, not from punches that landed (although a few did) but more so in terms of just escaping Hunt's terrifying bombs that whizzed by on several occasions. It was amazing to watch, and really reinforced how tough both of these guys are. To his credit, Hunt fought his heart out, finally succumbing in the third round to an epic spinning back kick that punched his ticket, long after he'd proven he's got one of the best chins in the game, if not the best. In the future, UFC will definitely try and come up with more big guy slugfests. But it will take a nearly perfect combination of power, toughness and technical skill to come close to the extended brilliance that we saw Saturday night. Questions or comments? Tell Jason at www.twitter.com/jasonprobst For complete "Velasquez vs. Bigfoot 2" results and coverage click here and for complete UFC 160 live results and blow-by-blow coverage of all the night's action click here., http://juicedsportsblog.com/sports-news/news/ufc-160-results-junior-dos-santos-and-mark-hunt-prove-heavyweight-slugfests-have-no-substitute
Original Story:
http://juicedsportsblog.com/2013/05/u...
THE BACKYARD
BEST OF MAXIM
RELATED ARTICLES
What do Mark Hunt and Jon Jones have in common? Both UFC fighters mangled their big toe in their last scrap. Jones' dislocation was far more gruesome, as his piggy was on full display for television cameras to capture. Hunt, on the other hand (or foot, in this case), didn't reveal his fracture until a couple of days after getting knocked out by Junior dos Santos. On Monday, Hunt...
Junior dos Santos (pictured) was a heavy 4-to-1 odds-on favorite to dispose of Mark Hunt on Saturday night at UFC 160. Dos Santos eventually did what he was supposed to do, but the former heavyweight champ did so in a manor nobody had ever seen from him before. "Cigano" rocked Hunt several times throughout their shootout with some vicious overhand rights, but that was to be...
Mark Hunt (pictured) proved once again he's got a chin made of granite after refusing to stay down after eating several bombs from Junior dos Santos at UFC 160 – before ultimately succumbing to a highlight reel spinning heel kick, of course. Unfortunately for Hunt, his toes are made of human bone just like the rest of us.  According to "The Super Samoan," he broke one of...
On Saturday, UFC heavyweight Mark Hunt suffered a broken toe during the first round of his loss in a bout against Junior Dos Santos at UFC 160. In order to properly document the injury, Hunt posted a disgusting photo om Monday to his Facebook page providing ample evidence just how messed up his toe was [...]The post UFC heavyweight Mark Hunt posts disgusting image of fractured toe...
After a spectacular night of MMA action, UFC President Dana White awarded Junior dos Santos (pictured), Mark Hunt, Glover Teixeira and TJ Grant each an additional $50,000 for their special performances Saturday night at "UFC 160: Velasquez vs. Bigfoot II." Dos Santos and Mark Hunt took home "Fight of the Night" for their thrilling shootout. Dos Santos ultimately ended things...
Former heavyweight champion Junior Dos Santos earned himself another rematch with Cain Velasquez with a spectacular knockout victory over Mark Hunt at UFC 160. Aside from Velasquez, Hunt was easily the most dangerous and experienced striker Junior had ever faced. Only the best strikers on the planet can out-box Mark Hunt, and Dos Santos proved himself worthy of this status by being...
Main Card Cain Velasquez def. Antonio Silva via first-round TKO : Pure domination by Cain once again. It's a truly incredible act, considering the insane size difference in the fight. Bigfoot just couldn't get anything going once again and Cain was able to time the big man looking to shoot in, connecting with a HUGE uppercut that flattened Silva. Cain then finished him off with...
The Nevada State Athletic Commission (NSAC) today issued its list of medical suspensions for UFC 160: "Velasquez vs. Bigfoot 2," which took place on Sat., May 25, 2013, from MGM Grand Garden Arena in Las Vegas. Considering the damage sustained by a handful of Ultimate Fighting Championship (UFC) fighters on the pay-per-view (PPV) main card, as well as the "Prelims...
In the UFC 160 main event and co-main event of the evening, Cain Velasquez and Junior dos Santos both proved why they are the top of the heap in the Heavyweight division, with each man earning impressive stoppage victories over their opponents.
Today the Nevada State Athletic Commission released the medical suspensions for UFC 160 to BoneSnapper.com and three of the main card fighters are facing up to six months of suspension.   Heavyweight Mark Hunt, light heavyweight contender Glover Teixeira and two-time lightweight title challenger Gray Maynard all could be out for as much as 180 days. Four fighters on the [...]
The Nevada State Athletic Commission has medically suspended 16 of the 24 athletes who competed in Saturday's "UFC 160: Velasquez vs. Bigfoot II" event. Gray Maynard (pictured), Glover Teixeira and Mark Hunt were issued the longest bans. They each could be riding the pine for up to six months, but can return to action sooner with a doctor's note. UFC 160 took place inside...
MMA News

Delivered to your inbox

You'll also receive Yardbarker's daily Top 10, featuring the best sports stories from around the web. Customize your newsletter to get articles on your favorite sports and teams. And the best part? It's free!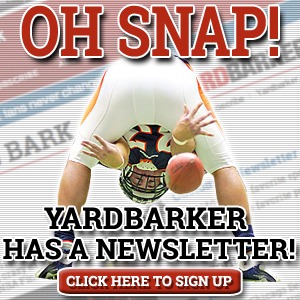 Latest Rumors
Best of Yardbarker

Today's Best Stuff

For Bloggers

Join the Yardbarker Network for more promotion, traffic, and money.

Company Info

Help

What is Yardbarker?

Yardbarker is the largest network of sports blogs and pro athlete blogs on the web. This site is the hub of the Yardbarker Network, where our editors and algorithms curate the best sports content from our network and beyond.