Found September 18, 2012 on Fox Sports:
It could be easy to look at this weekend's UFC 152 event in Toronto and forget there are two title fights on the card, not just one. After all, the hype leading up to Jon Jones' light heavyweight title defense against Vitor Belfort overshadows anything coming out of the mixed martial arts world since Anderson Silva's vitriol-filled rematch with Chael Sonnen in July. First and foremost are the much-ballyhooed reasons why Jones is even in this fight: the injury that caused Dan Henderson to drop out of his UFC 151 fight against Jones, Jones' refusal to fight Sonnen on short notice, the inability to find a suitable replacement and the subsequent cancellation of UFC 151. Add that to the fact that many would call Jones not just the top pound-for-pound fighter in the world (with apologies to Silva and Georges St. Pierre) but also the future face of the UFC, and you have an easy recipe for ignoring anything other than the main event. That would be a huge mistake. Because the second title fight on the UFC 152 card, just below Jones-Belfort on the billing, promises to be a lightning quick matchup for the UFC's first flyweight title. It's a fight that Vegas oddsmakers tell us ought to be a much more heated affair than the Jones-Belfort mismatch. "Big guys who fight like small guys beat the big guys," said Joseph Benavidez, one of the two small guys competing for the flyweight belt. "A small guy who fights like a big guy comes out and gets terrorized. With us, you're not going to get two guys hunkered over and tired. This is going to be non-stop action." But maybe the top reason the title fight between 125-pounders Benavidez and Demetrious Johnson matters has less to do with what will go on inside the Octagon on Saturday night in the Air Canada Centre and more to do with what has transpired outside it. Sure, it promises to be a good fight. There's the virtual guarantee that these smaller fighters -- one a 5-foot-3 dude nicknamed "Mighty Mouse" -- will put on a better display of cardio than any heavyweight, even if UFC fans might prefer to see two heavyweights banging each other around. But that's not why this inaugural title fight matters. Why these flyweights matter is because common sense tells us there's no way these two men ever should have made it this far. "Even when I started this sport, I never thought I'd be in this position," Johnson told FOXSports.com. The favored Johnson, a former bantamweight who won a rematch against Ian McCall for a shot at the flyweight title, started out with a rough lot in life. Born premature to a mother who was deaf, Johnson has never met his biological father -- has never even seen a picture of him. His stepfather wasn't necessarily the best replacement. He had a military background and raised his stepson with a military demeanor, which sometimes meant corporal punishment for an infraction as simple as watching cartoons and interrupting his stepfather's sleep. Johnson played basketball and football growing up. But by high school, wrestling -- matching guys of the same weight classes -- seemed a better fit. "When I was in middle school, I was still growing," he said. "Then I stopped. It was what I got from God, so I went along with it." He started mixed martial arts in college just to stay fit. He tried the amateur circuit as he worked the odd array of jobs he's held: slinging burritos at Taco Bell, running a forklift at a recycling plant, working in construction, hanging gutters and cooking at Red Lobster, where he met his wife. He quit working to train full-time only a year ago, as he was preparing to fight Dominick Cruz for the bantamweight title. It's that sort of dedication -- Johnson trained two times a day with his wife when they were on their honeymoon in Hawaii earlier this year -- that brought these two flyweights to the pinnacle of their sport. Benavidez's story of conquering the odds in many ways mirrors Johnson's. Benavidez won a state wrestling title in high school in New Mexico and went on to wrestle in college until he dropped out. But his early sports success came despite a family where men simply didn't succeed. Every male in Benavidez's family has been to prison, he said. Substance and alcohol abuse was rampant in his family. His dad was in prison from when Benavidez was 6 years old until his teenage years, Benavidez told FOXSports.com, and his older and younger brothers have spent time in prison throughout Benavidez's professional fighting career, which began in 2006. "Seeing everything that had gone on in my family... that was tough, but it was almost good to see that," Benavidez said. "Knowing it was in my blood to have alcohol problems, to have drug problems, and I'm going to be better than that." Not to say he didn't have a taste of that road. He was drinking and doing drugs daily as a teen. Today, he calls his old self an addict, but back then it was just being unhappy, or feeling out of touch, or not being able to handle the struggles of everyday life without being drunk or high. Giving it up was simple -- once he realized this wasn't the life he wanted to be living and this wasn't the person he was. He was destined for something better. After coming to terms with his demons at age 20, Benavidez said getting and staying clean and sober wasn't a matter of attending daily meetings. It was just willpower. "It was like life in HD for me," Benavidez, now 28, said of his first days of sobriety. "I felt like myself for the first time in years, which was awesome. All the experiences you have after that, after your mind's been altered in some way every day for a few years, it's different. The high point is realizing this is life, so grab it for what it is instead of being altered the whole time." It took getting sober to make Benavidez serious about fighting. It also took chasing down former WEC featherweight champion Urijah Faber at Faber's gym in Sacramento and then training alongside Faber to bring Benavidez to the point he's at now, days away from a chance at UFC history. Like Johnson, fighting became a way for Benavidez to prove himself as worthy and to release himself from his struggles of the past. And so on Saturday night, instead of tuning in only to see big guys go for the light heavyweight belt, do yourself a favor. Tune in for the little guys. For all they've been through in their crooked paths, Saturday night's fight means something. It means as much as a middleweight title means to Anderson Silva or a light heavyweight title means to Jon Jones. As Benavidez put it, Saturday night's flyweight title fight means this: "Am I as good as I think I'm going to be?" Follow Reid Forgrave on Twitter @ReidForgrave or email him at ReidForgrave@gmail.com
Original Story:
http://msn.foxsports.com/ufc/story/fo...
THE BACKYARD
BEST OF MAXIM
RELATED ARTICLES
Contrary to popular belief – or unpopular of late, since we are talking about Jon Jones (Pictured) – the reigning UFC light heavyweight king admits he is far from waxing his division completely clean. While fans have been pushing Jones to jump to the heavyweight class so he can finally challenge himself, the skyrocketing superstar strictly has his sights set on Vitor Belfort...
Invicta FC All Pro Women's MMA is holding an 'Invicta's Got Talent' competition, asking six fighters to submit videos for a fan vote that started on Monday. Currently in first place with 27.72% of the vote is "The Karate Hottie" Michelle Waterson and her two-pronged victory strategy: be gorgeous, and convince reigning UFC Light Heavyweight Champion Jon 'Bones' Jones...
When you are the LHW Champion of the UFC you need to take some time to rest after hours and hours of training.  With his fight with Belfort less than a week away, Jones better get out of bed and get to the gym. Jones And Jackson Take A Beating Belfort Training Hard
Now that fight week is officially upon us, let's take a look at all of the fan-friendly activities that will be leading up to "UFC 152: Jones vs. Belfort." Each of the functions listed below are free and open to the public, except for Saturday's event. However, tickets for the show are still available if you happen to be in Toronto. UFC 152 features a light heavyweight...
Whether they are the odds-on favorites or monstrous longshots, all fighters claim they never care what the Gambling Gods think about their impending matchups. Hopefully for Vitor Belfort (Pictured), he'll continue to keep a blind eye to the bright lights flashing in the sportsbooks because he remains a significant underdog in Saturday's scrap against reigning UFC light heavyweight...
If you forgot to set your DVRs to record Tuesday's episode of "Countdown to UFC 152: Jones vs. Belfort" on FUEL TV, no worries because we've located to footage for your viewing pleasure. The 60-minute documentary focused on the light heavyweight title tilt between Vitor Belfort (Pictured) and champion Jon Jones. UFC 152's co-featured attraction with Joseph Benavidez and...
UFC light heavyweight champion Jon "Bones" Jones has been doing his part by visiting just about every program on the infamous four-letter to promote his upcoming title fight with Vitor Belfort. Unfortunately for him he has, and will continue to be bombarded with questions about Chael Sonnen and Dana White, but he's handled it well. Check out the video above to see...
UFC president Dana White along with Jon Jones, Vitor Belfort and other competitors for UFC 152 will address the media at the pre-fight press conference on Thursday, September 20th. You can catch the press conference live in the video below at approximately 12:00pm ET. UFC 152 takes place on Saturday, September 22nd in Toronto. Jones, the UFC light heavyweight champion, will put his...
If you're still fuming over UFC 151′s debacle, it's time to get over it. "UFC 152: Jones vs. Belfort" takes place this Saturday and features the same superstar who was supposed to star in this month's canceled show. Understanding there's significant lack of buzz surrounding this weekend's pay-per-view broadcast, FUEL TV will premiere "Countdown to UFC 152″ tonight...
Vitor Belfort may be a huge underdog going into UFC 152, but that hasn't slowed him down. A behind the scenes video shows Belfort enduring grueling workouts en route to Bones. If you thought for a second that Belfort wasn't taking this fight seriously, you need to see this video!
UFC fans mark your calendars for November 6th which marks the release of the Ultimate Fight Collection 2012. This 20 DVD set runs for over 50 hours and covers 200 of the best fights from July 2011 through June 2012. Anderson Silva, Junior Dos Santos, Jon Jones and many more fighters are highlighted in the collection. Included are bouts from UFC 132 through UFC 147, The Ultimate...
We haven't seen a fight inside the Octagon since August 11th. It feels like the UFC hasn't been idle like this since the early 2000's. The Air Canada Centre may not be seeing a Leafs game anytime soon, but on September 22nd Toronto will be treated to 2 UFC title fights and what could turn out to be a #1 contenders bout at 185. UFC 152: Jones vs. Belfort
MMA News

Delivered to your inbox

You'll also receive Yardbarker's daily Top 10, featuring the best sports stories from around the web. Customize your newsletter to get articles on your favorite sports and teams. And the best part? It's free!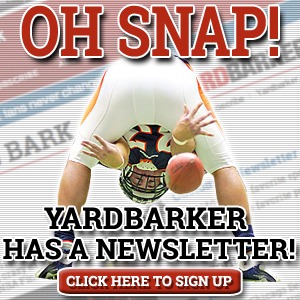 Latest Rumors
The Backyard

Today's Best Stuff

For Bloggers

Join the Yardbarker Network for more promotion, traffic, and money.

Company Info

Help

What is Yardbarker?

Yardbarker is the largest network of sports blogs and pro athlete blogs on the web. This site is the hub of the Yardbarker Network, where our editors and algorithms curate the best sports content from our network and beyond.