Social media has become a significant part of the sporting landscape. But few, if any, professional sports match the level of interaction and personal access provided by MMA. In an individual competition in which nearly every athlete is chasing the same goal of financial success and championship glory, it's important for fighters to provide insight into their lives in order to connect...
The latest update on Georges St-Pierre's fighting career isn't particularly promising. According to St-Pierre's (26-2 MMA, 20-2 UFC) longtime jiu-jitsu coach, John Danaher, the possibility of the former UFC middleweight and welterweight champion making a return to the octagon is still very much in the air after St-Pierre revealed a medical issue in December. St-Pierre confirmed...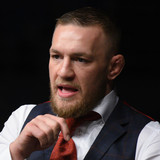 Dana White is hopeful Conor McGregor will make his return to UFC around the midway point of next year.After McGregor's pay per view extravaganza with Floyd Mayweather, there has been speculation whether McGregor's next fight will take place in an octagon or ring. While there has not yet been any indication either way, UFC President Dana White seems to have next summer as a target...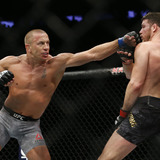 Georges St-Pierre has vacated his UFC middleweight title. But his most recent opponent, Michael Bisping, is okay with that. Don't mistake his tone, however. Bisping isn't condemning GSP. On the contrary, in fact. 'The Count' actually believes GSP's resignation is good for the former champion."In one respect, it's good for me because – as an MMA fighter, as a boxer, whatever it is...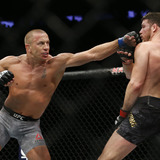 Georges St-Pierre's victory during UFC 217 came with an injury that resulted in a trip to a local hospital afterward.St-Pierre and Michael Bisping went to battle in the main event of last weekend's event at Madison Square Garden. St-Pierre claimed the win via a rear-naked choke in the third round.After the bout, St-Pierre was noticeably absent from the post-fight press conference...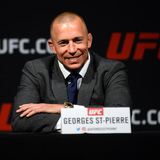 After defeating Michael Bisping to win the middleweight UFC title, what's next on tap for Georges St-Pierre?GSP himself was uncertain in the post fight interview."Obviously, this is not my weight class. I took this fight to challenge myself and I am honored to be champion once again. There was a time when I was too small to fight at this weight but now I've put on muscle mass and...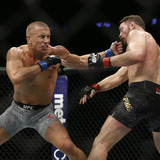 Georges St-Pierre vs. Michael Bisping was one of the most anticipated fights of the year, and the bout on Saturday night certainly lived up to the expectations.Fans who tuned in for UFC 217 witnessed St-Pierre go to war in the Octagon for the first time in four years, and one of the greatest fighters the UFC has ever seen showed he's capable of producing one of the best MMA comeback...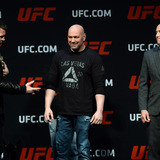 It will be difficult for Michael Bisping and Georges St-Pierre to wait until UFC 217 to finally get it on in the Octagon, because the two clearly don't like each other, which was evidenced by what happened at Friday's press conference.The fight is scheduled for Nov. 4, but the UFC held a press conference Friday to help build hype for it.And it worked.Bisping is known to talk trash...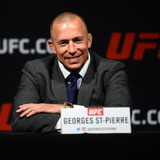 Georges St-Pierre has come out of retirement, but a minor setback has already delayed his UFC return.St-Pierre, who sports a professional record of 25-2, was initially slated to return in July against Michael Bisping for the middleweight championship — a fight that was officially announced in March — but claims he's repeatedly informed the UFC that timeline wouldn't work.While speaking...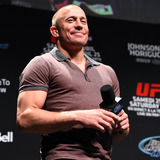 Georges St-Pierre is 35 years old, turns 36 in May, and hasn't stepped a competitive foot inside the Octagon since 2013. But that's not going to stop him from making a return to the UFC, and it's not going to stop him from making a very avoidable mistake.Following GSP's controversial split decision victory over Johny Hendricks two-plus years ago back in November 2013, UFC president...
MORE STORIES >>
MMA News

Delivered to your inbox

You'll also receive Yardbarker's daily Top 10, featuring the best sports stories from around the web. Customize your newsletter to get articles on your favorite sports and teams. And the best part? It's free!