Jan 14, 2018; St. Louis, MO, USA; Jessica Eye (blue gloves) celebrates after winning by split decision against Kalindra Faria (red gloves) during UFC Fight Night at Scottrade Center. Mandatory Credit: Scott Rovak-USA TODAY Sports Jan 14, 2018; St. Louis, MO, USA; Kalindra Faria (red gloves) fights Jessica Eye (blue gloves) during UFC Fight Night at Scottrade...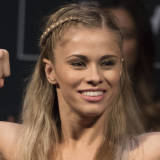 We would pay a lot of money to see MMA superstars Ronda Rousey and Paige VanZant go up against one another in the Octagon.But it looks like the two might very well square off as new members of pro wrestling's WWE. We already know the story about Rousey flirting with the idea of making the jump from the UFC to the WWE.Now, fellow legend Paige VanZant may be looking to do the same...
Jessica Eye and Lauren Murphy traded some trash talk on Twitter over the past week when Murphy went after Eye following a tweet.It all started when Eye tweeted that she was coming back in April after not fighting since her September loss to Bethe Correia. Murphy, the former Invicta bantamweight champion, fired back. Eye also responded with a profane tweet. The two then included UFC...
Pro fighters may seem like some of the cockiest people on the planet, given the arrogant acts many put on at press conferences, or the sheer amount of courage it takes just to step inside the octagon. But folks in the UFC are like other athletes—sometimes, they struggle with confidence. Such was the case with Jessica Eye, the #10 ranked Bantamweight in the UFC women's division, who...
Cleveland native Jessica Eye will get the chance to fight in her hometown at UFC 203 when she faces Bethe Correia on Sept. 10 at the Quicken Loans Arena.Eye confirmed the matchup on Facebook on Friday.Eye grew up in MMA while competing close to home in Cleveland, but this will be her first bout back there since 2013 when she joined the UFC roster.Fighting at UFC 203 will also give...
Before Jessica Eye was in the UFC, she was considered one of the top fighters in the world at 125 pounds with wins over a slew of notable names as she etched a 10-1 record before being called up to fight in the biggest MMA promotion in the world.Eye has been a top-10 fighter in the bantamweight division, but many have wondered if she would return to 125 pounds if that option ever...
Former woman's bantamweight title contender Sara McMann will go up against Jessica Eye at UFC Fight Night 88 in Las Vegas on May 29th. McMann, who won a silver medal in wrestling at the Olympics, hasn't been seen in the Octagon since August of last year when she suffered a first round rear-naked choke loss
After taking some time off from her devastating loss to Ronda Rousey at UFC 190, Bethe Correia is returning to competition. According to Combate, Correia is scheduled to fight Jessica Eye at UFC Fight Night 82. Correia holds a 9-1 pro-MMA record. In her last six bouts, she's beat Juliette De Souza Silva in June of 2013 and Eric Paes in June of 2013, both by unanimous decision. She...
TUF 18 winner Julilanna Pena got another win under her belt in the main card opener at UFC 192, defeating Jessica Eye by unanimous decision. Round One: Eye with an early kick and then they exchange aggressively in the pocket with Eye getting the better of that. Pena slips to the mat, but no harm done and she gets back up. Pena pulls guard and Eye stays down there with her for...
Through the first four minutes of her fight with Miesha Tate in July, Jessica Eye's game plan was working to perfection as she landed a barrage of fast and furious punches while her opponent struggled to counter the speed and precision. Eye hit Tate with machine gun-like fire, tagging the former Strikeforce champion with two and three punches at a time before she could even return...
MORE STORIES >>
MMA News

Delivered to your inbox

You'll also receive Yardbarker's daily Top 10, featuring the best sports stories from around the web. Customize your newsletter to get articles on your favorite sports and teams. And the best part? It's free!