Found May 27, 2013 on Start 'N' Park Blog:
PLAYERS:
Kevin Harvick
,
Matt Kenseth
,
Kasey Kahne
,
Kyle Busch
,
Marcos Ambrose
,
Greg Biffle
,
Dave Blaney
,
Travis Kvapil
,
Ricky Stenhouse
,
Danica Patrick
,
Brad Keselowski
,
Kurt Busch
,
Jeff Gordon
,
Aric Almirola
,
Bobby Labonte
,
Paul Menard
,
Denny Hamlin
,
Joey Logano
,
Ryan Newman
,
Clint Bowyer
,
Carl Edwards
,
Jeff Burton
,
Trevor Bayne
,
Regan Smith
,
Jamie McMurray
,
David Gilliland
,
David Reutimann
,
David Ragan
,
Josh Wise
,
Timmy Hill
,
David Stremme
,
Landon Cassill
,
Joe Nemechek
,
Michael McDowell
,
Dale Earnhardt Jr.
,
Ricky Stenhouse Jr.
,
Martin Truex, Jr.
Photo- Getty Images The longest race of the season had some of the most bizarre events unfold throughout the night. It started out with a cable falling from the sky (actually a camera) and then the full-moon implemented a series of accidents towards the end of the race. Once the smoke settled, Kevin Harvick was standing in victory lane for the second time in the Coca Cola 600. This race always features a twist of events around the 500 mile mark and Sunday Night's event didn't disappoint in that category. The action was all-over the track throughout the night and each occurrence in the race will be making headlines in the week to come. Matt Kenseth won the Coca Cola 500 on Sunday Night. He was able to stay up front for a good part of the race until about the final hundred miles. That was when he was involved in an accident which derailed his night. It didn't take long for Kenseth to get to the front to start his dominance during the race and he was leading by lap 7. The other dominant driver of the night was Kasey Kahne and he took the lead away from Kenseth on lap 24. Kyle Busch saw his short-lived time at the front come on lap 76, but four laps later, Kahne was back in command. After the second caution of the day for debris, Busch was back in the lead on the restart and that was the last place Busch wanted to be. Just a few laps following the restart, a cable from FOX's Sprint Unlimited Cam that glides high above the track was snapped and it fell on the racing surface, in the grandstands, and across the infield grass. The caution couldn't come soon enough since the drivers were unaware of the cable and they ran over it coming out of turn 4 to complete lap 120. When NASCAR eventually through the yellow-flag, the damage had been done. Kyle Busch and Marcos Ambrose had suffered severe damage from the cable and they both now had heavy damage to their cars. To clean the mess up, the red-flag was displayed and the cars were paraded down pit road. They sat there for about twenty minutes and at that point, NASCAR decided to allow the teams to work on their cars to repair the cable damage. Teams were allowed to maintain their positions on the track once the race restarted. While all of this was going on, the cable had fallen in the grandstands as well. Injuries to fans were reported and later confirmed by the Charlotte Motor Speedway. In all, ten fans were injured and seven were treated on scene while three were taken to a local hospital. The condition of the fans taken to the hospital didn't sound serious, but we will likely have more information on it on Monday morning. After a wild red-flag period was ended, the race was set to resume, but not until this twist changed the course of the event for some drivers. Busch continued to lead on the restart and his teammate, Matt Kenseth, would take the lead once again after a round of green-flag pit stops. Kenseth led at halfway followed by Busch and Kahne. The fifth caution of the night came out on lap 258 for various reasons. First, Dale Earnhardt Jr. blew his engine in turn 3. The oil laid down by the No.88 car caused Greg Biffle to slide into the turn 4 wall and behind Biffle, Dave Blaney and Travis Kvapil wrecked after slipping in Earnhardt Jr.'s oil. A massive clean-up occurred following the incidents. Just before the caution flew, Kyle Busch had reported engine troubles and he was falling back through the pack. Under the yellow-flag, Busch took his car behind the wall to end his night. A few laps following the restart, Kahne retook the lead from Kenseth. The full-moon's fury took over for the next twenty laps. In the twenty laps, thirteen cars were somehow involved in a wreck. The restarts were always chaotic in that period of the race and the action was non-stop. The first caution during the wild epoch of the race occurred with 82 laps to go. Ricky Stenhouse Jr., Danica Patrick, and Brad Keselowski were running three-wide and when Stenhouse Jr. slipped up the track, he tagged Patrick and she slid into Keselowski causing her car along with Keselowski's to slide up and into the wall. A wild restart following the incident left Kurt Busch in the lead after Kahne had a hard time getting going. The good news for Kahne was that he would have a second chance to regain the lead since another wreck unfolded at the end of the frontstretch. A massive incident occurred while Jeff Gordon, Mark Martin, and Aric Almirola were running three-wide down the frontstretch. As they turned in the second part of the dog-leg, Martin came down on Almirola which turned Almirola back up across the track and in-front of the whole pack. Cars had nowhere to go and a massive pile-up was the result of three-wide racing on the restart. The red flag was displayed for the second time of night as safety workers cleaned up the mess. Other cars involved in the wreck were Bobby Labonte, Casey Mears, and Ricky Stenhouse Jr. Last week's All-Star Race winner found trouble a few laps following the restart when he brought out the tenth yellow-flag of the night. Johnson got loose in turn 4 and spun around. The cars behind him checked-up when they saw him spin and that caused Juan Pablo Montoya to run into the back of Matt Kenseth which sent both of them into the wall. Kenseth had the dominant car of the night, but now all he had was a torn-up machine that wasn't going to celebrating in victory lane.  Tony Stewart and Paul Menard were also involved in the incident which added to the number of damaged cars in the race. That incident ended the twenty laps of destruction and the rest of the race went on fairly calmly. Kahne was leading after the final round of green-flag stops were made, but the eleventh and final caution of the day for debris hurt Kahne severely. He was the sitting-duck on the track and when everyone else came down pit road, he stayed out. On the restart, he wasn't able to hold his ground for long and Kevin Harvick snuck by with eleven laps to go. Harvick had no challengers for the final ten laps and he was able to make it to the finish and win his second Coca Cola 600 in three years. He won in 2011 after Earnhardt Jr. ran out of fuel, but Harvick didn't need strategy to win this one and he won in pure Kevin Harvick fashion. The Closer nickname shined true again and he picked up his second victory of the season. One common aspect between both of his victories is that they both featured Harvick taking the lead on the final restart. A win is a win and it doesn't matter how you get it done and Harvick has grown to like making a late-race pass to claim victory. One of the toughest tracks on the circuit is next in Dover and the monster will be hungry to create havoc on the track next Sunday afternoon. Results via ESPN.com POS DRIVER CAR MANUFACTURER LAPS MONEY START LED PTS BONUS PENALTY 1 Kevin Harvick 29 Chevrolet 400   15 28 47 4 0 2 Kasey Kahne 5 Chevrolet 400   6 161 44 2 0 3 Kurt Busch 78 Chevrolet 400   2 8 42 1 0 4 Denny Hamlin 11 Toyota 400   1 6 41 1 0 5 Joey Logano 22 Ford 400   31 0 39 0 0 6 Ryan Newman 39 Chevrolet 400   10 1 39 1 0 7 Tony Stewart 14 Chevrolet 400   25 6 38 1 0 8 Clint Bowyer 15 Toyota 400   5 0 36 0 0 9 Martin Truex Jr. 56 Toyota 400   17 0 35 0 0 10 Marcos Ambrose 9 Ford 400   19 0 34 0 0 11 Carl Edwards 99 Ford 400   13 7 34 1 0 12 Jeff Burton 31 Chevrolet 400   27 0 32 0 0 13 Paul Menard 27 Chevrolet 400   22 1 32 1 0 14 Ricky Stenhouse Jr. 17 Ford 398   30 0 30 0 0 15 Matt Kenseth 20 Toyota 398   3 112 30 1 0 16 Trevor Bayne 21 Ford 397   29 0 0 0 0 17 Regan Smith 51 Chevrolet 397   36 0 0 0 0 18 Juan Pablo Montoya 42 Chevrolet 397   16 0 26 0 0 19 Jamie McMurray 1 Chevrolet 396   9 2 26 1 0 20 David Gilliland 38 Ford 396   26 0 24 0 0 21 David Reutimann 83 Toyota 396   38 0 23 0 0 22 Jimmie Johnson 48 Chevrolet 395   12 0 22 0 0 23 Casey Mears 13 Ford 394   21 0 21 0 0 24 Bobby Labonte 47 Toyota 394   34 0 20 0 0 25 David Ragan 34 Ford 394   35 0 19 0 0 26 Josh Wise 35 Ford 393   43 0 0 0 0 27 Timmy Hill 32 Ford 391   40 0 17 0 0 28 J.J. Yeley 36 Chevrolet 390   23 0 16 0 0 29 Danica Patrick 10 Chevrolet 385   24 0 15 0 0 30 Dave Blaney 7 Chevrolet 339   33 0 14 0 0 31 Greg Biffle 16 Ford 335   7 0 13 0 0 32 David Stremme 30 Toyota 326   39 0 12 0 0 33 Aric Almirola 43 Ford 324   18 0 11 0 0 34 Mark Martin 55 Toyota 324   4 0 10 0 0 35 Jeff Gordon 24 Chevrolet 324   14 0 9 0 0 36 Brad Keselowski 2 Ford 317   20 3 9 1 0 37 Landon Cassill 33 Chevrolet 303   42 0 0 0 0 38 Kyle Busch 18 Toyota 257   8 65 7 1 0 39 Dale Earnhardt Jr. 88 Chevrolet 256   11 0 5 0 0 40 Travis Kvapil 93 Toyota 253   28 0 4 0 0 41 Joe Nemechek 87 Toyota 213   41 0 0 0 0 42 Michael McDowell 98 Ford 50   32 0 2 0 0 43 Scott Speed 95 Ford 39   37 0 1 0 0
Original Story:
http://startnparkblog.com/?p=26678&ut...
THE BACKYARD
BEST OF MAXIM
RELATED ARTICLES
Kevin Harvick takes the checkered flag for Coca-Cola 600.
Kevin Harvick celebrates in Victory Lane after winning the NASCAR Sprint Cup Series Coca-Cola 600 at Charlotte Motor Speedway on May 26, 2013 in Concord, North Carolina. (Photo by Jared C. Tilton/Getty Images) 14 lead changes. 11 cautions. 2 red flags. It was a crazy night at Charlotte Motor Speedway. In the end it was Kevin Harvick who won a wild Coca-Cola 600 on Sunday night, holding...
Jared C. Tilton/Getty Images for NASCAR Kevin Harvick is one of many drivers that are forgoing their original colors and paint schemes this weekend at Charlotte Motor Speedway for the Coca Cola 600. Dale Jr. shows off Coca Cola 600 paint scheme The race that happens the Sunday evening during Memorial Day Weekend, is an optimum time for drivers and teams to show their support for...
credit: getty images Kevin Harvick won the Coca-Cola 600 from Charlotte Motor Speedway. Annually run on the Sunday before Memorial Day the Coca-Cola 600 is the longest race on the NASCAR schedule. While Harvick winning may not have been a surprise, the events that lead up to it certainly were. Denny Hamlin set a track record to sit on the pole. Hamlin would lead the opening lap of...
Photo- Getty Images Kevin Harvick and the No. 29 Budweiser team picked up their second win of the 2013 NASCAR Sprint Cup Series season, driving to Victory Lane following the Coca-Cola 600 at Charlotte Motor Speedway. The California native started the 400-lap event from the 15th position and battled a tight-handling red, white and blue Chevrolet during the early stages of the event...
CHARLOTTE, NC – In a 10-lap shootout to the finish, Kevin Harvick held off Kasey Kahne to bring his No. 29 Budweiser Folds of Honor Chevrolet SS home for the win ahead of Kahne's No. 5 Time Warner Cable SS. It was Harvick's 21st NASCAR Sprint Cup career win, his second of the 2013 season, and also his second time to visit Victory Lane at the Coca-Cola 600. The win also moved...
NASCAR's longest night got under way to a fast start Sunday night in the Coca-Cola 600, capping two weeks for teams and drivers at Charlotte Motor Speedway. The prior week's All-Star Race gave plenty of warning of which drivers and teams would be strong Sunday night, and those top runners started where they left off. Strange and unusual events began plucking top competitors...
credit: getty images Kevin Harvick may have won the Coca-Cola 600 at Charlotte Motor Speedway but Jimmie Johnson continues to lead the NASCAR Sprint Cup point standings. Johnson entered the race with a 44 point lead over Carl Edwards. He now holds a 32 point lead over Edwards. The win moved Harvick up to seventh in the standings. Unofficial Point Standings after Coca-Cola 600 ...
NASCAR News

Delivered to your inbox

You'll also receive Yardbarker's daily Top 10, featuring the best sports stories from around the web. Customize your newsletter to get articles on your favorite sports and teams. And the best part? It's free!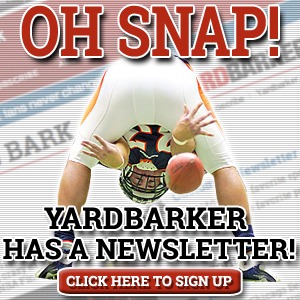 Latest Rumors
The Backyard

Today's Best Stuff

For Bloggers

Join the Yardbarker Network for more promotion, traffic, and money.

Company Info

Help

What is Yardbarker?

Yardbarker is the largest network of sports blogs and pro athlete blogs on the web. This site is the hub of the Yardbarker Network, where our editors and algorithms curate the best sports content from our network and beyond.