Found April 07, 2013 on Start 'N' Park Blog:
PLAYERS:
Johnny Sauter
,
Matt Crafton
,
Ron Hornaday
,
Timothy Peters
,
Kevin Harvick
,
Nelson Piquet
,
Todd Bodine
,
Dakoda Armstrong
,
Ryan Sieg
,
Brendan Gaughan
,
David Starr
,
James Buescher
,
Joey Coulter
,
Miguel Paludo
,
Brad Keselowski
,
Norm Benning
,
Stone Mountain
,
Bryan Silas
,
Scott Riggs
,
Ron Hornaday Jr.
,
John Wes Townley
,
Tim George Jr.
,
German Quiroga Jr.
,
Jennifer Jo Cobb
MARTINSVILLE, Va.—Johnny Sauter grabbed the lead from rookie polesitter Jeb Burton with 17 laps left in Saturday's Kroger 250 NASCAR Camping World Truck Series race at Martinsville Speedway and pulled away to keep his 2013 perfect record intact. Sauter won the season opener at Daytona, and after a break of 43 days, won the second race of the season at the .526-mile short track. Sauter won for the eighth time in the Truck series and posted his first back-to-back victories. It was only the second time in series history that a driver has opened the season with back-to-back wins; the first was 2006 by Mark Martin. Sauter's ThorSport Racing teammate, Matt Crafton, passed Burton for the second spot with four laps left. Burton held third, but his top-five finish was clouded by an accident on Lap 103, when he turned Ron Hornaday Jr. into the Turn 3 wall while battling for the lead. Timothy Peters and Darrell Wallace Jr. completed the top five. Though Sauter and Burton were on equal tires at the finish–in terms of the timing of their last pit stops, at least–Burton had put more stress on his right rear as he worked his way through the field. "We all knew today was going to be about tire management, just from the tire wear we saw (Friday in practice), moreso than ever before that I can ever remember here at Martinsville," said Sauter, a perennial hard charger. "The first part of the race, we ran 80 percent, just trying to maintain and not lose too much track position, but still try to run as fast as we could. "That's really hard to do, because you've got to keep the people behind you behind you, and you don't want to use too much of your equipment up. … With about 45 or 50 to go, I put the hammer down and was picking them off. I still can't believe we did it." With two straight wins, Sauter holds a 12-point lead over Burton in the series standings. "I really wanted to win," Burton said. "We have 'em covered half the race. We were really good at the beginning, and we adjusted to the track half way (through the race). Everything was good, and we still had 'em covered, I thought, and then I used the right rear tire a little bit too early when I had to get back through there. "That was my fault. I thought there was 40 (laps) to go, and there was actually was 60 to go, and I went a little harder than I needed to." About the contact with Hornaday, Burton's explanation was short and simple. "I ran in a little too hard and got into him, and there's not much else to say about it," Burton said. In a battered No. 9 Chevrolet, Hornaday rallied to finish 10th, making use of two free passes under caution as the highest scored lapped car. Divergent pit strategies put Kevin Harvick in the lead for a restart on Lap 151 of a scheduled 250, but Harvick, who had stayed out on old tires, gave up the top spot to Nelson Piquet Jr. one lap later and began a freefall back through the field. Three circuits after a Lap 162 restart following the eighth caution, Wallace snagged the lead from Piquet and opened an advantage of more than three seconds, but both Wallace and Piquet opted to come to pit road for fresh rubber on Lap 198, under the ninth caution for Max Gresham's spin in Turn 2. That gave the lead back to Burton, who brought the field to green on Lap 203, with Wallace, Piquet and Harvick deep in the field on new tires. John Wes Townley's hard crash in Turn 4 caused the 10th caution on Lap 206 and bunched the field for a restart on Lap 218. Wallace restarted seventh on fresh tires and had worked his way up to third by the time Harvick tapped and spun Todd Bodine in Turn 3 on Lap 229 to bring out the 11th caution. By then, Sauter, who last came to pit road with Burton on Lap 146, had fought his way into second place and was challenging Burton for the lead when the yellow flag flew. By Reid Spencer | NASCAR Wire Services Fin St # Driver Sponsor Car Laps Money Status Led Pts 1 4 98 Johnny Sauter Carolina Nut Co. / Curb Records Toyota 250 $33,680 Running 17 47 2 7 88 Matt Crafton Rip It Energy Fuel/Menards Toyota 250 $23,295 Running 0 42 3 1 4 Jeb Burton Arrowhead Chevrolet 250 $23,865 Running 154 43 4 3 17 Timothy Peters Parts Plus Toyota 250 $16,075 Running 1 41 5 2 54 Darrell Wallace Jr Toyota Care Toyota 250 $11,275 Running 34 40 6 8 94 Chase Elliott Aaron's Dream Machine / Hendrickcars.com Chevrolet 250 $9,550 Running 0 38 7 28 60 Dakoda Armstrong Winfield Chevrolet 250 $11,650 Running 0 37 8 29 39 Ryan Sieg RSS Racing Chevrolet 250 $11,600 Running 0 36 9 19 51 Erik Jones Toyota Toyota 250 $9,300 Running 0 35 10 9 9 Ron Hornaday Jr No Fear Energy Chevrolet 250 $10,525 Running 21 35 11 23 13 Todd Bodine Sealmaster Toyota 250 $11,450 Running 0 33 12 11 62 Brendan Gaughan South Point Hotel & Casino Chevrolet 250 $11,325 Running 0 32 13 22 81 David Starr Steely Lumber/Gregs Core Supply Toyota 250 $11,275 Running 0 31 14 20 31 James Buescher Rheem Chevrolet 250 $12,225 Running 0 30 15 15 18 Joey Coulter Darrell Gwynn Foundation Toyota 250 $12,225 Running 0 29 16 14 29 Ryan Blaney Cooper Standard Performance Ford 250 $11,075 Running 0 28 17 12 32 Miguel Paludo SEM Products Chevrolet 250 $11,025 Running 0 27 18 6 3 Ty Dillon Bass Pro Shops – Tracker Boats Chevrolet 250 $10,975 Running 0 26 19 13 30 Nelson Piquet Jr Wolfpack Chevrolet 248 $8,675 Running 12 0 20 25 19 Ross Chastain Brad Keselowski's Checkered Flag Foundation Ford 248 $11,475 Running 0 24 21 24 75 Caleb Holman Morning Fresh Farms/Lopez Wealth Management/Food Country USA Chevrolet 248 $8,575 Running 0 23 22 36 5 Tim George Jr TBA Ford 247 $10,800 Running 0 22 23 27 27 Jeff Agnew TBA Chevrolet 247 $10,775 Running 0 21 24 26 6 Devin Jones Veristor Chevrolet 246 $10,725 Running 0 20 25 16 24 Kevin Harvick Tide Chevrolet 245 $8,550 Tire 11 0 26 32 93 Kenny Habul Sun Energy-Schneider Electric-Shoals Toyota 245 $9,350 Running 0 0 27 31 07 Grant Galloway Digger Specialties/Teen Challenge Toyota 243 $9,325 Running 0 17 28 33 84 Robert Bruce Virginia Dent Services-Mid Atlantic Towing Ford 242 $8,300 Running 0 16 29 5 77 German Quiroga Jr NET10 Wireless Toyota 241 $8,250 Running 0 15 30 18 8 Max Gresham Made in U.S.A. brand Chevrolet 226 $8,725 Running 0 14 31 10 14 Brennan Newberry Fight For Life Chevrolet 210 $7,780 Running 0 13 32 17 7 John Wes Townley Zaxby's Toyota 205 $7,750 Accident 0 12 33 34 57 Norm Benning Stone Mountain Guns & Gold Chevrolet 135 $7,725 Rear Gear 0 11 34 21 99 Bryan Silas Rockingham Speedway Ford 109 $7,700 Drive Shaft 0 10 35 30 92 Scott Riggs FleetHQ.com/BTS Tire & Auto Service / QMI Chevrolet 36 $7,675 Ignition 0 0 36 35 10 Jennifer Jo Cobb Driven2Honor.org RAM 22 $7,619 Clutch 0 8
Original Story:
http://startnparkblog.com/?p=23894&ut...
THE BACKYARD
BEST OF MAXIM
RELATED ARTICLES
Johnny Sauter passed Jeb Burton for the lead on a restart with 17 laps to go Saturday and won the NASCAR truck race at Martinsville Speedway, his second victory in two series races this season. Sauter earned his eighth career victory in the series, and second at Martinsville. ''Two for two starting out. This is unbelievable,'' Sauter said in Victory Lane. He got...
SANDUSKY, Ohio (April 3, 2013) — Johnny Sauter led the NASCAR Camping World Truck Series standings for 10 weeks in 2011 before finishing second to Austin Dillon, so more than anyone at ThorSport Racing Sauter knows the value of momentum. It's why the Wisconsin native is stoked to arrive at Martinsville Speedway for Saturday's Kroger 250 with the series' points lead — by...
Johnny Sauter won the Kroger 250 at Martinsville Speedway. It was his second win of the season. Sauter won the season opening race at Daytona prior to the off weeks. Matt Crafton finished second ahead of Jeb BUrton in a race that featured a series of single truck spins at the shortest track on the NASCAR circuit. The race started with youngster Burton on the pole. On lap 105 he would...
Tundra driver Johnny Sauter earned his second win of the 2013 NASCAR Camping World Truck Series (NCWTS) season in only the second race of the year on Saturday at Martinsville Speedway. Sauter is the second driver in NCWTS history to win back-to-back races in the first two races of the season — Mark Martin was the first in 2006. Sauter led once for 17 laps (of 250) en route to...
MARTINSVILLE, Va. – Johnny Sauter's started from the pole for the Kroger 250 NASCAR Camping World Truck Series race at Martinsville Speedway, but as good as his No. 98 Carolina Nut Co. / Curb Records Toyota practiced Friday, capped off by a fourth-place qualifying effort, Sauter's looking to repeat his winning performance from April 2011. "It was good," Sauter said on pit...
Johnny Sauter leads the point standings by 12 points over Jeb Burton, with Matt Crafton (-17), Ron Hornaday, Jr. (-18), and Darrell Wallace, Jr. (-22) making up the top five. Ryan Sieg, Todd Bodine, Ty Dillon, Miguel Paludo, and Ryan Blaney round out the top ten. Pos Driver Points Behind Starts Wins T5 T10 $$$ 1  Johnny Sauter 94 Leader 2 2 2 2 $106,990 2  Jeb...
NASCAR News

Delivered to your inbox

You'll also receive Yardbarker's daily Top 10, featuring the best sports stories from around the web. Customize your newsletter to get articles on your favorite sports and teams. And the best part? It's free!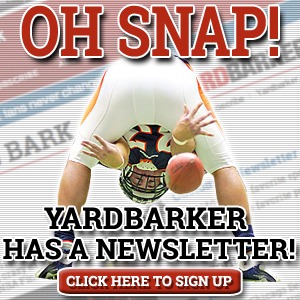 Latest Rumors
The Backyard

Today's Best Stuff

For Bloggers

Join the Yardbarker Network for more promotion, traffic, and money.

Company Info

Help

What is Yardbarker?

Yardbarker is the largest network of sports blogs and pro athlete blogs on the web. This site is the hub of the Yardbarker Network, where our editors and algorithms curate the best sports content from our network and beyond.