The Kobalt Tools 400 at Las Vegas Motor Speedway (1.5-mile oval, Las Vegas, Nev.) No. 2 Miller Lite Ford Fusion driven by Brad Keselowski | No. 22 Shell-Pennzoil Ford Fusion driven by Joey Logano Sunday, March 10, 3:00 pm ET THE NEWS AND NOTES · KNOW WHEN TO HOLD 'EM, KNOW WHEN TO FOLD 'EM: On Thursday evening, Brad Keselowski, members of the No. 2 Miller Lite Ford team and soldiers from Operation Homefront will hold a charity poker tournament at Bally's Hotel and Casino, beginning at 7:30 pm PT. The winner will have $2,000 donated to the Checkered Flag Foundation in his or her name. · STRONG START: Throughout his young career, Keselowski has not been known for his strong starts to the season. The summer months are where he and the team usually hit their stride. However, with a pair for fourth-place finishes and laps led in the first two events, the defending Cup Series champion is off to the best start of his career as he is tied for second in the series point standings. · THE GREAT BLOGGER: Over the course of the 2013 season, Keselowski will share his thoughts on NASCAR and pop culture through two, high-profile blogs. ESPN.com and Autoweek.com will provide Keselowski with a platform to share his insights. · FAN MOSAIC: Fans can upload their "It's Miller Time" moments to www.FanMosaics.com/GetOnThe2 to have their pictures placed into a mosaic paint scheme for the All-Star Race in May. · 8 LAPS FROM BIG START: While the race finishes to Joey Logano's season reflect 19th and 26th on paper, it is not indicative of the way he has performed in the first two races of his Penske Racing career. Logano is really just eight laps short of starting the year with two top-10 results. In Daytona, Logano was running sixth when he lost his drafting partners with just three laps to go, causing him to fall back to an eventual 19th place finish. In Phoenix, Logano was running 10th when he ran into fuel pickup problems with just five laps remaining, which forced him to pit under green and relegated him to a 26th-place result. · MAGIC 150: When the green flag flies in Vegas, Logano will reach yet another milestone in his NASCAR Sprint Cup Series career. On Sunday, he will make his 150th Sprint Cup Series start. His first start came in September of 2008 at New Hampshire. · CUP O' JOEY: ESPN debuted what will be a new segment on their NASCAR Now Sunday morning programs last weekend. "Cup O' Joey" will follow Logano around on and off the track and give viewers an inside look at his personality as it relates to on-track competition and off-track fun. The segment will be a regular feature on the Sunday morning shows. THE BROADCAST Race: Kobalt Tools 400 Track: Las Vegas Motor Speedway Date: Sunday, March 10 Race Start Time: 3:00 pm ET Radio Broadcast: Live on PRN, 3:00 pm ET TV Schedule Friday Saturday Sunday · 3:00 pm ET, Practice (SPEED) · 6:30 pm ET, Qualifying (SPEED) · 12:00 pm ET, Practice (SPEED) · 2:30 pm ET, Practice (SPEED) · 3:00 pm ET, Kobalt Tools 400 (FOX) THE Q & A BRAD KESELOWSKI, NO. 2 MILLER LITE FORD WHAT'S THE REASON FOR THE STRONG START TO THE SEASON? "It really all comes down to experience. We are in our third season together as a team, so we know what we need now at the start of the season. In our second season we were able to win the championship, so it's easy to say that we have everything figured out. In reality we wanted to start the season a little stronger so that we are better positioned for the summer months where we usually pick it up. I'm really proud of the guys on the Miller Lite Ford for all the work they put in over the winter months. Our start is a direct result of their work with Ford Racing on the new Fusion." WHAT ARE YOUR THOUGHTS ON THE GEN-6 CAR AFTER PHOENIX? "I think there are small things we can do to make the racing even better than we've seen so far. I think you saw at the end of last week's race at Phoenix, these cars can put on a great show. Jimmie (Johnson), Denny (Hamlin) and I were going at it tooth-and-nail. That's the kind of show that we need to put on for the fans, one with passion and an all-out desire to win." JOEY LOGANO, NO. 22 SHELL-PENNZOIL FORD HOW DO YOU OVERCOME YOUR TOUGH START? "You just have to look at it like there is nothing you can do about what has already happened. The best thing you can do is learn from what happened and make sure it doesn't happen again. We need to figure out what happened with the fuel pickup problems in Phoenix and make sure it doesn't happen again. And I learned things about what to do and not to do at the end of the race at places like Daytona. We are only two races into the season though. There is plenty of time to keep moving forward." WHAT DO YOU THINK OF YOUR'S TEAMS PERFORMANCE SO FAR? "We haven't gotten the finishes we want, but that doesn't really mean we haven't been a factor. We were running in the top 10 both races with less than five to go. To be able to do that right out of the box is impressive. But we need to finish those types of runs. You can't blame luck. You make your own luck. So we just need to finish things. The speed is there. The chemistry is there. Now, we just need to put it together. This team can and will win races this year."
Original Story:
http://startnparkblog.com/?p=22275&ut...
MORE FROM YARDBARKER
NASCAR News

Delivered to your inbox

You'll also receive Yardbarker's daily Top 10, featuring the best sports stories from around the web. Customize your newsletter to get articles on your favorite sports and teams. And the best part? It's free!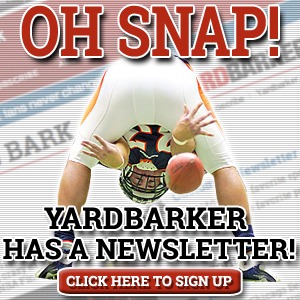 Latest Rumors
Best of Yardbarker

Today's Best Stuff

For Bloggers

Join the Yardbarker Network for more promotion, traffic, and money.

Company Info

Help

What is Yardbarker?

Yardbarker is the largest network of sports blogs and pro athlete blogs on the web. This site is the hub of the Yardbarker Network, where our editors and algorithms curate the best sports content from our network and beyond.