Found October 26, 2012 on Race Review Online:
PLAYERS:
Brad Keselowski
,
Denny Hamlin
,
Clint Bowyer
,
Jeff Gordon
,
Kevin Harvick
,
Carl Edwards
,
Ryan Newman
,
Jack Roush
,
Matt Kenseth
,
Greg Biffle
,
Kurt Busch
,
Jeff Burton
,
David Reutimann
,
Dale Earnhardt Jr.
Past Martinsville Success An Opportunity For Johnson For Jimmie Johnson, Sunday's Tums Fast Relief 500 represents a huge opportunity – the opportunity to return to the lead of the Chase for the NASCAR Sprint Cup™ and take a major step toward a sixth series championship. With the postseason winding down – just four races remain – the pressure is on Johnson to use his clear Martinsville Speedway advantage to overhaul points leader Brad Keselowski while distancing himself from pursuers Denny Hamlin and Clint Bowyer. The championship needle failed to move at Kansas Speedway, where Keselowski, with an eighth-place finish, entered and exited with a seven-point advantage over Johnson, who finished ninth. Both drivers overcame significant handicaps: Keselowski's 25th-place qualifying run and a mid-race accident from which Johnson rebounded solidly to effectively preserve his season. Martinsville represents one of those can't-wait-to-come-back moments for Johnson, a six-time winner – one victory shy of Hendrick Motorsports teammate Jeff Gordon, who leads active drivers. Johnson fashioned five victories in six starts between the fall of 2006 and spring of 2009. Four of his six victories have come during the Chase, two in his 2007-08 championship years. In 21 Martinsville appearances, Johnson ranks first in average finish (5.8) and second only to Gordon in top fives (14) and top 10s (18). His Driver Rating (121.4) is tops, along with Average Green Flag Speed (91.456 mph), Laps in the top 15 (6,854, 91.0%) and Quality Passes (542). Contrast that with Keselowski's log – two-plus seasons' worth – of 14th-best Driver Rating (82.3), 13th-best Average Running Position (15.2) and an average finish of 13.4. "If anything, we get a little frustrated through practice and then our qualifying effort usually isn't what we want," said Johnson, whose average start is 12.4. "But when they drop the green flag, and we are racing, we usually go [in] the right direction and I know it's been a good track for us. "There's maybe a chance to pick some [points] up on the No. 2 (Keselowski)." Keselowski sees Martinsville as a potential roadblock to his first title. The 28-year-old former NASCAR Nationwide Series champion has competed at the 0.525-mile track just five times, posting a pair of top-10 finishes including ninth this spring. "Martinsville is just one of those tracks where it seems like there are numerous variables that we've struggled with, and I don't think they're our fault," he said "I look at last year, I think we were running fifth or sixth in the fall and just got caught up in a wreck on a late race restart caused by somebody who retaliated on the track." Statistics notwithstanding, there are no guarantees. Johnson and Gordon led virtually all of Martinsville's spring race before an accident during a green-white-checker restart relegated them to 12th and 14th. Twenty-two cars finished on the lead lap, making Martinsville a miniature version of Talladega where a driver can go from the lead to oblivion in the blink of an eye. Junior Returns To Chase Wins In Final Four Races Four words have boosted the excitement level of Sunday's Tums Fast Relief 500: Junior's in the show. Dale Earnhardt Jr., who sat out the past two races at Kansas and Charlotte following a concussion suffered Oct. 7 at Talladega Superspeedway, has been medically cleared to return to NASCAR Sprint Cup competition. And Junior immediately becomes a favorite to win even though he's yet to visit Martinsville Speedway's Victory Lane. By Driver Rating, 100.1, Martinsville is Earnhardt's best track. He's finished outside the top 15 just once since joining Hendrick Motorsports in 2008, fashioning three top-five and seven top-10 finishes in the No. 88 Chevrolet. Earnhardt rides a Martinsville streak of four consecutive top 10s – including a third this spring. He came within four laps of victory a year earlier, the victim of a perfectly executed bump and run by Kevin Harvick. With no championship on the line, Earnhardt and crew chief Steve Letarte likely will take an all-or-nothing approach to the remaining four races on the schedule. Regardless of points position, Earnhardt is on pace to chart his most productive season in terms of top fives and top 10s since joining the Hendrick organization. His 10 top fives match 2008's output while 18 top 10s is the driver's best and counting. Martinsville and beyond loom as dress rehearsals for 2013 as Earnhardt and Letarte work to rebuild the season's earlier momentum that carried the team to victory at Michigan, the NSCS points lead and a spot in the Chase. Martinsville Speedway Has Been 'Denny's Place' Denny Hamlin failed to gain on Chase leader Brad Keselowski in Kansas. In fact, he dropped five points to the leader while holding onto third in the standings. And while Hamlin has at least one victory in each of the remaining four races, Sunday's Tums Fast Relief 500 represents the Virginia driver's best opportunity to overhaul Keselowski. In short, Hamlin is golden at the 0.525-mile track, finishing outside the top 10 just twice in 14 starts. Between spring of 2008 and fall 2010, he won four times and finished second once leading 796 laps. His Martinsville career average finish, 6.4, ranks second only to Jimmie Johnson. Hamlin's Driver Rating (113.4) is third best. Hamlin finished sixth in Martinsville's spring race, fourth among drivers ultimately qualifying for the Chase. He led 31 laps and finished ahead of both Keselowski and Johnson. A Martinsville victory was pivotal in Tony Stewart's run to the 2011 title. Stewart entered the season's seventh race 19 points behind leader Carl Edwards, cut the deficit to eight and predicted he had Edwards exactly where he wanted. Hamlin's current deficit? Twenty points. In other words, definitely doable. Can Newman Spoil The Party Once Again? Ryan Newman was the benefactor of some typical Martinsville mayhem on the penultimate restart in this season's spring race, nabbing victory from the likes of Jeff Gordon or Jimmie Johnson – and spoiling what was then an ongoing hunt for Hendrick Motorsports' 200th NASCAR Sprint Cup Series victory. Newman now looks to play a different kind of spoiler once again this weekend. Chase for the NASCAR Sprint Cup competitors have gone 6-for-6 to open the Chase, and show little sign of slowing down – especially at Martinsville. Only once in the previous eight seasons has a non-Chase driver (a "spoiler") won the Martinsville Chase race – Gordon in 2005. Newman, who has scored top 10s in the last two Martinsville races, looks to continue a recent trend at Martinsville – the season sweep, which has occurred three times (Gordon, Johnson, Denny Hamlin) in the last seven years. Though not technically "spoilers" in this particular sense of the word, watch for strong runs from Tony Stewart and Kevin Harvick, who both need to make up major ground to climb back into the championship hunt. Stewart, 47 points out of the lead in seventh place, won this race last year and finished seventh in the spring event. Harvick, 59 points back in 10th, has finished in the top five in three of the last four races, including a win in April 2011. Roush Hoping Milestone Translates To Rare Martinsville Success This is a milestone week for Roush Fenway Racing owner Jack Roush, whose organization celebrates its 3,000th NASCAR Sprint Cup Series start in Sunday's Tums Fast Relief 500 at Martinsville Speedway. Roush's Ford team made its series debut on Feb. 14, 1988, when Mark Martin finished 41st in the Daytona 500. Since then, Roush has celebrated 130 victories – most recently last weekend, when Matt Kenseth drove his No. 17 Ford into Victory Lane at Kansas Speedway. Kenseth, whose championship hopes were pretty much dashed after a 35th-place finish at Dover, has recovered some of the regular season magic that ranked him No. 1 in points on seven occasions. The Daytona 500 winner has two victories in his past three starts but stands ninth in points, 55 out of the lead. Kenseth, who'll leave RFR at season's end, would like the momentum to continue although Martinsville Speedway hasn't been a friendly place to either Roush or Ford in recent years. None of RFR's current cadre of drivers – Kenseth, Greg Biffle and Carl Edwards – has been able to win at the southern Virginia track. Roush – and Ford – last won at Martinsville in 2002 with Kurt Busch doing the honors. Roush has three other victories at the track, with Martin in 1992 and 2000 and Jeff Burton in 1997. Kenseth finished fourth when the series visited Martinsville in the spring. Edwards was ninth in last year's Chase event, the only Ford driver to finish among the top 10. NASCAR Sprint Cup Series, Etc. Chevrolet can mathematically clinch its 10th consecutive NSCS Manufacturers' Championship (and 36th overall) on Sunday in Martinsville. Currently, Chevrolet holds a 22-point lead. Chevrolet will guarantee a clinch with a finish of second or better. … Clint Bowyer will make his 250th NASCAR Sprint Cup Series start this weekend. … Points leader Brad Keselowski is 10 laps led away from reaching the 1,000th lap led of his career. … David Reutimann will make his 400th career NASCAR national series start. The breakdown thus far: 193 in NSCS; 127 in NNS; and 79 in NCWTS. NASCAR PR The post Sprint Cup Series heads to Martinsville Speedway with four races left to decide title appeared first on Race Review Online.
Original Story:
http://racereviewonline.com/sprint-cu...
THE BACKYARD
BEST OF MAXIM
RELATED ARTICLES
Brad Keselowski talks like racing continues to be business as usual. The 28-year-old is leading the standings in NASCAR'S Chase for the Sprint Cup, and while his margin over five-time champion Jimmie Johnson is only seven points, and perennial contender Denny Hamlin is only 20 points behind, Keselowski quickly dismisses talk that being chased in the chase means pressure. Keselowski...
Jimmie Johnson's championship hopes got a boost Friday when he won the pole position for Sunday's NASCAR Sprint Cup race at Martinsville Speedway while points leader Brad Keselowski qualified 32nd. Johnson, a five-time champion, gained not only the top starting spot, but the stall at the front of pit road, giving him unimpeded access to the track. He trails Keselowski by...
Jimmie Johnson's championship hopes got a boost Friday when he won the pole position for Sunday's NASCAR Sprint Cup race at Martinsville Speedway while points leader Brad Keselowski qualified 32nd. Johnson, a five-time champion, gained not only the top starting spot, but the stall at the front of pit road, giving him unimpeded access to the track. He trails Keselowski by...
Brad Keselowski differed from those who talked about the aerodynamic problems of the 2013 Sprint Cup cars. Keselowski was given a chance on Tuesday and Wednesday to test the 2013 Ford Fusion at Phoenix. Keselowski's chance to drive the car was the first tire test at a one-mile flat track. "I thought it was a great test," Keselowski told the NASCAR Wire Service. "I had heard...
Jimmie Johnson held off Kyle Busch on a restart with five laps to go Sunday and won for the seventh time in his career at Martinsville Speedway. The five-time series champion moved into the lead in the championship standings, two points over Brad Keselowski with three races remaining. Keselowski started 32nd, methodically worked his way forward, and took a late gamble to grab the...
MARTINSVILLE, VA – Ryan Blaney finished eighth at Martinsville Speedway in the No. 29 Draw-Tite RAM on Saturday afternoon. The Brad Keselowski Racing (BKR) driver had an impressive debut in his first race at Martinsville. Blaney qualified in the 11th position on Saturday morning pacing the 0.526 mile oval in 19.842 seconds or 95.434 M.P.H. to begin the Kroger 200. Lap 18 brought...
The NASCAR  Sprint Cup and Camping World Truck Series race into the Martinsville Speedway for this Saturday's Kroger 200 and Sunday's TUMS Fast Relief 500. Brad Keselowski maintains the points lead over Jimmie Johnson on the Cup side, while Ty Dillon is barely edging out James Buescher in the Trucks. The action starts at 11 AM EST with Truck practice and goes all the way until...
Sprint Cup drivers Brad Keselowski, Tony Stewart, Denny Hamlin, Carl Edwards, Kurt Busch, Jamie McMurray, Paul Menard and Brendan Gaughan participated in a Goodyear tire test for the next-generation cars at Phoenix International Raceway today. "You try to be as far ahead of this sport as you can; it's a constantly evolving target," said NASCAR Sprint Cup Series points leader...
We're heading down the homestretch to Miami to crown this year's champion, and there are only four races remaining in a thrilling season as the series heads to Martinsville, Virginia this weekend. Jimmie Johnson endured what could have been a rough weekend this past Sunday in Kansas and managed to grab a top 10 and not fall further behind Brad Keselowski after wrecking in Turn...
Jimmie Johnson, driver of the #48 Lowe's Chevrolet, won the pole for Sunday's TUMS Fast Relief 500 from the Martinsville Speedway. After qualifying ended he spoke to the media about the pole win and his outlook for the race. Below is the transcript from that meeting. YOU'VE GOT A LOT OF THOSE CLOCKS OVER THERE JUST TALK ABOUT STARTING UP FRONT OBVIOUSLY A GREAT PLACE TO BE...
NASCAR News

Delivered to your inbox

You'll also receive Yardbarker's daily Top 10, featuring the best sports stories from around the web. Customize your newsletter to get articles on your favorite sports and teams. And the best part? It's free!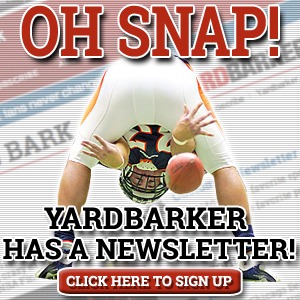 Latest Rumors
The Backyard

Today's Best Stuff

For Bloggers

Join the Yardbarker Network for more promotion, traffic, and money.

Company Info

Help

What is Yardbarker?

Yardbarker is the largest network of sports blogs and pro athlete blogs on the web. This site is the hub of the Yardbarker Network, where our editors and algorithms curate the best sports content from our network and beyond.