Found December 28, 2012 on Sports-Glory:
TNT analysts Charles Barkley and Shaquille O'Neal ripped Brooklyn Nets guard Deron Williams on Thursday night following Nets coach Avery Johnson's firing. "He's got the reputation of getting coaches fired," Barkley said. "Whatever happened in Utah [head coach Jerry Sloan resigned], it happened. Whatever happened in Brooklyn, it happened. This is all on Deron Williams right now. It's time to put up or shut up." "Sometimes before great players point fingers, they should look in the mirror," O'Neal said. "This is the first time I've heard the guy with the ball at all times say that he doesn't like the offense. My advice is for him to look in the mirror and see if he's doing enough. At times, I think he's trying to do too much. There are only 24 seconds on the shot clock and he spends 10-12 seconds dribbling between his legs. He needs to get everyone else involved and himself involved. ... He's not really playing that well." Williams responded to the former NBA players on Friday. "That's how things go nowadays," Williams said. "As soon as something happens, somebody's gotta take the blame, and I guess that guy is me. I can't fight everything that's being said, and i'm not gonna try. I know my teammates have my back." Willimas told ESPN's Stephen A. Smith that he knew everyone would blame him for Johnson getting fired after the team's 14-14 start.   "First of all, I have not had one conversation with [Nets GM Billy King] about not being happy with Avery, wanting him gone, etc.," Williams said. "It's not my fault. But as soon as I heard the news, I knew what was coming. I knew folks would blame me, would assume that it's history repeating itself because of what was said about Coach Sloan and me after he resigned. "The last thing I would want to do is get Coach Johnson fired. Any coach, for that matter. "Coach Johnson is a big reason why I came back to the Nets this summer, along with Billy. I enjoyed playing for him last year. We never had a argument or a fight. We never got into it, on or off the court. I don't even know why people would assume that."
Original Story:
http://sportsglory.com/xn/detail/6286...
THE BACKYARD
BEST OF MAXIM
RELATED ARTICLES
Avery Johnson was fired as head coach of the Brooklyn Nets on Thursday, one month after he was named Eastern Conference coach of the month, and two weeks after Deron Williams complained about the team's offensive system. Brooklyn entered the season with high expectations after acquiring Joe Johnson in the offseason and re-signing Gerald Wallace. They started off 11-4 and won five...
Deron Williams, who spent much of Christmas with his right wrist wrapped, will not play vs. the Bucks Wednesday night. Williams has a bruised right wrist, according to the Nets. He has had wrist issues since arriving in New Jersey in February 2011, undergoing surgery to remove bone chips and scar tissue that April. Williams has not blamed his wrist issues for his woeful shooting...
The Brooklyn Nets have fired Avery Johnson after the team has sputtered to a 14-14 start. That kind of record might have been OK in East Rutherford, N.J., but not for the new-look Nets in Brooklyn. The team has namd P.J. Carlesimo the interim coach. Brooklyn got out to an 11-4 start, but have gone 3-10 since -- including two losses to those cross-borough rivals from Manhattan...
After another ugly loss to Milwaukee, the Nets' tenth loss of December, Avery Johnson was finally "relieved of his coaching duties." Most of the attention and blame has been directed at Deron Williams. I don't agree. In fact, I thought this coaching change came late enough. Avery Johnson is not a great coach and he was underachieving with the Nets. His record with New Jersey...
NEW YORK (AP) -- The Brooklyn Nets gave P.J. Carlesimo a victory in his debut and the Charlotte Bobcats a 17th straight loss, getting 26 points and 11 rebounds from Brook Lopez in a 97-81 rout Friday night. A day after firing Avery Johnson, the Nets played as they did last month, when they were 11-4 and Johnson was Eastern Conference coach of the month. They are just 4-10 in December...
NEW YORK (AP) -- Brook Lopez scored a season-high 35 points and grabbed 11 rebounds, and the Brooklyn Nets improved to 2-0 under interim coach P.J. Carlesimo by beating the Cleveland Cavaliers 103-100 on Saturday night. Lopez followed his 26-point, 11-rebound performance in a victory Friday over Charlotte by shooting 13 of 20 from the field, making a number of timely baskets in...
Everyone was excited to have the Nets in Brooklyn. A state-of-the-art arena, new jerseys and a Russian billionaire couldn't disguise the fact that we are still dealing with the same cursed franchise that played across the river in a swamp. After a 14-14 start, the Nets honored their history yesterday by kicking Avery Johnson out the door. The same coach that sat through two miserable...
After a fast start, the Nets came soaring back to earth.
The Nets had much higher hopes for their inaugural season in Brooklyn. With a current record of 14-14 and locker room mumblings from Deron Williams saying that he was used to being coached a different way. Plus Gerald Wallace calling his teammates out about their attitude during the losing streak. The Nets have announced the [...]
NEW YORK - Brooklyn Nets owner Mikhail Prokhorov cut short a skiing vacation in British Columbia to attend to the numerous issues plaguing his team during the previous 13 games. Those problems included 1-on-1 play, a stagnant offense as well as a lack of concentration, and, after seeing it linger too long, the Russian billionaire said he wanted to tackle those issues head-on. ...
Avery Johnson took the high road when he addressed the media Thursday after being fired by the Brooklyn Nets.  The ex-head coach claims he never saw the firing coming and said, "This is the ownership's decision.  This is what we signed up for." Johnson's teenage son didn't take the news as well and went thumbs-out on his Twitter account to vent his anger...
Nets News

Delivered to your inbox

You'll also receive Yardbarker's daily Top 10, featuring the best sports stories from around the web. Customize your newsletter to get articles on your favorite sports and teams. And the best part? It's free!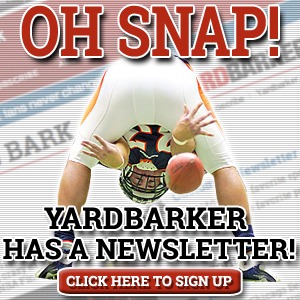 Latest Rumors
Best of Yardbarker

Today's Best Stuff

For Bloggers

Join the Yardbarker Network for more promotion, traffic, and money.

Company Info

Help

What is Yardbarker?

Yardbarker is the largest network of sports blogs and pro athlete blogs on the web. This site is the hub of the Yardbarker Network, where our editors and algorithms curate the best sports content from our network and beyond.