Found February 06, 2012 on Fox Sports Wisconsin:
ST. FRANCIS, Wis. Monday was something of an odd day for the Milwaukee Bucks. For the first time in what seemed like an eternity, the team took part in a full practice. The compressed, 66-game schedule this season has left little time for practice or film sessions, as teams are playing as many as four games a week. The Bucks recently played four games in a five-night stretch and have played 13 of their first 23 games on the road, leaving little time to fine tune."We needed a practice to shore things up a little bit and get our focus back," said assistant coach Jim Boylan, taking over for head coach Scott Skiles, who missed practice due to illness. "(We've had) a lot of slippage in a lot of different areas and having a day like today gives you a chance to get back to your basics."The practice couldn't come at a better time. After disappointing losses Friday in Detroit and Saturday against the Bulls, the 10-13 Bucks have a hefty slate ahead of them beginning with a rematch Tuesday against Phoenix at the Bradley Center.After that, it's on the road for contests at Toronto and Cleveland two teams close to the Bucks in the playoff race and back home Saturday against Orlando with a third meeting with the Heat coming Monday."It's a big week for us coming up," Boylan said. "It's good to have an opportunity to get out here and get something done."Jackson waits: Stephen Jackson is healthy, available and ready to play.In the meantime, though, he's just waiting for his chance.The veteran guard told reporters Monday that he is continuing to show up each day, work in practice and supporting his teammates even though he's played just nine minutes in the Bucks' last four games and has seemingly fallen out of the rotation."I've been showing my commitment every day," Jackson said. "I've been up cheering, supporting the team. At end of the day I'm going to support my teammates. Everybody knows I'm a team guy."Skiles has denied any sort of rift between himself and Jackson and said that Jackson's playing time, or lack thereof, has been due to the way the team has performed in his absence.Jackson said any perceived lack of communication wasnt important.My job is to play basketball, Jackson said. My job is not to be here to be friends with anybody. I get paid to play basketball.As for what Jackson needs to do to get back on the court, Boylan couldnt provide any insight."That's something that will be discussed, Boylan said. Nothing lasts forever. Things change, especially in this league.Point guard Brandon Jennings said he was disappointed that Jackson didn't play Saturday in Milwaukee's 113-90 loss to the Bulls, and emphasized that Jackson is still a "big part of (the) team, no matter what.""Just his presence probably could have changed the game, you just never know," Jennings said. "Especially a guy like that who has been sitting down for so long. When they're sitting down for so long and they come in, they've always got that spark that can help us."Jackson wouldn't comment on speculation that he's requested a trade."It is what it is," Jackson said. "I'm coming to work every day. If I'm called, I'll be ready, point blank. I can't get into what if or what I want to do.In 18 games this season (13 starts), Jackson is averaging 12.1 points, 3.1 assists and 3.2 rebounds while shooting a career-worst 36.2 percent from the field. On his Twitter account Sunday, Jackson posted a message to his fans: "I am not hurt. I wanna play. I love the game and my teammates too much. Fyi"Jennings in the All-Star conversation: Despite two subpar games, Jennings' name is still mentioned as a possible All-Star candidate.Through Sunday, Jennings is 13th among NBA guards with 19.9 points per game the top on his team and is averaging 5.4 assists and 3.3 rebounds while playing 36 minutes a night.I think he's had a very good season, Boylan said. His numbers are very improved from last season. Coaches notice that. He's had some really, really strong games against other Eastern Conference teams.Just three years into his career, just getting his name into the debate is a sign of progress.Sometimes that's a step you need to make first, Boylan said. When the voting is over and your name as brought up as somebody who should have made it, the next year you're in the conversation and once you get to that point, your chances increase.Jennings isnt concerning himself with the process right now, focusing instead on what the team needs to do to get back on track.Im not really thinking about it at all, Jennings said. Whatever happens happens. Im just trying to worry more about the team and that weve lost the last two games and we need a win tomorrow.Starters were announced last week and league coaches were to submit their votes for reserve players Monday. Follow Andrew Wagner on Twitter.
Original Story:
http://www.foxsportswisconsin.com/02/...
THE BACKYARD
BEST OF MAXIM
RELATED ARTICLES
MILWAUKEE When Stephen Jackson's playing time was all but eliminated over the course of the past few weeks, Milwaukee Bucks head coach Scott Skiles said the decision to rest his veteran guard was about the way the team had been playing in his absence. With the Bucks reeling, having lost back-to-back games in excruciating fashion, Skiles said he'd see what would happen with...
MILWAUKEE, Wis. -- Even though the Milwaukee Bucks are several games below .500, there is a good possibility that Brandon Jennings could be selected as an All Star on Thursday for the first time in his three-year NBA career. If that happens, the Bucks' 22-year-old point guard may not be able to contain his emotions. "I would have tears of joy if I did make it," Jennings...
Did you know the Bucks currently have no Johns on their roster, but two Jons?  They also have a Luc and a Shaun.  I guess Milwaukee it just where you go if you're an NBA player with a normal first name that's spelled kinda weird.  Anyway, Taj Gibson posterized one of those Jons yesterday; Leuer, to be specific. Damn.  Facial.  Honorable mention to Marcin Gortat.  How has...
MILWAUKEE For 11 seasons, Michael Redd representeda lot of things to Milwaukee Bucks fans. He was a poster boy for hard work, going from an unheralded second-round pickto a franchise cornerstone and an All-Star. He was a fan favorite, capable ofputting 20 points on the board on any given night, with a sweet shot that wasthe envy of many. Down the stretch though, whether warranted...
The Milwaukee Bucks have requested waivers on guard Darington Hobson (6-7, 210), General Manager John Hammond announced today.
Milwaukee Bucks guard Brandon Jennings said Monday he wished Stephen Jackson had played in Saturday night's game against the Chicago Bulls.
Bucks guard Brandon Jennings has turned more than a few heads with his play in the lockout-shortened season. But if he is not one of the seven players named by Eastern Conference coaches, he will keep working.
After spending most of last week sitting on the bench, Stephen Jackson isn't sure where he stands with the Milwaukee Bucks.
On Monday, Feb. 6, to prepare for Special Olympics Awareness Month in March, the Milwaukee Bucks players, coaches and mascot Bango hosted a basketball clinic for 200 Special Olympics athletes and their coaches.
The Toronto Raptors and Milwaukee Bucks erased huge deficits in their most recent games, only to suffer heartbreaking defeats. Each know they need to get off to better starts going forward. Looking to avoid a fourth consecutive loss, the Bucks try for a seventh win in eight meetings with the Raptors, who open a seven-game homestand Wednesday night. Averaging a league-worst 19...
6 p.m.: Michael Redd makes his return to Milwaukee tonight. Paul Coro previews Suns-Bucks.
Bucks News

Delivered to your inbox

You'll also receive Yardbarker's daily Top 10, featuring the best sports stories from around the web. Customize your newsletter to get articles on your favorite sports and teams. And the best part? It's free!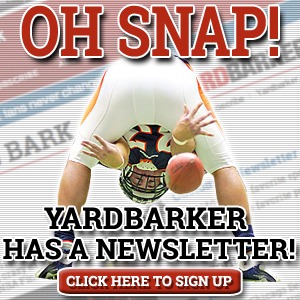 Latest Rumors
The Backyard

Today's Best Stuff

For Bloggers

Join the Yardbarker Network for more promotion, traffic, and money.

Company Info

Help

What is Yardbarker?

Yardbarker is the largest network of sports blogs and pro athlete blogs on the web. This site is the hub of the Yardbarker Network, where our editors and algorithms curate the best sports content from our network and beyond.