Found May 19, 2013 on NBA Injury News:
The Chicago Bulls signed guard Nate Robinson to a one-year free agent contract for the league minimum prior to last season. Robinson developed into a consistent scorer and shot creator for Chicago, and he became a fan favorite. While Robinson has said heā€™d like to return with the Bulls, and the team isnā€™t ruling anything out, Aggrey Sam of CSN Chicago believes that the undersized scorer is likely to be playing elsewhere next season.With Derrick Rose missing the season due to injury and Kirk Hinrich also plagued by several different ailments throughout the year, Robinson became one of the Bullsā€™ top scoring options. He turned in his best season, showcasing his abilities into the playoffs.Considering the Bulls expect to get Rose and Hinrich back healthy next season, and with up-and-comer Marquis Teague on the roster, Sam believes it will be hard for Chicago to fit Robinson in.Beyond making room on the roster, Robinsonā€™s performance will command more of a commitment than one-year at the minimum. Considering the market for guards is relatively weak, some team could offer Robinson a lucrative multi-year deal. Itā€™s hard to see the Bulls matching offers if they get too substantial.Follow @hoopsinjurynews
Original Story:
http://www.nbainjurynews.com/2013/05/...
THE BACKYARD
BEST OF MAXIM
RELATED ARTICLES
After a 2012-2013 season full of rehabilitating and mentally preparing, Chicago Bullsā€™ point guard Derrick Rose is officially setting the timetable for his triumphant return to the floor. Rose hopes that by this fall, he will be mentally prepared to play in the preseason. Since being cleared in March by team doctors physically, Rose was forced to work on his mental issues for the...
OUT OF LINE?
Bradley Beal may have only been a rookie this year, but he called out veteran star Derrick Rose for sitting the year out with his injury.
The Bulls' season is over, but Derrick Rose continues to be criticized. Wizards rookie Bradley Beal told the Washington radio station 106.7 The Fan that he thought Derrick Rose was "scared" to return after sitting out the entire season and the playoffs recovering from knee surgery. "He might have to give it a go," Beal said. "If you're practicing...
Chicago Bulls forward/center Joakim Noah was hampered throughout the end of the season due to his plantar fascia injury. Now that the season is over, coach Tom Thibodeau told reporters ā€" including Joe Cowley of The Chicago Sun-Times ā€" that Noahā€™s ailment could require surgery.ā€œThat hasnā€™t been determined,ā€™ā€™ Thibodeau said of Noah undergoing surgery. ā€œObviously, weā€™d...
Now, to add a little bit of class to this website, a poem about Chicago Bulls guard Derrick Rose as read by Bulls fan Jerk Jerksonā€¦(thatā€™s probably not his real name)ā€¦ *** Where are you, Derrick Rose [The Basketball Jones]
Derrick Rose teaches us an important lesson. (Credit) Every sports fan has his or her own ā€œSanta isnā€™t realā€ moment. Itā€™s that one instance when suddenly, the idea that sports is a business makes sense. That these guys donā€™t exist solely in the prism of their sport, that their interests donā€™t always align with ours, or even that the game doesnā€™t mean quite as much...
It seems at times, and some may say most of the time, the media over-hypes stories, and the Derrick Rose ā€œshould he have played or not play?ā€ has seemingly been one of those stories. However, when it reaches to the point where other NBA players are talking about Roseā€™s decision, there may be some smoke near this fire. Washington Wizards rookie Bradley Beal, when he is not being...
The Chicago Bulls season has ended, but thatā€™s not stopping people from continuing to take shots at star guard Derrick Rose. Rose now has wet behind the ears rookies taking shots. Washington Wizards guard Bradley Beal was talking toĀ LaVar and Dukes on 106.7 The Fan about the situation, and Bradley couldnā€™t help but voice his opinion. ā€œThatā€™s hard, because Iā€™ve never experienced...
In 2007, VH1 aired a show called The Pickup Artist.Ā  For those (probably everyone except me) who didnā€™t have the pleasure of seeing this program, it was a reality show based around a guy named Mystery (Erik von Markovik) who taught losers how to be total d-bags and pick up drunk girls. The philosophy was pretty simple: cover yourself in expensive looking things and then lie to...
Bulls News

Delivered to your inbox

You'll also receive Yardbarker's daily Top 10, featuring the best sports stories from around the web. Customize your newsletter to get articles on your favorite sports and teams. And the best part? It's free!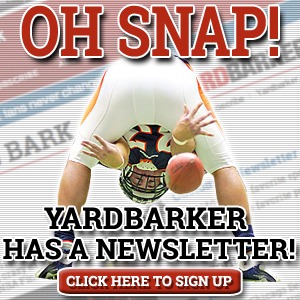 Latest Rumors
The Backyard

Today's Best Stuff

For Bloggers

Join the Yardbarker Network for more promotion, traffic, and money.

Company Info

Help

What is Yardbarker?

Yardbarker is the largest network of sports blogs and pro athlete blogs on the web. This site is the hub of the Yardbarker Network, where our editors and algorithms curate the best sports content from our network and beyond.