Found July 17, 2012 on With Leather:
"I hate you so much, I hope someone takes advantage of our horrific payroll so we lose you."
While ESPN's NBA experts and their "SOURCES! WE HAVE SOURCES!" are suggesting that the New York Knicks will simply let Jeremy Lin walk to the Houston Rockets, there is still chatter that their decision has not been made. The reason that the Knicks would let Lin just go to the Houston Rockets is because they'd rather have a stable of guys in their late 30s the Rockets' offer was designed to significantly punish the Knicks in the third year of Lin's deal. The Knicks would end up paying more than $30 million for just Lin, thanks to the new luxury tax penalty.
Hence, Carmelo Anthony's reaction: "It's up to the organization to say they want to match that ridiculous contract that's out there."
But a lot of people took that as Anthony not liking Lin, because everyone already thinks he doesn't like Lin. But hey you guys, that's wrong, okay? Anthony totally wants the guy his team can't afford back.
"I would love to see him back, honestly. I would definitely love to see him back. But knowing the business of basketball, it's a tough situation, kind of for both of our sides. With Jeremy, I know he definitely wants to be back in New York and Dolan definitely wants him back. So it's just a matter of figuring it out." (Via Newsday)
I've read a ton of opinions on this, and everybody seems to have facts that support letting him walk – specifically this report – and/or keeping him. But this is the Knicks we're talking about. They have paid out some stupid, STOOOOOOOOOOOOOOPID money in the past. This is smart money. And I'm not just saying that because this could effectively save the Orlando Magic's hope of fleecing the Rockets in a Dwight Howard deal.
That has absolutely zero influence on me. *whistles innocently*
Original Story:
http://feedproxy.google.com/~r/uproxx...
THE BACKYARD
BEST OF MAXIM
RELATED ARTICLES
Knicks fans may need a few days before it officially sinks in, but Jeremy Lin is a Houston Rocket. Between the knee injury last season and New York letting Lin walk in free agency, Linsanity ended about as quickly as it began. With New York's decision to not match Houston's $25.1 million offer, Jeremy's life will undergo yet another rapid change. During an interview with Pablo...
THAT'S KOOKY TALK!
Carmelo Anthony strongly expressed his opinion regarding the contract the Rockets offered his teammate and added it's not up to him to decide whether the Knicks match it.
DON'T LET GO
Knicks owner James Dolan reportedly felt "deceived" by Jeremy Lin who opted to sign with the Rockets and leave New York.
In a stunning development, sources report that the New York Knicks have decided not to match the offer sheet the Houston Rockets presented to Jeremy Lin for $25 million over three years. To soften the departure of Lin, the Knicks … Continue reading →
With news breaking that Raymond Felton was coming back to New York and the team did not have plans on matching Houston's offer sheet to Jeremy Lin, fans everywhere are surprised. And apparently, some Knicks fans are not happy. At all. Fans have started a petition to Knicks management to keep Jeremy Lin in town. The Harvard graduate was an instant fan favorite, as he was a huge...
HOUSTON If the general manager of the Houston Rockets were in public office, Daryl Morey would be in big trouble this election cycle. Approval ratings would be way down. And it probably wouldnt even matter whom he was running against. Are you better off now than you were even one year ago? Morey's opponent might say. No. One year ago you had Goran Dragic. Now you have Zoran...
It's looking more and more likely that the Knicks won't be matching the contract the Houston Rockets gave to Jeremy Lin. In light of comments made by Carmelo Anthony and JR Smith, for chemistry's sake, it seems like that is probably not a bad thing. In an interview with Sports Illustrated, Smith was extremely candid about [...]
With the trade to bring former Knicks Raymond Felton and Kurt Thomas back to New York now official, hope that the team will match Jeremy Lin's offer sheet with the Rockets continues to fade.Losing Lin would be devastating, to say the least. His impact and value both on and off the court makes him a key potential piece to the puzzle moving forward. Whether he played alongside...
Herald  Celtics newbies adjust to NBA game Christmas spirit spreads to Vegas Knicks' Kidd in hot water; Lin is in limbo; Carmelo chimes in Ray Allen becomes latest to choose shot at rings over money U.S. men's basketball team in shadow of 1992 team Timberwolves make $45.5-million offer to Nicolas Batum Heat's Chris Bosh expects role to change with new acquisitions Dwight...
The New York Knicks troubles continued as the team decides if Jeremy Lin is worth $58.3 million in 2014-15. The New York Post reports that if the Knicks matched the Rockets offer sheet for Lin, owner James Dolan could pay the $58.3 million because of the new CBA's luxury-tax penalties. The Knicks seem to have decided to pair Jason Kidd with a cheaper point-guard in Raymond Felton...
NiuBBall: JR Smith's former CBA team has replaced him with Quincy Douby.  This probably doesn't interest you now, but you'll chuckle this spring when I tell you how much better they got (you may recall that Smith's team failed to make the playoffs, something that's never happened to a Douby-led squad).  Fun Fact: Douby set a CBA Finals record when he scored 53 points...
NBA News

Delivered to your inbox

You'll also receive Yardbarker's daily Top 10, featuring the best sports stories from around the web. Customize your newsletter to get articles on your favorite sports and teams. And the best part? It's free!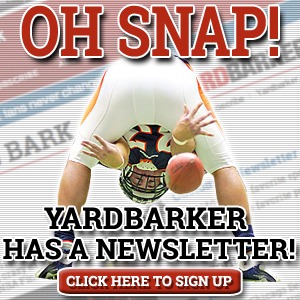 Latest Rumors
Best of Yardbarker

Today's Best Stuff

For Bloggers

Join the Yardbarker Network for more promotion, traffic, and money.

Company Info

Help

What is Yardbarker?

Yardbarker is the largest network of sports blogs and pro athlete blogs on the web. This site is the hub of the Yardbarker Network, where our editors and algorithms curate the best sports content from our network and beyond.