Found January 25, 2013 on Waiting For Next Year:
PLAYERS:
Tyler Zeller
,
Kyrie Irving
,
Rajon Rondo
,
Avery Bradley
,
Tristan Thompson
,
Kevin Garnett
,
Brandon Bass
,
Luke Walton
,
Jared Sullinger
,
Paul Pierce
TEAMS:
Cleveland Cavaliers
,
Boston Celtics
When we last got together, I was pretty hard on Tyler Zeller for his poor defensive rebounding. This week, given the performance and news last night, it's a must to further break down All-Star point guard Kyrie Irving's second 40-point performance of the season. Kyrie scored 40 while taking just 24 shots as he willed the young Cavaliers to victory over the veteran Celtics, a playoff team if the dust settled today, 95-90. Kyrie dotted the shot chart with a mix of shots at the rim as well as mid-range jumpers and just one three pointer while leaving Rajon Rondo and Avery Bradley in his wake. Let's start early in the Boston game. Irving had his highest-scoring quarter of the season with 19 points in the first quarter. Here, we take a look at a play that impresses for if nothing else the sheer number of defenders he passes as their attention is focused on him. Tristan Thompson begins this possession by trying to back down Kevin Garnett and juke him with a couple of pivots and fakes. When that doesn't work, he kicks it out top to Irving to reset with 8 on the shot clock. Rajon Rondo is heavily influencing Kyrie to go to his left and away from the middle of the floor. Tristan comes out to set a screen, but Kyrie doesn't even wait for him to get set. Normally, that's not a good thing, but here, it works out just fine. The timing of it all and the overplay position Rondo was in forces a switch. It's fascinating to see Kyrie get through that small of a window as shown above. KG is in decent guarding position, but if Kyrie scoots by, the Celtics are in trouble. Rondo completely ignores Tristan beyond the arc and tries to get back for the steal. He does get by Garnett, and hangs in the air for what seems like forever as he drifts by the contesting Brandon Bass for the up and under finish with his right and a little contact for good measure. When Kyrie got hot from the perimeter, he used it to his advantage to get inside. Here, he gets a little help from Luke Walton in tricking Rondo. This play takes place off a sideline out of bounds play. As you can see below, Kyrie and Rondo are the only two players on the far side of the court. Rondo makes the mistake of having Brandon Bass go up and tightly contest the pick and curl action from Walton and Gibson to get the ball inbounds. With that adjustment, there's no immediate backside help for Rondo. The ball goes into Walton at the top of the key, and Rondo is overplaying and respecting the perimeter game of Kyrie. The incredibly astute second-year point realizes this, takes two quick steps outside, plants, and burns Rondo as him and Walton make eye contact and Walton throws the lob pass. Sullinger realizes the lob is on, but it's too late, and the only thing he'll get there in time to do is foul. Kyrie catches the oop and finishes high off the glass. We now move to the fourth quarter, where Kyrie had 15 points in all, scoring the team's last seven points and 13 of their last 17. This was probably the signature play of the night, and it began with a Kevin Garnett missed left elbow jumper. The rebound goes long, and former Buckeye Jared Sullinger gets elevation 1 and backtaps the ball over the top of Zeller and Thompson and well into the backcourt. The race is on between Irving and Rondo. Rondo clearly looks like he's getting to this ball if anyone does. This is the exact moment where you see that Kyrie knows that he isn't going to beat Rondo to this ball, so he lays back to a) not get burned up the court on defense and b) avoid getting the ball thrown off of him out of bounds for the extension of the Celtic possession. Rondo leaps at the baseline, whirls around to save the ball, and commits the cardinal sin in doing so. Everyone knows you don't save the ball under the other team's basket (especially when you don't have the momentum to chuck it down court and you've been racing one-on-one with another guy for it). From here, it's easy money as Rondo chucks it right to Irving, who is a couple strides away from Rondo still and is able to curtail the harshly-thrown ball. Kyrie lays it in, and the Cavaliers take a 3-point lead with 2 minutes to go. Under a minute to play, we see the coast-to-coast Kyrie make an appearance. Gee quickly grabs the defensive rebound, hands off to Kyrie, and this is our scene as the Cavaliers' possession begins. It's a 2-on-2 after Kyrie rockets past KG. Gee is ahead of the ball and Kyrie, and Avery Bradley and Paul Pierce are back for Boston. Pierce comes out to defend Kyrie, and in this screen grab, we see Kyrie's step-through as he picks up his dribble and shakes Pierce as Pierce's momentum is taking him out towards Irving. Bradley pinches down, and Irving splits them as he goes up for the shot. Pierce is a step behind still, and Kyrie glides to the left side of the bucket. Kyrie finishes, shooting it on the way down, with Pierce on his side, and Garnett trying to block the shot from behind. It gave the Cavaliers a 3-point lead with under a minute left. The degree of difficulty on this shot was so incredibly high. I'll continue to state that this is the type of fast-paced offense the Cavaliers need to be encouraged to run more often. Finally, on the next possession, Irving stamped this one in the book for the Cavaliers. The Cavaliers lined up in their common 1-4 set at the end of half/game scenarios with Kyrie out top eating the clock. Thompson starts to flash high for a screen, but again, Kyrie goes opposite from where Tristan is flashing. Sullinger is the only defender that is in between Kyrie and the basket as Irving slides by Rondo yet again. Sullinger is inside the circle at this point. But, Jared moves quick and looks to get outside of the charge circle. Contact is made as Sullinger's left heel is awfully close to the half-circle. Irving takes the contact and never loses sight of the basket. The one thing working against Sullinger (other than star power) is he met Irving's contact and leaned into him a slight bit. By the spirit of the charge rule, I would've called this an offensive foul. Instead of being a six-point game after Irving converted the and-one, it could've just as easily had been a 3-point game headed the other way. After this game against the East's starting point guard against a normally strong defensive unit, it was clear that Kyrie Irving had generated enough buzz and noteworthy performances to get the All-Star appointment. Here's the near-spotless stat line to prove it. 40 points, 16-24 FG, 1-3 3PT, 7-7 FT, 3 rebounds, 5 assists, 5 turnovers, 7-9 on shots at the rim, a true shooting percentage of 73.9%. In his last ten games, Irving has rose his game with 25.8 points per game, nearly 48% shooting from the field, and almost 42% from three point range. As for the argument of the top teams in the East demanding multiple All-Stars, see the Cavaliers every season but 2009 with the injury replacement appointment of Mo Williams for reference on how much that matters. Kyrie Irving's a star, and the Eastern Conference coaches had no choice but to send him to Houston. Exhibits A-E above are just a small snippet of the mountain of evidence. Until next week, the film room is closed!   ___________________________________ I'm not sure we ever saw that much space between his feet and the ground at OSU!
Original Story:
http://www.waitingfornextyear.com/201...
THE BACKYARD
BEST OF MAXIM
RELATED ARTICLES
Kyrie Irving in his second season has amassed high critical acclaim. Rookie of the year award, MVP in the rookie vs sophomore game, and now his first all star appearance. Irving is a special talent no doubt, if he can avoid the injury bug, his ceiling is as high as any young star with potential. However, what does this mean for the Cavs and their rebuilding strategy. The Cavs are...
His name was the last one that flashed on the TNT screen, but Cavaliers point guard Kyrie Irving is heading to Houston for his first All-Star game. Irving becomes just the 7th NBA All-Star selection under the age of 21, a list that includes Isiah Thomas, Magic Johnson, Kobe Bryant, LeBron James, Kevin Garnett, and Shaquille O'Neal. Other selections from the East were Phiadelphia's...
Kyrie Irving hits his 5th career game-winner to give the Cavaliers a 99-98 win over the Raptors Saturday night:
Kyrie Irving received something on Thursday night that he thought he'd never get in his life. No, it wasn't his selection as an All-Star reserve for the Eastern Conference, an inevitable stepping-stone for the reigning NBA Rookie of the Year 1 . Nor was it the designation as Pro Athlete of the Year at the 2012 Greater Cleveland Sports Awards, the first for a Cavalier since LeBron...
CLEVELAND (AP) -- Kyrie Irving scored 35 points and the Cleveland Cavaliers rallied from a 20-point deficit in the third quarter to defeat the Milwaukee Bucks 113-108 on Friday night. Irving, voted an Eastern Conference reserve for next month's All-Star Game in Houston on Thursday, scored 16 points in the third quarter to help Cleveland get back in the game. He added eight points...
I was old enough to remember how rare it actually is to employ an NBA All-Star in Cleveland. Otherwise, maybe he would've been right. Maybe I would have been spoiled by the last great All-Star to wear Cleveland across his chest. I appreciated his brilliance then, though, just as much as I appreciate Kyrie Irving's now. Irving's inclusion on the 2013 All-Star team...
Cleveland Cavaliers star point guard Kyrie Irving has missed a lot of games this season due to injury but his play is All Star caliber. In a recent game against the Boston Celtics Irving had a monster game with 40 points. Irving shot a crazy 16 of 24 from the field and he was also 7 of 7 from the free throw line. Irving also made 1 three pointer in his 40 point game. He also showed...
The Milwaukee Bucks just gave their general manager a three-year extension, they're 6-2 under an interim coach and they're about to face a team they have mostly beaten of late. If Kyrie Irving plays near the level he did his last time out, though, the Cleveland Cavaliers can hardly be overlooked. The Bucks look to match their longest winning streak of the season at four...
The Milwaukee Bucks just gave their general manager a three-year extension, they're 6-2 under an interim coach and they're about to face a team they have mostly beaten of late. If Kyrie Irving plays near the level he did his last time out, though, the Cleveland Cavaliers can hardly be overlooked. The Bucks look to match their longest winning streak of the season at four...
TORONTO -- Kyrie Irving scored 32 points, including the winning 3-pointer in the final second, as the Cleveland Cavaliers came back to defeat the Toronto Raptors 99-98 Saturday before a crowd of 18,820 at Air Canada Centre. The Cavaliers, who trailed by as many as 11 points in the game, got 17 points off the bench by Marreese Speights and 14 points from Toronto native Tristan...
Jennings had the best chance of breaking the streak, but the fourth-year point guard won't be making his first All-Star appearance. The 23-year-old is averaging 18.7 points, 3.5 rebounds, a career-best 5.8 assists and career-best 2.0 steals per game. Instead, Eastern Conference coaches chose Philadelphia point guard Jrue Holiday and Cleveland point guard Kyrie Irving as the reserve...
    In the post decision era Cavs fans have had to endure a lot of terrible weeks.  Weeks where key players sustain injuries, losses mount, and the growing pains of rebuilding an entire franchise takes its toll.  I could go out on a limb and say this past week was the best in our new "Post-Decision" era and hopefully is the sign of many more to come.   We...
NBA News

Delivered to your inbox

You'll also receive Yardbarker's daily Top 10, featuring the best sports stories from around the web. Customize your newsletter to get articles on your favorite sports and teams. And the best part? It's free!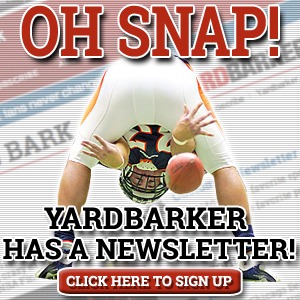 Latest Rumors
Best of Yardbarker

Today's Best Stuff

For Bloggers

Join the Yardbarker Network for more promotion, traffic, and money.

Company Info

Help

What is Yardbarker?

Yardbarker is the largest network of sports blogs and pro athlete blogs on the web. This site is the hub of the Yardbarker Network, where our editors and algorithms curate the best sports content from our network and beyond.