Found December 29, 2012 on Waiting For Next Year:
PLAYERS:
Byron Scott
,
Alonzo Gee
,
Kyrie Irving
,
Dion Waiters
,
Jeff Teague
,
Tyler Zeller
,
Anderson Varejao
,
Daniel Gibson
,
C.J. Miles
,
Jeremy Pargo
,
Kevin Jones
,
Luke Walton
,
Josh Smith
TEAMS:
Cleveland Cavaliers
,
Atlanta Hawks
The Fox Sports Ohio crew used the stat during the Washington game on Wednesday. Byron Scott referenced the stat himself last night in his post game press conference. It's on the mind of everyone who watches the Cavaliers and follows them more closely than checking the final score alert on one's smartphone. "In their 24 losses, the Cavaliers have either lead or trailed by no more than six points in 20 of those contests." The Cavaliers put on a dazzling display against one of the team's best for about 45 minutes. But, their offense unraveled in the final three minutes and the Hawks scored the last nine points of the game to grab a 102-94 victory in the Q to avenge Alonzo Gee's game-winning tip earlier this season in Atlanta. Let's start with the fact that this was one of the most entertaining games of the season. It was a high-energy, back-and-forth affair. The Cavalier backcourt of Kyrie Irving and Dion Waiters went up strong against Jeff Teague and Lou Williams for the Hawks. For Waiters, nearly all of his work was done in the first half, as he scored 16 of his 18 with a couple of transition buckets mixed in with some jumpers. Dion had 6 rebounds and 4 assists to go with his 7-for-21 shooting effort as well. With Kyrie, it was the confidence in creating his shot over others and a flair for the dramatic. Irving hit a transition three-point heave from well beyond the arc as he passed two Hawks just before the halftime buzzer sounded. Irving would go on to score a game-high 28 points on 12-of-20 shooting including 4-of-7 from three point range. Kyrie had 6 boards and 5 dimes for the cause too.  At their best in this game, the Cavaliers were pouring in medium to deep jumpers in the middle of the third quarter, which helped them grab a 9-point lead. It wasn't just Kyrie but Tyler Zeller as well, who knocked down four of them in the third quarter alone. The Cavaliers were challenging shots, forcing turnovers (the Kyrie-Dion duo combined for 7 steals in the game), and the starting five was running like a well-oiled machine.  Sure, they couldn't really get a handle on Atlanta point Jeff Teague, who posted a career-high 27 points in the game, but other than that, the wine and gold were neck and neck with a team slated to have homecourt in the first round of the playoffs if they started today. Then a funny thing happened, the Cavaliers' two painfully obvious, clearly evident, and jaw-droppingly inexplicable Achilles' heels manifested themselves once more: bench play and coaching. The two overlap a bit, but let's start with the bench. It's not secret that the Cavs' bench has been much maligned this season, but it's been better overall in recent weeks. Sure, the fifth straight game without Anderson Varejao, bumping Zeller into the starting five, doesn't help things. Still, the team has some capable players that have just been underachieving. The Cavaliers also lost Daniel Gibson to a concussion in the second quarter, so the bench was used pretty sparingly. However, when they were used, the reserves basically erased all the good the starting five had done in the previous minutes. C.J. Miles had 10 points including a pair of threes, but other than that, Gibson, Jeremy Pargo, Kevin Jones, and Luke Walton each had just two points. Things have to get better from this second unit if the Cavaliers have any hope in preventing these tough-luck losses. That leads me into my next bone to pick: Byron Scott's coaching effort or lack thereof. When your team is in nearly every game it has lost in the fourth quarter and they're unable to execute in the closing minutes, that's a painful indictment upon the job you're doing as head coach. No one was certifiably mad enough to make these same accusations two years ago or even last season, but as the talent has gotten better on this team, the record has not. It's difficult to explain away how Scott thinks sitting both Kyrie Irving and Dion Waiters, the two young men who provide a lion's share of your scoring prowess, for extended minutes at the same time to start the second and fourth quarters. Lately, he's experimented with playing Dion along with the second unit to start the second quarter, but back Byron went to his old standby surefire scoring unit of Pargo, Miles, Gee, Walton, and Zeller to start the fourth. The Cavaliers lost their seven point lead in just under four minutes, and Byron actually did come back with Irving and Waiters earlier than usual (8:11 mark). For some reason though, Alonzo Gee would leave the game and not return as C.J. Miles 1 played the entire fourth. Coaching can't explain it all away, however. Waiters missed his last eight shots of the game, though he got absolutely hammered on a couple of those with no foul call. 2 Kyrie took a bad fallaway three, and he failed to takeover like we've seen "Mr. Fourth Quarter" do so frequently. The Cavs, in fact, shot just 24% as a team in the final quarter as they neglected to run the offense to get anybody open. Everything was one pass or less and isolation. Fewer pick and rolls, no curls or flashes through the paint to the other side, no offensive creativity of any kind. Some of that falls on Irving, but a lot more of it falls on Scott, who is continuing to allow this to happen. The Hawks also shot 60% in the fourth quarter to climb their total for the game to 49%. They hit 13 threes in all, and that helped them overcome a 2-for-12 performance from Josh Smith. I'm not saying that Scott doesn't deserve more time to figure out what makes his team tick. Avery Johnson was just another example yesterday of impatient front office desperate to grab eyeballs and stay relevant in a players-run league. But, Byron needs to start pulling the strings a little tighter on his team to run the offense in the last six minutes like they do in the first 42. Otherwise, this time next year, I'll sound an awful lot like the Queen of Hearts. (Photo: Mark Duncan/AP) ___________________________________ Who has been yo-yo'd back and forth, in and out of the starting lineup and rotation all season. What else is new? This rookie treatment is getting really tiresome.
Original Story:
http://www.waitingfornextyear.com/201...
THE BACKYARD
BEST OF MAXIM
RELATED ARTICLES
Following last night's win against the Cavaliers, All-Star center Al Horford was very flattering of the opponent's fans. Cleveland fans are great! Very impressed with the way they support their team. — Al Horford (@Al_Horford) December 29, 2012 Horford was teammates at the University of Florida for two seasons with another center in the association who's not quite so fond...
The Cleveland Cavaliers held a "Wild Thing Wig Night" promotion at Quicken Loans Arena for Friday night's game against the Atlanta Hawks as a tribute to center Anderson Varejao. The first 10,000 fans received a wig modeled after Varejao's curly hair, complete with a yellow Cavs headband. The fans seemed to enjoy wearing the wigs, and even guard Daniel Gibson...
Tristan Thompson has a solid chance to obtain a fifth- and sixth-straight double-double as the Cavaliers have ruled Anderson Varejao out for the remainder of the weekend with a bruised knee. The Cavaliers will host the Atlanta Hawks on Friday night before traveling to Brooklyn to face the new-look Nets on Saturday. They have won two-straight games for the first time this season and...
CLEVELAND -- With the game in the balance, Cavaliers rookie guard Dion Waiters dribbled near the top of the key, passed to rookie center Tyler Zeller, who then passed it back. Two rookies. One ball. One outcome to be determined. The results werent likely to be very good. And they werent. Waiters missed an off-balance jumper from the perimeter, a shot that came with enough time...
Cleveland guard Daniel Gibson sustained a concussion Friday against Atlanta and will sit out the Cavaliers' game Saturday night in Brooklyn. Gibson was injured when he collided with Atlanta's Anthony Morrow midway through the second quarter. Gibson was on the floor for several minutes before being helped to his feet. He walked to the locker room under his own power, but...
Cleveland Cavaliers center Anderson Varejao will remain on the sideline for two games this weekend because of a bruised right knee. Varejao already has missed four games with the injury and will not play against Atlanta on Friday in Cleveland or at Brooklyn on Saturday, the Cleveland Plain Dealer reported Friday. He was hurt Dec. 18 in a game against Toronto. The NBA's leading...
It takes quite a lot of good marketing to get fans out to watch a 7-24 NBA basketball team, but on Friday night the Cleveland Cavaliers did just that.  They had Anderson Varejao wig night for their game against the Atlanta Hawks.  The Cavs lost the game like usual, but we got this great video out of it.  Check it out below to see some of the wigs that came out to enjoy the game...
Tweet   Unfortunately, Cleveland Cavaliers big man Anderson Varejao did not take part in Friday's 102-94 defeat to the Atlanta Hawks due to a bruised right knee. But he was in the building to see a promotion in his honor. The Cavs held "Wild Thing Wig Night", giving away a wig that resembles the hair of [...]
We've seen this episode before: three and a half great quarters and a stinker in the final few minutes. The Cavaliers went cold, quit running their offensive sets, and were unable to stop Jeff Teague as the Hawks came from nine down in the third quarter to get their revenge against the Cavaliers 102-94 in Quicken Loans Arena. The collapse spoiled a good offensive display from Kyrie...
This happened a lot. The Cavs nearly stole this one. Well, they nearly forced overtime. Cleveland dug themselves a decent sized hole, forcing themselves to play catch-up for the bulk of the night, but they had a shot. With a player like Kyrie Irving, you always have a shot. It wasn't Irving's best game; Kyrie finished with 13 points on just 5-16 shooting and was 1-6 from behind...
After yet another heartbreaking loss late in the game to the Cleveland Cavaliers on Wednesday night, the media gathered as usual in the press room awaiting Randy Wittman's press conference. In a room that has seen a decrease in the number of representatives, I had a side conversation with one of the writers. I mentioned that I could probably tweet Randy Wittman's quotes in advance...
2012 was one crazy year in the wild wacky world of Cleveland Sports. Some would tell you 2012 was as bad as it has ever been here. As the year comes to a close, like we have done the last four years, WFNY will take a look at what we view to be the 10 biggest sports stories affecting our local sports scene. Each day through the rest of the year, we will be counting down from ten to...
NBA News

Delivered to your inbox

You'll also receive Yardbarker's daily Top 10, featuring the best sports stories from around the web. Customize your newsletter to get articles on your favorite sports and teams. And the best part? It's free!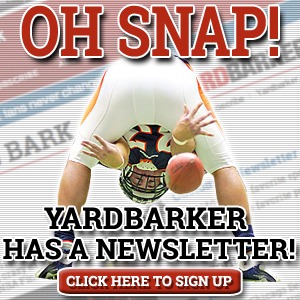 Latest Rumors
Best of Yardbarker

Today's Best Stuff

For Bloggers

Join the Yardbarker Network for more promotion, traffic, and money.

Company Info

Help

What is Yardbarker?

Yardbarker is the largest network of sports blogs and pro athlete blogs on the web. This site is the hub of the Yardbarker Network, where our editors and algorithms curate the best sports content from our network and beyond.