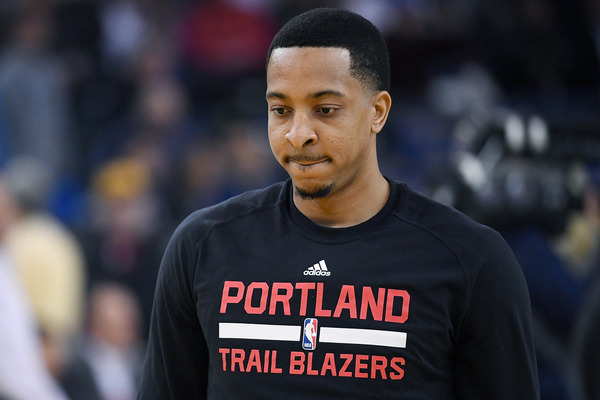 C.J. McCollum was among the Blazers players griping over how the snowstorm in Portland screwed up the team's travel plans.
Thearon W. Henderson/Getty Images
A winter storm has dumped a historic amount of snow on Portland and its surrounding areas this week, and the inclement weather has created some travel complications for two NBA teams who are scheduled to square off on Wednesday night.
For whatever reason, the Cavaliers were able to land their plane at Portland International Airport late Tuesday night. ESPN's Rachel Nichols reports that the Trail Blazers had their team plane in the air around the same time, but they were diverted to Seattle.
Both teams had planes in the air at around the same time. Not sure why Cavaliers' plane got to land in POR and the Blazers had to go to SEA.

— Rachel Nichols (@Rachel__Nichols) January 11, 2017
Blazers players were originally told they would have to take a bus from Seattle to their home arena in Portland. Nichols reports that the team will instead fly from Seattle to Portland on Wednesday before the game. Some of the players expressed their frustrations with the travel mess on Twitter.
They really got us trying to fly into a city that has canceled all incoming and outgoing flights smh. What's wrong with flying out tom AM?

— CJ McCollum (@CJMcCollum) January 11, 2017
They've decided we will fly anyway and if we can't land we will fly to a different city and bus https://t.co/WQ1ORRdKFP

— CJ McCollum (@CJMcCollum) January 11, 2017
So there's a snow storm in Portland... The airport is closed,And they want us to fly anyway and if we have to ... Land in Seattle... And bus

— Damian Lillard (@Dame_Lillard) January 11, 2017
Seattle to Portland is a 3 hour ride on a good day https://t.co/lJ02ZSLAnO

— Damian Lillard (@Dame_Lillard) January 11, 2017
With the Blazers expected to take another plane from Seattle to Portland, you can understand why the players would have rather just spent another night in Los Angeles and flown directly to Portland on Wednesday.
Portland typically gets only a few days a year with measurable snow, and the amounts are hardly ever substantial. There was roughly six inches of snow at the airport as of Wednesday morning and some surrounding areas reported snow totals of 8-12 inches.
The important thing, obviously, is that both teams get to their destinations safely. Even if it doesn't make sense logistically, they should be willing to deal with some minor inconveniences if it means avoiding a terrifying situation like the one a college basketball team dealt with recently.
MORE FROM YARDBARKER:
Can Russell Westbrook win the MVP on a team that's not elite?
MORE FROM LARRY BROWN SPORTS:
MORE FROM YARDBARKER
NBA News

Delivered to your inbox

You'll also receive Yardbarker's daily Top 10, featuring the best sports stories from around the web. Customize your newsletter to get articles on your favorite sports and teams. And the best part? It's free!