At least JET's trash talk didn't come back to bite him in this game.  The terrible Magic lived up to their reputation.  I'm with Orlando fans on this one, though.  I really wish he's just be quiet.  We don't need to give teams any added motivation.  They all hate the Celtics enough already as it is.  It sure was good to get a convincing victory for once.   My favorites are in bold.  What are yours?  I want the Magic to win just to make Terry look silly. I'd say terrible is what Jason Terry has been compared to what he was supposed to be I wish Jason Terry would keep his mouth shut At least Terry didn't lie Big talk from a guy on a team one game over .500 and 7th seed in the playoffs Of course the Magic are terrible. They're also lottery bound with a slew of promising young talent. Meanwhile, the Celtics are barely mediocre with a cast of aging players and are stuck going nowhere. Second round team at best. Have fun, Jason. Don't care whether we win or lose, but let's please see somebody outplay Jeff green tonight. Wanna trashtalk my c's fan buddy Well, we're pretty much locked into the second worst record... let's win! Let's make Jason Terry eat his words tonight and lose to a "Terrible" Team. I wonder how happy Dwight Howard is now that he has a built in excuse of Kobe being out for the playoffs and getting an early summer vacation. They might just be better without Kobe shooting Bricks all game Wow this is a boring game and kind of pathetic to watch Only if you are a fan of good basketball Harris is going to have one of those games His shot is so off. Unfortunately, Tobias cannot seem to notice when he is off. "I tell you, Vucevic has legs like tree trunks, WHOA!" -Boston announcer. It's really amazing that Vuc doesn't get any post calls, blows my mind The lack of ballhandling is just extremely apparent against pressure teams like Boston (Bradley). Beno isnt good enough to handle the pressure alone. I hate you Etwuan. Moore : not a PG What I've been preaching since Day 1. And why I hate him. So Jason Terry talks trash about the Magic before the game and he has the night off? Ainge had to be out of his mind to sign him for three years. He's been nothing but a disappointment for the Celtics…though he talks a hell of a game. Weak call. A slight lean in by the offensive player is not only "slight" on contact, but initiated by the offensive player — so a weak call on two counts. Pathetic that kind of BS still gets calls in this league. I hate Wade and Pierce for this very reason See, Vuc does the same "lean in" that Pierce does...no call. And he misses the shot cuz he was more worried about getting the foul. I mean, a foul on KG would be nice…but the refs won't bother when it's a guy in pinstripes. I just want a win tonight because I really, really hate the Celtics. Pau Gasol is a better PG than Moore Glad I turned this off halfway through the first. Celtics games are so painful Kinda like Harris earlier. I saw a lot of contact and no call. :( Maybe it will get better when Adam Silver takes over... We never seem to get calls Unless they're against us Boston rested Pierce & Garnett last night against the Heat, so they'd be fresh against the Magic. I guess they figured they only needed 1 win out of the two to lock up the 7th seed…so it'd be better to throw the game against the Heat and have a better chance against the Magic. Good strategy, but kind of sad that they think they need to rest 2 of their all-stars to beat a team their own players call "terrible". This might be the softest played game I have ever seen I'm done. Hate the refs. Going to watch the Jordan Brand Classic game and dream about the future. We're ..... what's that word again? ..... Terrible? Yeah, we're terrible. Really the words should be "young and inconsistent" but yeah, on nights like these, inconsistency=terrible Moore get the hell off my team I hate that the cheers are louder for the Celtics than the Magic. F*** bandwagon fans Pierce gets the weakest fouls imaginable. Only the Magic When Brandon Bass gets 3 blocks. If New Orleans can change their name to the Pelicans... …I say the Magic should change their name to the Orlando Never Fouled. Since that's apparently the most appropriate name ever. The Pelicans...I can't see that name drawing a lot of big name free agents. They should have went with something cool like the Voo Doo. Maybe 'The Witch Doctors'. Hard to make cute plush team-sanctioned toys with names like Witch Doctors or Voodoo With the exception of a team voodoo doll, I suppose. But do we really want our youth to play with voodoo dolls? It isn't that far from a Leprechaun. I never got the Leprechaun thing Shouldn't the team mascot be some bearded Middle Ages guy with a kilt? Might as well be a Banshee or something Banshee? You think a female fairy is cooler than a leprechaun? That's crazy talk. The refs are basically just waiting to see if the Celtics miss...if they do, it's a foul. I really want Vuc to take the technical foul by screaming "AND ONE!" directly into KG's face after a basket down low. I would settle for a "FU" and KG chest pump This is where a guy like Rafer Alston would be fun where he would just slap people. Eddie House's twirling headband will forever be ingrained into my mind "Cut the lead to 19" said seriously by the announcers. That's really funny. I'm telling you Vuc is going to be a beast, he's like Marc gasol but without the defense Sure Boston is up by 30 points But at least we are tied in rebounding. Moral victory! Does the arena look empty? Probably more Celtic fans there than Magic.... KOQ might as well be wearing green tonight Beautiful transition bucket by Boston. Lee is killing us Lost by 32. Terry was correct; we are terrible. Glen and Garnett hugging it out. Awwwwh [Discuss on CG Forums!]
Original Story:
http://celticsgreen.blogspot.com/2013...
MORE FROM YARDBARKER
NBA News

Delivered to your inbox

You'll also receive Yardbarker's daily Top 10, featuring the best sports stories from around the web. Customize your newsletter to get articles on your favorite sports and teams. And the best part? It's free!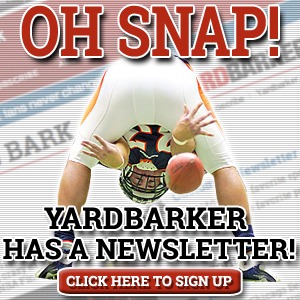 Latest Rumors
Best of Yardbarker

Today's Best Stuff

For Bloggers

Join the Yardbarker Network for more promotion, traffic, and money.

Company Info

Help

What is Yardbarker?

Yardbarker is the largest network of sports blogs and pro athlete blogs on the web. This site is the hub of the Yardbarker Network, where our editors and algorithms curate the best sports content from our network and beyond.