Found March 09, 2013 on Waiting For Next Year:
PLAYERS:
Tyler Zeller
,
Dion Waiters
,
Daniel Gibson
,
Marc Gasol
,
Marreese Speights
,
Luke Walton
,
Jerryd Bayless
,
Alonzo Gee
,
Tristan Thompson
,
C.J. Miles
,
Wayne Ellington
,
Shaun Livingston
TEAMS:
Cleveland Cavaliers
,
Memphis Grizzlies
The Cavaliers have a virus that has infiltrated nearly the entire team. It has caused nausea, heartburn, indigestion, upset stomach, diarrhea, a veritable Pepto-Bismol antagonist that has plagued the team for some time now. No, I'm not talking about the flu that has stricken Tyler Zeller, Dion Waiters, Daniel Gibson, and trainer Max Benton among others. The sickness that I'm recalling is the third quarter basketball from the wine and gold. For the third straight game, the young Cavaliers came out of the locker room at half utterly disinterested and nearly catatonic. The Grizzlies sprung a 10-0 run to open the half on the Cavs, and it gave them the lead for good in this game as a 3-point halftime lead was erased and replaced by a Memphis-controlled second half where the Cavs' fourth quarter magic wasn't enough this time to pardon their third quarter crimes. In that pesky third quarter, the Grizzlies relied heavily on their center Marc Gasol, and he rewarded them with 5-of-6 shooting and 10 points in that stretch. Toothpick-thin Tyler Zeller could not only fail to body up with Gasol in the low post, but far too often he wasn't even in the same zip code as the All-Star caliber big man. Marreese Speights did a little better, but only with plenty of help defense from Luke Walton as well as the wings out on the floor. Marc logged 40 minutes, and took the Cavs for 22 points, 8 rebounds, 5 assists, and 2 blocks. Perhaps worse than the Gasol domination was a pair of point guards touching the Cavaliers for 17 points each. Mike Conley Jr. played a very strong game going man-up with Irving for a good portion of the game. 14 of his 17 points came in the second half, and he was good for 11 assists and 5 steals as well. Jerryd Bayless came off the bench in a big way too, scoring 11 of his 17 points in the final quarter. Every time the Cavaliers creeped within two possessions in the fourth, it was seemingly Bayless who would cut their throat with an outside dagger or a swooping layup high off the glass. Before the pesky second half, this was a game characterized by balanced scoring and plenty of assists by both teams. The two combined for 27 assists on the 38 made field goals, and the highest scorer at the half was Alonzo Gee with 10 points. The Cavaliers also went to the line a whopping 16 times compared to 4 trips for the Grizzlies. Gee also had the shot of the night: a 65-footer at the first quarter buzzer that cut the Cavs' deficit to just four. In truth, before that prayer was answered and a later second quarter three went in, Tristan Thompson seemed to be the only wine and gold starter truly engaged in the game. Tristan had 8 first half points to go with 6 rebounds, finishing with 10 and 10 respectively for another double-double. Dion Waiters, returning after a two-game hiatus due to illness, didn't look ready to return. Dion had just 3 points and 1 assist, missing all four shots from the field in his 20 minutes of play. His rookie counterpart Zeller had just 2 points and 1 rebound in 18 minutes, proving to be a disappointment in this game at both ends. After the abysmal start to the second half, it meant Coach Scott was going to have to rely on what's taken this team to a competitive level: Uncle Drew and his bench nephews. Down 11 at the end of three, the Cavaliers bench did what has become customary, not just dig in and hold the fort but go on the offensive. C.J. Miles started with a three-pointer immediately to cut it down to eight, and by halfway through the quarter, the wine and gold were trailing by just four points (thanks in large part to a quick seven points from Miles in a three-and-a-half minute span). Down seven, with just over three minutes remaining, a sequence of events unfurled where the Cavaliers had opportunities to cut into the lead again and make a run, but the ball just did not bounce the right way. From a Wayne Ellington long jumper that rattled out after being almost all the way down to a Tristan Thompson missed layup to a Kyrie turnover as Conley snuck up from behind to knock the ball away, leading to an and-one to ice the game, the Cavaliers, unlike against Utah, couldn't get the stops necessary to close the gap. Kyrie scored 16 of his 24 points in the second half and had 8 of those in the fourth, scoring late to keep it close, but his defense on the point just wasn't there, and the team defense was just all out of sorts. In some respects, with all the talk pre-game of Kyrie's still-sore knee and illness, it was fortunate that the Cavalier All-Star was able to suit up, but 13 hours of sleep works wonders according to #2. Let's give another hat-tip to the bench, who scored 41 of the team's 92 points. C.J. Miles has quietly scored in double figures in 9 of his last 10 games. Speights has scored in double figures in 15 of his 19 games with Cleveland (last night, he came up just short with 9). Wayne Ellington has 10 or more in ten games since joining. Luke Walton added another 5 assists last night to go with 6 points and 4 rebounds. Shaun Livingston added a half dozen of his own, and every bench member was in the positive of +/- for the evening. More than anything, it's not the standout performances of any one individual, it's how they function together as a five-man unit. Whereas most teams have a 8-9 man rotation, the Cavaliers right now have the luxury of a bench 1-5 that can make runs with Irving and the other starters taking sustained breathers. While I'm sure that all five of these guys will be here when the Cavaliers make it back to the playoffs, I do think 2 or 3 will be and the Cavaliers can take the lessons learned from this unit and apply it to finding depth in the future. So these two teams parted ways after last night's game. Memphis with a win, and the Cavaliers with a good chunk of Memphis's old bench that has allowed them to compete with the likes of the Grizzlies and other playoff teams. Neither team went away empty handed. The Cavaliers will play next on Sunday night in Toronto. (Photo: Tony Dejak/AP)  
Original Story:
http://www.waitingfornextyear.com/201...
THE BACKYARD
BEST OF MAXIM
RELATED ARTICLES
FROM WAY DOWNTOWN
Alonzo Gee was the man for the Cleveland Cavaliers on Friday.  There are long distance shots and there are LONG distance shots. This video of Gee banging this buzzer-beater in at the end of the first period of the Cavaliers' loss to the Grizzlies is simply sensational. Please click here to read this story. The post Video: Alonzo Gee launches incredible shot that spans 3/4 of...
Cleveland Cavaliers point guard Kyrie Irving, who had recently missed time due to a knee injury, is now listed as "doubtful" for Friday night's contest against the Memphis Grizzlies due to an illness. The Cavaleirs have been hit hard by the stomach virus this season, with shooting guard Dion Waiters and Tyler Zeller recently being hospitalized. Reserve guard Daniel Gibson...
Greg Oden sat in Cavs owner, Dan Gilbert's, courtside seats at Friday night's Cavaliers-Grizzlies game at Quicken Loans Arena and was cheered on by fans both times he was shown on the video board. Oden said he's still interested in signing with Cleveland but will likely wait until the summer to sign with any team. According to Jason Lloyd, Akron Beacon Journal: Oden attended...
Cavaliers point guard Kyrie Irving was not expected to play Friday night against the Memphis Grizzlies. Beyond experiencing knee pain, the second-year player was dealing with flu-like symptoms. However, Irving came out and declared he would suit up despite his ailments, as reported by Jason Lloyd of the Akron Beacon Journal.Kyrie Irving says he'll play... kinda feel like the...
Although Kyrie Irving's knee continues to bother him, the team is not planning to sit him.  Despite prior reports that said the Cleveland Cavaliers would likely sit Irving if the knee continued to give the young point guard trouble, that doesn't seem to be accurate.According to Brian Windhorst of ESPN, a source close to the Cavaliers have said they have no plans of sitting...
Kyrie Irving is returning to the site of one of his best nights of the season. The star guard hit a late game-winner the last time his Cleveland Cavaliers visited the Toronto Raptors, and he'd like to duplicate that effort in Sunday night's matchup at Air Canada Centre. Frustrated by his 0-4 record against Toronto (24-39), Irving took matters into his own hands Jan. 26...
CLEVELAND (AP) -- Marc Gasol scored 22 points and the Memphis Grizzlies held off a late run for a 103-92 win over the Cleveland Cavaliers on Friday. Memphis, which strengthened its hold on the fourth spot in the Western Conference playoff race, has won 11 of 12 and is 12-4 since trading star forward Rudy Gay to Toronto on Jan. 30. The Grizzlies' previous victory in Cleveland...
Marc Gasol scored 22 points and the Memphis Grizzlies held off a late run for a 103-92 win over the Cleveland Cavaliers on Friday. Memphis, which strengthened its hold on the fourth spot in the Western Conference playoff race, has won 11 of 12 and is 12-4 since trading star forward Rudy Gay to Toronto on Jan. 30. The Grizzlies' previous victory in Cleveland came on Nov. 29...
Even without their leading scorer and rebounder, the Memphis Grizzlies haven't missed a beat during their recent tear. The Grizzlies look to exact some revenge for an earlier loss to the New Orleans Hornets and win for the 12th time in 13 games overall on Saturday night. Since a defeat at Eastern Conference-leading Miami on Feb. 1, Memphis (41-19) has rebounded with three straight...
NBA News

Delivered to your inbox

You'll also receive Yardbarker's daily Top 10, featuring the best sports stories from around the web. Customize your newsletter to get articles on your favorite sports and teams. And the best part? It's free!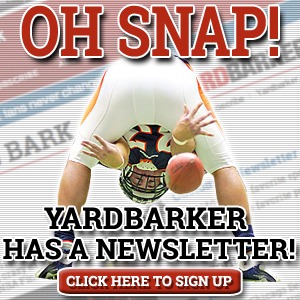 Latest Rumors
The Backyard

Today's Best Stuff

For Bloggers

Join the Yardbarker Network for more promotion, traffic, and money.

Company Info

Help

What is Yardbarker?

Yardbarker is the largest network of sports blogs and pro athlete blogs on the web. This site is the hub of the Yardbarker Network, where our editors and algorithms curate the best sports content from our network and beyond.