Found January 26, 2013 on The Sports Headquarters:
PLAYERS:
Danny Ainge
,
Jeff Green
,
Paul Pierce
,
Rajon Rondo
,
Avery Bradley
,
Courtney Lee
,
Kendrick Perkins
,
Josh Smith
,
Kyle Korver
,
Danny Ferry
,
John Hollinger
,
Jared Sullinger
TEAMS:
Boston Celtics
,
Oklahoma City Thunder
,
Atlanta Hawks
,
Memphis Grizzlies
  There are a couple of points I would like to hit on before I dive into this glorious trade you see above. Over the past few days many Celtics' bloggers have written various articles saying that Jeff Green needs to be inserted into the starting lineup over Paul Pierce. That it would allow Green to run with Rajon Rondo and Avery Bradley while allowing Pierce to a primary scorer off the pine and blah, blah, blah. Look, I try to think outside of the box as often as possible to come up with unorthodox solutions to common problems. Bringing Pierce off the bench is one thing. But in favor of Jeff Green? That's as wrong as wrong can be. You want Green to play more minutes with Rondo and Bradley? Here's a wild solution: MAKE GREEN THE SIXTH MAN! Or better yet, cut him out of the picture all together. My dream job is to be the Boston Celtics General Manager. My dream is in fact Bryan Doherty's worst nightmare. And it is because of the NBA Trade Machine offered by espn.com that I am able to see what is feasible and what is down right lunacy. Since January 15, a brand new world of scenarios opened up because of contracts which were signed in the offseason. We're over a week removed from that date and nothing has happened in Boston other than a slew of losses and a mess of unnecessary controversy. While Pierce's name has been thrown around in trade discussions, the man who is currently 14th in the Association in scoring is certainly not the problem. Courtney Lee, since his role has been reduced, isn't exactly the problem either – but he has value on the open market. Green, for all intensive purposes, has been a problem. The reason Danny Ainge traded Kendrick Perkins for Jeff Green is because he saw an athletic wing who could run up and down the court with Rondo and give the Celtics a replacement for Paul Pierce down the road. While the reasoning was as good as any to make the move, it simply has not worked. Jeff Green is not a starting caliber player in the NBA. He is not a guy who can create his own jump shot nor is he consistent enough to be considered a spot up shooter. He is aggressive only in spurts and his lack of consistency on the defensive end is a major concern heading forward. While I agreed that Green was a priority in the offseason for Ainge to bring him back, it was more to prove his worth for a team he had disappointed during his first half season in Boston. I can not and will not blame Green for his heart condition last season. That was not his fault. But I can blame him for his production on the court this season. Which is why I've been constantly trying to trade him, even though I literally have zero power in doing such a thing. Josh Smith has long been one of my favorite players in the NBA. His freakish athletic abilities sold me from the first time I saw him play a professional game. I've carried on and on about his long term relationship with high school teammate Rajon Rondo, so I'll save my breath on that point in this piece. Just know that Rondo basically set up Smoov with the love of his life and Rondo is the only reason Smoov is married right now. That's how close these two are on and off the court. I'll admit, Smoov has shown a tendancy to settle for bad jumpers, shoot outside of his range, and isn't as stout as a defender out on an island as he is as a help defender. I'll take those problems ALL DAY LONG over Jeff Green. Every three I've ever seen Green heave up I've had the same thought, "Clank." When he does hit the occassional trey, I am always astonished. Without fail. Does that make it excuseable for Smoov to come to Boston and start chucking up threes? Of course not. My stance has been firm on Smoov's inability to decipher a quality look from a forced shot: he plays for the Hawks. Now, Atlanta has always and will always be an attrocious professional sports city. The absolute bottom of the barrel in terms of loyalty from the fans combined with quality of the teams. Even when the Braves were rolling out five Hall of Famers on a nightly basis in the '90s the fans were mediocre at best. So why would any Hawk go out and play sound, focused basketball on a nightly basis when the arena is 10% filled? They wouldn't. Yet Smoov still goes out there and gets his 16+ points, eight rebounds, and two blocks a night. Including last night's double-overtime win against the Celtics in front of a small gathering of about 17 Hawks' fans.. While the second half belonged to Kyle Korver's three point shooting prowess, Smoov took over in overtime and finished with 17 points, 14 rebounds, seven assists and two blocked shots – including a block on Paul Pierce's attempted game winner at the end of regulation. How did Green fair? 17 points (all in the first half) with six rebounds. Hopefully, Green's first half showcase was enough to woo Danny Ferry. If not… then this deal is never going to happen. In the offseason, current Memphis Grizzlies' VP of Basketball Operations John Hollinger called Green's contract, "The worst of the offseason." That's never a good sign. So if Atlanta needs more (other than however many first round picks they want) then I'd be willing to include Jared Sullinger into this deal. While I love Sullinger's motor and knowledge of the game, he is an expendable piece. Where do I draw the line? Avery Bradley. The plan isn't to build around Rajon Rondo or Avery Bradley, the plan is to build around the both of them. So if Ainge is listening to me out there, which he damn should be, this is the move to persue. Go out and get Josh Smith. Just save me a seat on the Duck Boats when you do.
Original Story:
http://feedproxy.google.com/~r/TheSpo...
THE BACKYARD
BEST OF MAXIM
RELATED ARTICLES
The moment we got news about Rajon Rondo's torn ACL, all the armchair doctors on the planet offered up time-tables for his return. I heard anywhere from 8 to 16 months. Here's what Danny Ainge told the Herald's Mark Murphy: Though the recovery from reconstructive knee surgery can vary, depending on the player, Ainge said he expects Rondo to be ready for the start of training...
Danny Ainge is saying he hasn't decided what he's going to do with the Celtics. It was looking unlikely that the Celtics would be able to contend this season without a major trade. Now with Rajon Rondo out for the year Ainge has to decide whether adding a band aid for the season and hoping to make the 2nd round of the playoffs is the best strategy or if the team should go...
Wit the news that Celtics starting point guard Rajon Rondo has a torn ACL, Boston fans couldn't have been all that happy about Sunday's game against the Miami Heat.Although the Celtics came up just short in overtime, Jeff Green did deliver one of the better dunks of this 2013 season throwing it down on Chris Bosh. Video: @Jose3030
During the 4th quarter of the Celtics tough double overtime win over the Heat, Mr. Disappearing Act himself, Celtics forward Jeff Green again flashed his amazing athleticism with a monster dunk over Chris Bosh. Green showed the nastiness the Celtics will definitely need with Rajon Rondo out with a torn ACL. Video courtesy of Cosby Sweaters.
Boston Celtics power forward Jeff Green dunked in the face of a stationary future hall of famer today, the Heat's Chris Bosh. Bosh may have been mesmerized by the FCK LBJ chick. **Follow us... Full story at Bob's Blitz ~ http://www.bobsblitz.com
The Celtics got some bad news yesterday when guard Rajon Rondo was diagnosed with a torn ACL and will be out for the the rest of the season. And although the Celtics and their fans might be pulling their hair out over losing their floor general, Jeff Green gave the Celtics fans a reason to smile when they look back on this season. Yesterday, the Celtics and Heat played a thrilling...
The bewildered Celtics will need more of this from Jeff Green
Rondo's absence has left a big hole in the Celtics' roster and the question on everyone's mind is: What do they do now? Free agents: ESPN's Jackie MacMullan brought up Keyon Dooling's name as a possible replacement in the short term, but said Danny Ainge has already nixed that idea. She also suggested bringing Delonte West back into the fold, as he is currently a free...
The Celtics, despite losing Rondo for the season, won today's game. It took then two overtimes, but I'll take it. This was all defense for both teams, as the final score was just 100-98. Garnett led the Celtics with 24 points, followed by Pierce with 17 and Terry with 13. Lebron led the Heat with 34 points, followed by Allen with 21 and Wade with 17. Today's USOTN goes...
I would not be surprised to see the Celtics go on a decent run, as teams off circle the wagons after horrible news like this. We'll have to wait and see if Danny Ainge decides to start the rebuilding now or just play for the best record possible. As the coach, Rivers has to stay positive saying that the team's title hopes are still alive. I expect KG and Pierce to say the...
Celtics lose Rondo for the rest of the season, but get a gusty win over the Heat in double-OT. Behind Truth's triple-double and KG's 24 pts, Boston wins 100-98. Celtics now have 2 days off to prepare for the Kings. Tip-off vs Sacramento is at 7:30pm on Wednesday night. Check out some pics & GIFs of yesterday's top plays, including Pierce's clutch jumper in the closing...
Well, that wasn't fun.  It's becoming clear that the bench is finally coming around but now the starters are slumping.  The second unit gave us that big lead in the second quarter and then it went away when the starters came back in.  But there's progress.  We  at least got one great half of basketball.    One thing that always strikes me is all the complaints...
NBA News

Delivered to your inbox

You'll also receive Yardbarker's daily Top 10, featuring the best sports stories from around the web. Customize your newsletter to get articles on your favorite sports and teams. And the best part? It's free!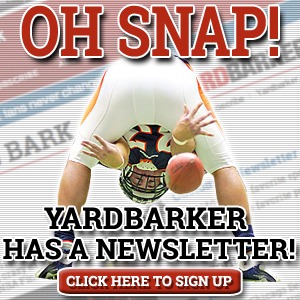 Latest Rumors
Best of Yardbarker

Today's Best Stuff

For Bloggers

Join the Yardbarker Network for more promotion, traffic, and money.

Company Info

Help

What is Yardbarker?

Yardbarker is the largest network of sports blogs and pro athlete blogs on the web. This site is the hub of the Yardbarker Network, where our editors and algorithms curate the best sports content from our network and beyond.