Found March 19, 2013 on Waiting For Next Year:
PLAYERS:
Kyrie Irving
,
Blake Griffin
,
LeBron James
,
Byron Scott
,
Alonzo Gee
,
Tyler Zeller
,
Paul George
,
Tim Duncan
,
DeAndre Jordan
,
Tyler Hansbrough
,
Luke Walton
,
Roy Hibbert
,
Anderson Varejao
,
Marreese Speights
,
Tristan Thompson
,
C.J. Miles
,
Daniel Gibson
,
Wayne Ellington
,
Dion Waiters
TEAMS:
Cleveland Cavaliers
,
Indiana Pacers
,
Los Angeles Clippers
,
Miami Heat
,
San Antonio Spurs
A bizarre thing occurred through the duration of Monday night's telecast of the Cleveland Cavaliers and their home contest against the Indiana Pacers: The wonderful individuals at FOX Sports Ohio began tabulating how many dunks had been executed by each team. Dunks have become the go-to highlight for NBA fans; above-the-rim play is the reason why driveway-ready basketball hoops come with adjustable heights. But in the same, said shot type is worth two points. Kyrie Irving's 416 field goals this season carry no less individual weight than any converted by Blake Griffin or LeBron James simply because Irving has only been credited with two dunks on the season. Yet every time the Clippers come to town, someone — obviously fascinated by "Lob City" — inquires as to who on the Cavaliers could replicate such a feat. And each time, Byron Scott is forced to say that outside of Alonzo Gee, his team is comprised of face-up players who thrive on ball movement and positioning rather than mid-air theatrics and exclamation point conversions. Nevertheless, as the Pacers recorded dunk after dunk — transition slams, a posterization of Tyler Zeller by All-Star forward Paul George — the ticker kept inching upward as if signaling that one team is better than the other simply because they had made physical contact with the rim more often than their opponent. Yes, this statistic may be indicative of one team's aggression on offense or another team's weaknesses on the defensive end — a dunk, after all, is the hightest of percentages in terms of conversion rate. But when one would have to scroll all the way down to No. 43 to find a member of the San Antonio Spurs — Tim Duncan — on the list of the NBA's dunk leaders, all of the overlays in the statistical world would have trouble finding any sort of correlation between success above the rim versus success in the win column. The Spurs, after all, are the most talented team in the league. Over the course of time, fans have begun to mysteriously equate dunks as means of figurative possession — the would-be defender on the other end of the poster gets "owned," and should subsequently be ridiculed and embarrassed. Top plays are often ones where a giant human being utilizes said size to put the ball through the orange cyllinder from point blank range — this opposed to the pin-point accuracy of a well-contested three-point shot or stout wing defense. Masculinity abound. The most recent high profile account of this would be when Clippers center DeAndre Jordan (your NBA leader in dunks!) converted one on the significantly smaller Brandon Knight. On Monday night, Paul George threw down an otherwise emphatic right handed slam on as Cavaliers center Tyler Zeller stood with both arms extended upward. The final tally: Indiana 5, Cleveland 1. Following the contest, the operative word "embarrassed" was thrown around in the post-game press conference with Scott — a reference the head coach quickly shot down. "I'm not embarrassed," said Scott of the 111-90 loss to the Pacers. "We played a very good team that's obviously playing for something special. They came out and took it to us right from the get go, and I told our guys that we're going to face that again in the next 10 games probably eight more times. It's more of how we react to it." Scott added that the Pacers — like the Jazz a few weeks ago — provide an exponentially more physical style of play as compared to his younger (and thinner) Cavaliers. At one point in the contest, a cutting Tyler Hansbrough displaced a veteran Luke Walton with a mere flick of his elbow. While Walton would claim that this was a blatant push-off, the foul went uncalled and the Pacers recorded two more points. Zeller would later find himself planted on the floor underneath the Cavaliers' hoop after Pacers center Roy Hibbert took once step backward. Hibbert, in transition, received a pass from his teammate and converted one of the many Indiana dunks with nary an impediment. This is not to say that the Cavaliers' interior defense has not been anything short of atrocious after losing Anderson Varejao for the season. Zeller has a defensive rating of 110 1 . The newly-added Marreese Speights is not much of an upgrade, slotting in at 109. Varejao, however, continues to lead the team in this category with 104. As Scott intimated, the Cavaliers were on their heels from the onset. Once the Pacers were able to build a comfortable lead, they were able to dictate the way the game was played. The Cavaliers managed to get to the foul line 21 times, but were forced to take a significant amount of jumpshots due to the large-bodied defenders 2 . Tristan Thompson played one of his better games of his still-young career, notching 20 points, 11 rebounds and two blocked shots. CJ Miles played well off of the bench, logging 21 points on what was his 27th birthday. But this would not be enough to counter the lack of production from the rest of the shell-shocked team — the off-guard triumvirate of Daniel Gibson, Wayne Ellington, and Dion Waiters combined to shoot 4-for- 26. "We have to come out and throw the first punch; be men about it," said Thompson. "We have to come out and play hard." Being "men," per Thompson, equates to playing hard. Not letting the other team dictate pace or style of play — pushing back when pushed, throwing the first (assumed to be figurative) punch. If this leads to a slam dunk or two, so be it. Defending the opponent and keeping their total down is an added bonus. In the meantime, a two-or-three-foot floater over an outstretched arm does just the trick. Just ask Kyrie. – (AP Photo/Tony Dejak) ___________________________________ Meaning that, for every 100 possessions, he allows 110 points Fifty-seven of the team's 92 field goal attempts came from beyond 10 feet wherein the team shot 35 percent
Original Story:
http://www.waitingfornextyear.com/201...
THE BACKYARD
BEST OF MAXIM
RELATED ARTICLES
CLEVELAND (AP) -- Cavaliers guard Dion Waiters will miss the rest of Cleveland's game against Indiana with a sore left knee. Waiters scored four points in the first quarter, but didn't play in the second. The Cavaliers announced in the third quarter that he would be held out the rest of the game as a precaution and will be re-evaluated on Tuesday. Waiters, the No. 4 pick...
Already without Kyrie Irving, the Cavs will now lose Dion Waiters for at least one week with loose cartilage in his knee.  The team has not ruled out arthroscopic surgery, but after the week, he will be re-evaluated. According to The Plain Dealer: Dion Waiters will miss at least a week after an MRI on Tuesday revealed loose cartilage in his sore left knee, the Cavaliers announced...
Most people are not expecting much from the Cleveland Cavaliers at this point. They are a young, inexperienced team and they are playing without their All-Star point guard Kyrie Irving. Most teams see the Cavs on the upcoming schedule and think it is going to be an easy win. But that has not been the case lately. Cleveland is not just rolling over and riding out another lottery...
Whenever LeBron James comes to Cleveland, the discussion begins. Will James return to the Cavaliers? Will he remain with the Heat? Will he wind up in some other unsuspected destination? Theyre all legit questions. We have nothing close to the answers to any. All we know for sure is the Heat have won 23 straight games, or just 10 shy of the all-time NBA record, entering Wednesdays...
CLEVELAND -- LeBron James is back in Cleveland, which means the question had to be asked. Actually, the idea of James returning the Cavaliers someday probably didnt need to be brought up at all, but you knew someone would do it, anyway. Unlike two seasons ago -- when James hinted playing for the team that drafted him was a possibility -- he gave the politically correct response...
When Waiters returns from his relatively minor knee injury, he will the leader of the banged-up Cavaliers, even though he just entered the NBA back in the winter Although he is just a rookie, Dion Waiters has already shown bounds of leadership on his scuffling Cleveland Cavaliers team, a team that has struggled the whole season and is suffering from a bad case of...
His teammates called him "Elvis" because of his fame. They laughed when he donned a wig and sunglasses so he could walk around a mall without being noticed. Yes, LeBron James was big news when he joined the Cleveland Cavaliers 10 years ago, But could anybody have envisioned back then the prodigy from Akron, Ohio, would end up being this legendary of a player? As a skinny...
I am sitting in the corner of a dimly lit room and the smiling  face of CJ Miles looms over my right shoulder. The only illumination to be found comes from low-wattage track lighting which hangs from the ceiling and the glow from a wall of monitors that cascades the front of this otherwise neutral-toned space. This wall, split into seven main columns, houses roughly three-dozen...
Photo by Mark Runyon It is too early to say that Cavalier's owner Dan Gilbert struck gold the summer of 2011? Landing top pick Kyrie Irving seems an assured victory in Cleveland but it's just now that Gilbert's draft haul is beginning to truly take shape as a resounding success despite a climb in the standings. A large part of Cleveland's bright future hinges on Tristian...
The Indiana Pacers' normally stout defense has been subpar in the last two games. They would seemingly have better luck against a Cleveland team playing without Kyrie Irving, but the Cavaliers are coming off one of their highest-scoring games of the season. Trying to avoid a third straight loss, the Central Division-leading Pacers look to continue their recent dominance over...
NBA News

Delivered to your inbox

You'll also receive Yardbarker's daily Top 10, featuring the best sports stories from around the web. Customize your newsletter to get articles on your favorite sports and teams. And the best part? It's free!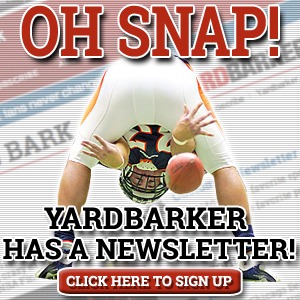 Latest Rumors
Best of Yardbarker

Today's Best Stuff

For Bloggers

Join the Yardbarker Network for more promotion, traffic, and money.

Company Info

Help

What is Yardbarker?

Yardbarker is the largest network of sports blogs and pro athlete blogs on the web. This site is the hub of the Yardbarker Network, where our editors and algorithms curate the best sports content from our network and beyond.