Found March 09, 2012 on Celtics Life:
PLAYERS:
Ray Allen
,
Dwight Howard
,
Clifford Ray
,
Rajon Rondo
,
Paul Pierce
,
Josh Smith
,
Robert Parish
,
Danny Ainge
,
Doc Rivers
,
Kevin Garnett
,
Rasheed Wallace
,
Carmelo Anthony
,
Charles Barkley
TEAMS:
Boston Celtics
,
Orlando Magic
,
Portland Trail Blazers
,
Atlanta Hawks
,
Miami Heat
,
New York Knicks
Herald   Ray Allen won't excuse rare 0-fer Dwight Howard, Magic end run of Bulls Globe   Trail Blazers thumbnails Confidence in Rondo is growing Celtics Life  Clifford Ray returns to the NBA with the Kings Celtics continue to shop Rajon Rondo and Paul Pierce Josh Smith wants out of Atlanta by trade deadline As teammates Robert Parish and Michael Jordan nearly brawled CelticsBlog   Celtics Trade Rumor Mill Is Quiet So Far Who Is A Better Building Block: Josh Smith Or Rajon Rondo? Celtics Trade Rumors Catch Up With Paul Pierce Rumor: Josh Smith Demands Trade From Atlanta Hawks Danny Ainge Talks About Trade Deadline ESPN   Doc doesn't expect a big trade Ainge: 'Nothing even close' on trade front 5-on-5: KG's resurgence and more Big 3's final run stirs bittersweet memories for original trio Celtics have time ... and opportunity Boston Celtics approach playoff seeding with new goal Herd on ESPN Radio: Doc Rivers, Celtics Dealing Ray a smart play fo...
Original Story:
http://www.celticslife.com/2012/03/fi...
THE BACKYARD
BEST OF MAXIM
RELATED ARTICLES
Sacramento BeeThere was a new face at the Kings' practice facility this morning working with center Hassan Whiteside after the team's shootaround. Clifford Ray, the former center and longtime coach in the NBA and CBA, will be working with the Kings as a consultant primarily for the team's big men when the team is at home, Smart said. "He just has a way of talking...
Thursday can't come soon enough for Rajon Rondo. The Celtics point guard has been the subject of trade rumors for weeks and likely will be up until Thursday's trade deadline. There's apparently a good chance that Rondo ends up staying put in Boston, though. After soliciting offers for the 26-year-old, the Celtics have "disengaged" on that front, according to...
We're a week away from the NBA trade deadline, so expect to hear several rumors (and denials) in the coming days. Today Chad Ford and Ken Berger threw out trade rumors on Rajon Rondo and Paul Pierce respectively. Chad Ford on Rondo:I know the Celtics are saying Rondo isn't going anywhere. But there are two problems with that. (1) It doesn't jibe with what a number of...
Well, that was pathetic. The Celtics took the floor in Philly tonight and had about as much energy as petrified wood. They settled for jump shots — which hit nothing but the front of the rim if they hit anything at all — and resembled Wile E. Coyote whenever the Philadelphia Road Runners took off down the court following the aforementioned missed jumpers. Boston was out...
BOSTON (AP) -- Paul Pierce and Ray Allen each scored 22 points and the Boston Celtics rebounded from a lopsided loss and handed one to Portland last night, beating the Trail Blazers, 104-86. The win came after Boston lost by 32 points at Atlantic Division-leading Philadelphia on Wednesday, its worst setback in more than six years. Kevin Garnett grabbed seven defensive rebounds...
After every game, we'll take stock of how each individual performance affects the player's overall value. Starters Rajon Rondo:  He came out like a house on fire, but then he slowed down.  And then, of course, there was the bobble.  Tough ending to what was going to be another spectacular night.    Paul Pierce:  He's only averaging 30.3 points per game...
I often wonder what opposing teams, their beat reporters and bloggers are saying about the Celtics after playing the Celtics. Here's a dose of 'enemy chatter' from Philadelphia. The Celtics have slipped a lot this season. They're still dangerous from night to night, and when you throw in Paul Pierce and Rajon Rondo, they have an elite top four players in their...
Josh Smith has been involved in trade rumors with the Celtics for a few reasons: 1) He has said he'd like to play for the Celtics and  2) He's a former high school teammate and good friend of Celtics star Rajon Rondo. So far the Celtics reciprocal interest in Smith is only lukewarm. This might have to do with the Celtics own interest in trading Rondo and the Celtics might...
Over the past two years, there have probably been 1,000 trade ideas involving Russell Westbrook and the Oklahoma City Thunder. The basic premise is that Russell Westbrook is unbelievable, but he and Kevin Durant can't coexist perfectly, and one of them needs to go. Obviously, the assumption is that Durant should stay, so that leaves Russell Westbrook – one of the ten best players...
Will the Boston Celtic trade Rajon Rondo before the 2012 NBA trade deadline? Yes 3/1 No 1/5 Will the Orlando Magic trade Dwight Howard before the 2012 NBA trade deadline? Yes 1/1 No 5/7 Will the Los Angeles Lakers trade Pau Gasol before the 2012 NBA trade deadline? Yes 1/1 No 5/7 How many trades will happen on March 15th in...
Houston fans are a fun group to spy on.   After the Knicks forums, it's refreshing to read a board and not have every other post blame the refs.  There are some funny comments.  I like the exchange about McHale resembling Frankenstein in a worse suit.  I also like that they continually refer to the geriatric Celtics who outlasted them in OT.  And the last comment is hilarious...
After being beaten up and having their lunch money stolen at the hands of the Philadelphia 76ers in a 103-71 loss on Wednesday night, the Boston Celtics would take out their frustrations on the Portland Trail Blazers Friday night as they won 104-86, in a game that was not nearly as close as the final score indicates. Boston would hold a 43 point lead at one point over their visitors...
NBA News

Delivered to your inbox

You'll also receive Yardbarker's daily Top 10, featuring the best sports stories from around the web. Customize your newsletter to get articles on your favorite sports and teams. And the best part? It's free!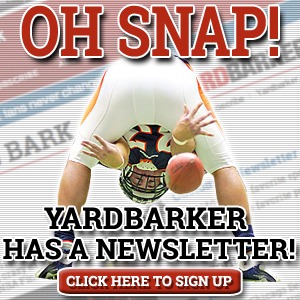 Latest Rumors
The Backyard

Today's Best Stuff

For Bloggers

Join the Yardbarker Network for more promotion, traffic, and money.

Company Info

Help

What is Yardbarker?

Yardbarker is the largest network of sports blogs and pro athlete blogs on the web. This site is the hub of the Yardbarker Network, where our editors and algorithms curate the best sports content from our network and beyond.