Found June 20, 2013 on Helmet and Pads Required:
"Carve your name on hearts, not tombstones. A legacy is etched into the minds of others and the stories they share about you." ― Shannon L. Alder At 9pm Est tonight when the Miami Heat and the San Antonio Spurs tip-off game seven of the 2013 NBA Finals. Everyone who is involved in tonight's game, will see their legacy affected someway, somehow whether they like it or not. It's just how life goes in the world of professional sports. Unfortunately for two people in particular, LeBron James and Tim Duncan, their legacy will be affected the most as they're the "cornerstone pieces/superstars" for not only their respective franchises, but also the NBA. Many, including myself, who truly know the game of basketball will tell you, "In the history of the NBA Finals. Superstars dominate and win game 7s." So the spotlight will be on Bron and Duncan before, during and after tonight's game, and neither one of them will get out of the spotlight until next season starts. The NBA seems to be the only pro sports league in which MULTIPLE rings are what separate the all-time greats from the "just greats". Whereas in other pro sports leagues, one ring is good enough to cement you as an all-time great. With that kind of ideology fueled by sports radio, fans, columnists and bloggers. The amount of rings, or in LeBron's case, ring, and accomplishments that Timmy and LBJ have, will almost be forgotten or down played when the outcome of tonight's game is decided. To many people, the loser of tonight's game will be looked at as not good enough to make it happen in the biggest game of the season when they needed to do so the most. Especially if that person coming up short tonight is LeBron. People love to hate them some LeBron. Why? …….. Because in today's sports world, people tend to live in the moment. Tim Duncan: For years, many people have put an imaginary asterisk next to the Spurs 1999 championship as it came during the strike shortened season where there was only a 50 game schedule. Then you have the 2007 championship against the Cleveland Cavaliers which was LeBron and 14 guys Cavs GM, Danny Ferry found off Craigslist. Many look at the 2007 NBA title as being won against maybe the worst team to make it to the Finals in NBA history. Then you have the fact that unlike other top 10/15 NBA all-time greats. Timmy has never won back to back titles. If Timmy can get number 5 tonight. It would make the "yeah but" people shut up, as Timmy would be in exclusive company with an NBA championship ring for each finger on one of his hands. That said, if Timmy doesn't capture his 5th ring tonight. He will face criticism from naysayers. But not as bad as what LeBron will. It's sad to say this, but its true. LeBron James: Everyone remembers LeBron in the 2011 NBA Finals where he basically looked as if he didn't even want to be in the game at times during that series after dominating the first three rounds of the playoffs that year. Prior to the 2011 Finals, you had the 2007 Finals in which he was outmatched and out manned by the Spurs. People have given him a pass on being swept by the Spurs. In fact, LeBron has gotten major props for just getting that 2007 Cavs team to the Finals because everyone realizes that the 2007 Cavs were straight trash. Then you have last year, the 2012 NBA Finals, where LeBron dominated and carried the Heat to that championship. To many, that's cool and all. Nevertheless, if LeBron is truly one of the all-time greats, many feel that he must win back to back titles and come through in the clutch. If he doesn't make that happen tonight, not only will he not have done so, but he will be 1-3 in the NBA Finals during his career. Now the funny thing is, people are making it (LeBron being 1-3 in the Finals if he loses tonight) to be such a big deal. But many seem to forget that other NBA all-greats have lost multiple NBA Finals too. Well…..I don't know if its because people forget, or they just don't know. In addition to LeBron's NBA Finals résumé. In this year's Finals, he has played very, very hesitant at times. LeBron has not looked like the player that he has been over the past two years. For someone who is considered to be the best player on the planet and has played like it anytime he steps on the court. LeBron not playing like the best player on the planet during this series will be thrown at his face everyday until he gets back to the Finals and redeems himself, especially if the Heat lose tonight. One could say, when you're being mentioned in the same sentence with Michael Jordan on a daily basis as LeBron is, your legacy is scrutinized daily. Any and every time you step on the court, you're putting your legacy at stake of not being good enough to Jordan or other all-time greats. Some would say, "LeBron brought this on himself." I would have to say the media did it more so than LeBron. Since LeBron was a sophomore in high school, the media, mainly ESPN and Sports Illustrated, has been hyping him as the "The Chosen One" and the next all-time great. The expectation of greatness that would rival MJ was there way before LeBron left high school. Luckily for Timmy, he doesn't face the scrutiny LeBron does and never has which is why I said earlier, even if Timmy loses, he won't get the same type of "shade" that LeBron will. All in all, tonight is all about "Legacy" and how one's legacy will be perceived by people globally. Question is, how will Timmy's and LeBron's be perceived after tonight? Only time will tell…..It will be interesting to see how things unfold.
Original Story:
http://feedproxy.google.com/~r/helmet...
THE BACKYARD
BEST OF MAXIM
RELATED ARTICLES
The good life: not even noticing when an attractive waitress pours you champagne. LeBron James and several members of the Miami Heat team partied at Story Nightclub, where they probably had the time of their lives drinking Dom Perignon and eating pizza. Also, hey there Damon Jones.  [World Red Eye]
LeBron James will be sporting his signature headband when the Miami Heat take floor against the San Antonio Spurs in Game 7 of the NBA finals Thursday night.The headband came off in the fourth quarter of Tuesday's Game 6 as he blocked a shot by Spurs forward Tim Duncan. It remained off as James proceeded to lead one of the most compelling comebacks in NBA Finals history. He scored...
If the Spurs turn around and won Game 7 of the NBA Finals there would be a lot of people in some third world country rocking out to this collection. Luckily for Nike and the Miami Heat that the Spurs didn't. Photo Credit blacksportsonline.com The post Nike Unveils New Lebron James' Championship Collection appeared first on Overtime.
"For me, I can't worry about what everybody says about me. I'm LeBron James, from Akron, Ohio. From the inner city. I'm not even supposed to be here. That's enough. Every night I walk into the locker room, I see a #6 with James on the back, I'm blessed. So what everybody say about me [...]The post I Ain't Got No Worries – The Miami Heat Are World Champions Again appeared...
He just won the NBA Championship, yet Lebron James is not resting. **Follow us on Twitter, View Blitz Viral Videos, or Return to BobsBlitz.com.Follow us on Twitter. Subscribe or Return to... Full story at Bob's Blitz ~ http://www.bobsblitz.com
Count Metta World Peace among those impressed by LeBron James' fourth quarter Game 6 efforts without his headband on.
If you wanted to reach LeBron James on Thursday night, well, the King was busy wrapping up his second straight championship. Leave a message.
One more defensive rebound, and the Spurs would have been spraying champagne. One more board, one measly Heat miss corralled by the Spurs in the final 23 seconds of regulation, and the NBA Finals are over. Forget a Game 7, forget LeBron James' headband, forget Manu Ginobili laying a gigantic egg for the umpteenth time in the series. It should be over. Tim Duncan should be passionlessly...
With the passing of legendary actor James Gandolfini at the mere age of 51 due to a heart attack, Hollywood lost one of the greatest actors to grace the small/large screen in the process. When James was living, he was a pretty big fan of the New York Knicks and back in the grand year that was 2010, Gandolfini reprised his old role of "Tony Soprano" to help court then-free agent...
LeBron James shrugged off a poor start to get 32 points, 11 assists and 10 rebounds, Ray Allen hit a 3-pointer with 5.2 seconds to play to force overtime and the Miami Heat staved off elimination with a 103-100 victory over the San Antonio Spurs in Game 6 of the NBA Finals on Tuesday night.
In each playoff series there is a player that pushes his way into the limelight and shines for a game or two. That person is considered an X-Factor. Tonight for Game 7 you can push all the notions of one guy making a difference out the window. The team that uses everyone correctly will be the ones to hoist up the Larry O'Brien trophy tonight. Yes LeBron James can take the game...
Heat News

Delivered to your inbox

You'll also receive Yardbarker's daily Top 10, featuring the best sports stories from around the web. Customize your newsletter to get articles on your favorite sports and teams. And the best part? It's free!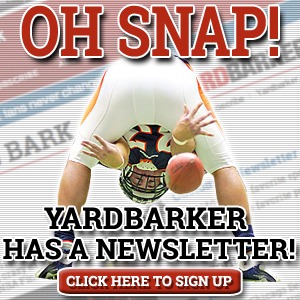 Latest Rumors
Best of Yardbarker

Today's Best Stuff

For Bloggers

Join the Yardbarker Network for more promotion, traffic, and money.

Company Info

Help

What is Yardbarker?

Yardbarker is the largest network of sports blogs and pro athlete blogs on the web. This site is the hub of the Yardbarker Network, where our editors and algorithms curate the best sports content from our network and beyond.