Found April 03, 2013 on Project Spurs:
PLAYERS:
Jacque Vaughn
,
Gregg Popovich
,
J.J. Redick
,
Arron Afflalo
,
Jameer Nelson
,
Al Harrington
,
Glen Davis
,
Nikola Vucevic
,
Tobias Harris
,
Tim Duncan
,
Tony Parker
TEAMS:
Orlando Magic
,
San Antonio Spurs
,
Milwaukee Bucks
The San Antonio Spurs are hosting the Orlando Magic tonight for the second meeting of the season and first at the AT&T Center in San Antonio, Texas. The Spurs are struggling as of late and have dropped their last two games against possible playoff opponents. The Magic are going through their own woes this season. Their 19-56 record this season hasn't been a pretty sight, but they are currently in a rebuilding process with a young roster poised to make noise in the NBA for the next years to come. I caught up again with Philip Rossman-Reich of Orlando Magic Daily to discuss this game and what we might expect tonight from both teams. Jose: What do you think this game will mean to Jacque Vaughn in his first appearance as a head coach against Gregg Popovich? Philip: I think it will mean a lot to Jacque. The preseason game in Orlando meant something to him and he still seems pretty close with several of the players. What little experience he had as a coach he got with Popovich and the Spurs, and I think he is very appreciative about that. Vaughn is not going to let the emotions get to him though. He has shown time and time again that he will keep an even keel in his approach to the game and will have that intense focus. He has always been a guy that does not get too fiery and emotional during games. So I would bet he will have his focus on what he wants to get accomplished Wednesday and leave the pleasantries for before and after the game. Jose: How different is this team with the departure of J.J. Redick? Philip: That is really hard to say. The Magic definitely lack the same kind of floor spacing they had with Redick out there and Redick did a lot of little things, especially on defense, that kept the team together. His competitiveness was contagious for a lot of the young players. Since the trade though, the Magic have faced numerous injuries (Arron Afflalo is out for the year with a partial tear of his hamstring and Jameer Nelson is currently out with a sprained ankle) and have shut down veterans Al Harrington, Glen Davis and Hedo Turkoglu (it seems). Orlando is letting the young players on the roster get their opportunity to play. That was definitely part of the reason the Magic traded J.J. Redick. You will see plenty of Nikola Vucevic, Maurice Harkless and Tobias Harris tonight. And that is what the Magic want right now. Let these young players take their lumps at the end of this season. Jose: What advantage do the Magic have against the struggling Spurs? Philip: There might still be an element of surprise with this Magic team. A lot of people would suspect that a squad with nothing to play for would roll over and die when facing any large deficit or going through any drought. Orlando though has shown a proclivity to fight. Against Houston on Monday, Orlando was down 25 points and trailed by 18 in the first quarter. The Magic did not get the deficit to single digits until late in the fourth quarter. That is the kind of fight the Magic want to see from this young squad. And that is what you can expect from the Magic moving forward this year. Jose: Who should the Magic be worried most about on the Spurs? Philip: Tim Duncan or Tony Parker (whichever of them actually plays in this game). Orlando is still facing a talent and experience deficit against a team like the Spurs and the Spurs should be able to use that to their advantage. The Magic will go through dramatic swings of strong offensive and defensive play throughout a game. Consistency, anchored by these two All Stars, will go a long way to securing an easy win over a 19-win team. The Magic simply do not have the consistency on defense to stop them right now if they are focused. Jose: What's your prediction for the game? Philip: I think the Magic will keep it close-ish for a while. The Spurs won't run away with it. Not until the fourth quarter at least. Orlando is going to show that it can fight, but San Antonio after that tough loss to Memphis and prepping for that tilt with Oklahoma City takes care of business with a relatively uneventful 13-point win.
Original Story:
http://www.projectspurs.com/2013-arti...
THE BACKYARD
BEST OF MAXIM
RELATED ARTICLES
Manu Ginobili is dealing with a hamstring injury that could keep him sidelined until the end of the regular season and possibly into the playoffs. The Spurs' second unit will be missing a key component and as a result, the team will suffer as a whole. The 35-year-old veteran had been struggling lately, but he's still a huge part of the Spurs. He's a fan favorite and an...
San Antonio Spurs head coach Gregg Popovich, gets painted as a guy who has quite the temper, but what a lot of people overlook is his endearing sense of humor. As some of you will remember, Popovich, sent some of star players home before a game against the Miami Heat in November. It was the last game of a grueling six-game road trip, but it is believed that he did it as some sort...
SAN ANTONIO (AP) -- Danny Green scored 20 points and Gary Neal added 16 to pace the depleted San Antonio Spurs to a 98-84 victory over the Orlando Magic on Wednesday night. A 14-2 run that included a pair of 3-pointers by Green midway through the fourth finally allowed the Spurs to take control. Before the run, San Antonio appeared sluggish and unable to pull away from the Magic...
Nikola Vucevic has emerged as a quality player in the NBA in his second year. He is among the league leaders in double doubles and rebounds and has done wonders with the playing time and the opportunity given to him from this rebuilding Magic team. Vucevic is averaging 12.5 points per game and 12.6 rebounds per game and has seen an increase from his rookie year in his per 36...
Can the San Antonio Spurs hold on for a top seed in the Westerns Conference without Manu Ginobili? Maybe not.  Ginobili is battling a hamstring strain and will be sidelined for the next 3-4 weeks says Fran Blinebury of NBA.com. The absence should not hurt the Spurs in the first round of the playoffs, but there is a good chance Ginobili misses some time there too.  However, Ginobili...
SAN ANTONIO (AP) -- Danny Green scored 20 points and Gary Neal added 16 to pace the depleted San Antonio Spurs to a 98-84 victory over the Orlando Magic on Wednesday night. A 14-2 run that included a pair of 3-pointers by Green midway through the fourth finally allowed the Spurs to take control. Before the run, San Antonio appeared sluggish and unable to pull away from the Magic...
Tonight's game between the Thunder and the San Antonio Spurs is essentially a one-game playoff for the top seed in the Western Conference. If the Spurs win, they hold a 2.5 game lead over Oklahoma City with six games to go. If the Thunder win, it's a half-game lead and OKC holds the tiebreaker (conference record because the season series would be tied 2-2). The Thunder schedule...
The Magic are unabashedly following the Spurs and Thunder model for rebuilding their organization. Several members of the Magic organization came directly from the Spurs and their family tree, including head coach Jacque Vaughn. So there will now, at least with this management in place, be a tie between the Magic and the perennially successful Spurs. As things stand today, Orlando...
Tonight we were blessed with another classic Gregg Popovich-Chris Sager in-game interview, where no answer exceeds five words. Popovich was asked who has to step up in the absence of Manu Ginobili in the Spurs second unit, in which the king of awkward interviews replied, "Manu's not here." If the Spurs/Thunder matchup doesn't intrigue you, this shouldn't disappoint.
The matchup of the game for Thursday night's game between the San Antonio Spurs and Oklahoma City Thunder will be between Tim Duncan and Kendrick Perkins. Although both men technically don't play the same position, Perkins usually guards the bigger Duncan to let Serge Ibaka roam on defense with Tiago Splitter not being a shooter or threat on the perimeter. This will put...
With four days off, the Oklahoma City Thunder have had plenty of time to prepare for one of their biggest games of the season. While the San Antonio Spurs won't be quite as fresh, they should have mostly everyone available. The Thunder try to inch closer to catching the Western Conference-leading Spurs as these powerhouses square off Thursday night in Oklahoma. After winning...
NBA News

Delivered to your inbox

You'll also receive Yardbarker's daily Top 10, featuring the best sports stories from around the web. Customize your newsletter to get articles on your favorite sports and teams. And the best part? It's free!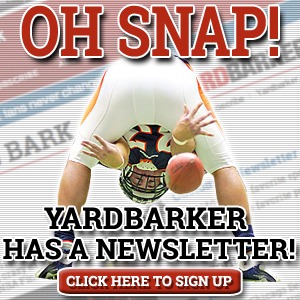 Latest Rumors
Best of Yardbarker

Today's Best Stuff

For Bloggers

Join the Yardbarker Network for more promotion, traffic, and money.

Company Info

Help

What is Yardbarker?

Yardbarker is the largest network of sports blogs and pro athlete blogs on the web. This site is the hub of the Yardbarker Network, where our editors and algorithms curate the best sports content from our network and beyond.