Posted February 01, 2013 on AP on Fox
The Grizzlies' new owner is defending the trade of his team's leading scorer and other moves to dump salary, saying he believes they can do some ''serious damage'' in the playoffs with the changes. Robert Pera took part in a web chat Friday with Memphis' season ticket holders along with chief executive officer Jason Levien, and Pera's first question was about whether the new ownership group has the financial ability to run the team. ''This team was built for playoff basketball,'' Pera wrote. ''In playoff basketball, getting defensive stops and creating high percentage scoring opportunities under pressure becomes much more important. ... And that is what this team can do best.'' Pera hadn't spoken publicly since taking over the team Nov. 5. His Grizzlies traded Marreese Speights and two players along with a future first-round draft pick to Cleveland last week for Jon Leuer and a trade exception. On Wednesday, the Grizzlies sent leading scorer Rudy Gay to Toronto in a three-team trade bringing Memphis Tayshaun Prince, Austin Daye and Ed Davis. The first trade helped Memphis avoid a $4 million luxury tax hit this season. Trading away Gay clears up $37 million in salary committed by previous owner Michael Heisley, while Memphis now has a trade exception of about $7.5 million that can be used by Memphis over the next year to add another player if needed. ''We made the second trade because we feel it allows us to put a more competitive product on the floor this season and in future seasons,'' Levien wrote. ''We got better. We also picked up a valuable draft pick as well as trade exceptions that will allow us to be opportunistic in going on the offensive moving forward.'' Pera wrote that NBA teams have won titles with superstars and without, and he believes the Grizzlies as they are now built potentially can become the next example. ''Between Tayshuan's winning pedigree, the league's best perimeter defense, and Mark/Zbo returning back to the focal point of the offense; I believe we are a far more dangerous playoff team today,'' Pera wrote of Marc Gasol and All-Star forward Zach Randolph. The Grizzlies lost 106-89 in Oklahoma City on Thursday night as they spent the first half trying to figure out how to play without Gay and with the new additions not having joined the team. They still rank fourth in the Western Conference with a 29-16 record going into Friday night's game against Washington that still is the best in franchise history at this point in a season. Pera called the deal bringing Davis an added bonus and said he believes Levien and the front office has done an outstanding job to position Memphis for playoff success this year. Memphis has reached the playoffs each of the last two seasons and made its deepest run in 2011 to the seventh game of the Western Conference semifinals against Oklahoma City with Gay injured. ''We can do some serious damage in these playoffs,'' Pera wrote. A former Apple engineer, Pera founded Ubiquiti Networks, a California communications technology company that makes WiFi networking equipment. He shared the news that new equipment is being added to the FedExForum to improve WiFi during games for fans. Asked what has surprised him the most about being an NBA owner, Pera called the power of the media an ''eye-opener.'' ''In today's world, social networking has enabled information to disseminate quickly, and in a vacuum, even inaccurate information and misunderstandings can spread fast,'' Pera wrote. Pera said his business style is substance as an engineer and not a salesman or talker. Pera wrote he prefers to let results speak for themselves. But he did try to send a message to season ticket holders about his commitment to the Grizzlies. ''Although I am not one to speak out much or actively seek publicity, I want Memphians to know that what I want more than anything is to position this team to be wildly successful and do well by the city of Memphis both in the short and long term,'' Pera wrote. Pera knows the Grizzlies have been heavily scrutinized for these moves with the new owner and changes in the front office. ''Although the way we get there might contradict traditional thought, we are both committed to building something great in Memphis that will hopefully set a new standard for how to run an NBA franchise successfully,'' Pera wrote.
Original Story:
http://msn.foxsports.com/nba/story/ow...
THE BACKYARD
BEST OF MAXIM
RELATED ARTICLES
In a deal that I honestly thought would never happen after the Grizzlies front office managed to get under the luxury tax threshold by dealing Marreese Speights, Rudy Gay has been traded.The Raptors will send out Jose Calderon and Ed Davis for Gay and Hamed Haddadi.The Pistons will acquire Calderon, with the Grizzlies receiving Tayshaun Prince and Austin Daye.The Grizzlies...
There are good problems to have as a head coach and one of those is trying to incorporate a player like Rudy Gay into the mix. However, as a great of a player as Gay is for Casey to utilize, the reality is he's trying to do that midseason while losing a valued floor general in Jose Calderon. Still, the Raptors head coach has a great player to throw in the mix in Gay and Casey...
The Memphis Grizzlies, Toronto Raptors, and Detroit Pistons made some noise around the NBA Wednesday night as they all agreed on a blockbuster trade that will clearly effect these franchises going forward, not to mention the rest of your fantasy season!The Grizzlies, Raptors and Pistons agreed to a six-player trade Wednesday that sent star swingman Rudy Gay to Toronto.The Grizzlies...
Rudy Gay has struggled at times this season, but could be rejuvenated by the new situation with the Raptors.
The first domino before the February 21 trade deadline fell Wednesday when the Grizzlies traded Rudy Gay to the Raptors for Jose Calderon and Ed Davis and then sent Calderon to the Pistons for Tayshaun Prince and Austin Daye. It was not quite the deal everyone expected for Gay, but it was not totally unexpected that Gay would get moved. Memphis is desperate to get under the tax...
The Memphis Grizzlies, playing for the first time after trading away Rudy Gay, get set to face the Thunder in Oklahoma City tonight. While the Gay swap for Ed Davis, Tayshaun Prince, and Austin Daye saves the tea money and improves depth in the long-run, they'll be fairly depleted in tonight's match-up. AccuScore has the Thunder as heavy favorites with 87.3 percent chance at...
The Pistons will acquire Jose Calderon, with the Grizzlies receiving Tayshaun Prince and Austin Daye in addition to Ed Davis in the Rudy Gay trade that sends him to the Raptors.
According to Marc Stein, ESPN: ESPN sources say Grizzlies and Raps have deal in place to swap Rudy Gay and Hamed Haddadi for Ed Davis and Jose Calderon. Sources say deal will morph to include third team to take Calderon, with Detroit at the front of the line to land the Spaniard after chasing him all season. Third team not yet in stone but Pistons have had interest in Calderon all...
Despite a hefty contract, the Toronto Raptors hope the addition of Rudy Gay will help them turn around their season and make a serious push for the playoffs. The veteran small forward could debut with his new team Friday night when the Raptors look to avoid a fourth straight loss while trying to continue their recent home success against the Los Angeles Clippers. Toronto (16-30...
Game time: Sunday at 2 p.m. TV: Sun Sports LeBron James and Dwyane Wade have played some of their best basketball against Chris Bosh's former team, and the Miami Heat have yet to drop a meeting with Toronto since the three joined forces. They've yet to face a Raptors squad featuring Rudy Gay, though. The Heat seek a 10th straight victory in this series Sunday as they conclude...
By: Jeff Rosenberg – Staff Writer (@Jewish_Jeff) Nice way to kick off what looks to be a busy trade season for the NBA. Wednesday night saw the Memphis Grizzlies officially trade SF/PF Rudy Gay, sending him to the Toronto Raptors along with C Hamed Haddadi. Memphis receives PF/C Ed Davis from Toronto, as Toronto also sends PG Jose Calderon to the Detroit Pistons. Finally, the Pistons...
Hey, did you hear there was a big basketball trade last night? Yes, yes, Rudy Gay was traded! Ed Davis was traded! Jose Calderon, too! If you want to read all about the fantasy basketball implications of the deal you can click right on this here little link. You'll be magically transported to fantasy basketball trade analysis nirvana. Or Nirvana if you're a music fan. Well, now...
NBA News

Delivered to your inbox

You'll also receive Yardbarker's daily Top 10, featuring the best sports stories from around the web. Customize your newsletter to get articles on your favorite sports and teams. And the best part? It's free!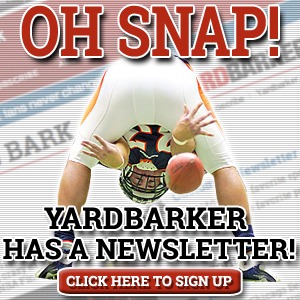 Latest Rumors
The Backyard

Today's Best Stuff

For Bloggers

Join the Yardbarker Network for more promotion, traffic, and money.

Company Info

Help

What is Yardbarker?

Yardbarker is the largest network of sports blogs and pro athlete blogs on the web. This site is the hub of the Yardbarker Network, where our editors and algorithms curate the best sports content from our network and beyond.