Found May 01, 2013 on Fox Sports:
PLAYERS:
Zach Randolph
,
Blake Griffin
,
Chris Paul
,
Lamar Odom
,
Marc Gasol
,
Matt Barnes
,
Jamal Crawford
,
Tayshaun Prince
,
Ryan Hollins
,
Keyon Dooling
,
Chauncey Billups
,
Ray Allen
,
Reggie Miller
,
Kobe Bryant
,
Vinny Del Negro
TEAMS:
Memphis Grizzlies
,
Los Angeles Clippers
,
Miami Heat
,
Los Angeles Lakers
Zach Randolph scored 10 of his 25 points in the fourth quarter and the Memphis Grizzlies capitalized on Blake Griffin's ankle injury to beat the Los Angeles Clippers 103-93 on Tuesday night, taking a 3-2 lead in their first-round playoff series. Mike Conley added 20 points for the Grizzlies, who will try to wrap it up Friday night at home. The Pacific Division champion Clippers, who won their last seven games of the regular season to clinch home-court advantage for the first two rounds, would force a deciding seventh game on Sunday back at Staples Center with a win in Memphis. Chris Paul led Los Angeles with 35 points, tying a career playoff high. Griffin was late joining teammates on the floor for warm-ups because he was getting his right ankle worked on. The three-time All-Star rolled it during Monday's practice when he stepped on Lamar Odom's foot, but no one in the organization let on, and coach Vinny Del Negro didn't broach the subject during his pregame briefing with reporters. Once the game started, Griffin ignored the ankle issue and attacked the Grizzlies in the same reckless manner that has been his trademark since he came into the league. But he played only 19 minutes -- six in the second half -- and finished with four points, five rebounds and five assists. He also got a technical foul from referee Jason Phillips just 3 minutes into the game after scoring on a fastbreak layup and shoving center Marc Gasol's arm. Gasol finished with 15 points and seven rebounds in a foul-plagued performance. Memphis took its biggest lead, 65-52, on Conley's three-point play with 6:28 left in the third quarter. The Grizzlies opened the fourth with a 73-65 advantage before the Clippers closed on Paul's layup and Matt Barnes' fastbreak slam off a long pass by Jamal Crawford. From then on, it was up to Paul and the reserves to bail out the Clippers. But Randolph was too much to deal with again, following his dominant efforts in Games 3 and 4. Tayshaun Prince helped wrap it up with a layup and a 3-pointer in the final minutes after the Clippers got within five on a short jumper by Crawford with 1:49 remaining. During a bruising opening half, 24 fouls were called and neither team led by more than four until Gasol's three-point play gave the Grizzlies a 46-40 margin with 2:35 left. Griffin picked up his third foul on the play and his second in a span of 28 seconds. One key sequence came when Conley hit an off-balance 11-foot bank shot with 1:08 left in the half and Clippers reserve center Ryan Hollins threw the ensuing inbounds pass right to Randolph. Moments later, Conley converted two free throws to give Memphis a nine-point lead 48 seconds before intermission. With the sellout crowd of 19,384 urging him on, Paul responded with a 3-pointer. His driving layup was blocked by Prince at the end of the half. NOTES: The Grizzlies committed only four turnovers during the first three quarters, none of which was converted into points by the Clippers. ... Memphis G Keyon Dooling returned to the lineup after missing Game 4 because of a strained muscle in his neck. ... Griffin did not get to the free throw line after going 18 for 22 in the first four games. He shot a career-high 66 percent during the regular season. ... LA's Chauncey Billups' only field goal was a 3-pointer. His 267 3-pointers in the postseason are the fourth-most behind Ray Allen, Reggie Miller and Kobe Bryant. ... The Clippers, who beat the Grizzlies at Memphis in Game 7 of last year's opening-round playoff series, had their first winning road record in franchise history this season (24-17).
Original Story:
http://msn.foxsports.com/nba/story/me...
THE BACKYARD
BEST OF MAXIM
RELATED ARTICLES
A couple of years ago, I wrote The Zach Randolph Gospel on ETSF, a work that was long overdue. I've always been a fan of Z-Bo, but I'll admit that as much as I love the man's game, I do take it for granted. It's not an excuse or some sort of rationale to try [...]The post Zach Randolph Is A Man appeared first on The Sports Fan Journal.
GOOD NEWS?
An MRI on Los Angeles Clippers star Blake Griffin's injured ankle revealed only a moderate sprain and no further damage.
PLAYA VISTA, Calif. Blake Griffin hasnt given up hope of playing for the Clippers in their potential. playoff elimination game Friday night against the Memphis Grizzlies, but the final decision might be out of his hands. Griffin, whos being treated for a high right ankle sprain he suffered Monday in practice, said on Thursday he felt better and didnt rule out playing in Game 6...
LOS ANGELES (AP) -- Zach Randolph scored 10 of his 25 points in the fourth quarter and the Memphis Grizzlies capitalized on Blake Griffin's ankle injury to beat the Los Angeles Clippers 103-93 on Tuesday night, taking a 3-2 lead in their first-round playoff series. Mike Conley added 20 points for the Grizzlies, who will try to wrap it up Friday night at home. The Pacific Division...
Marc Gasol and Zach Randolph are proving to be a tough tag team. They almost seem to be taking turns scoring, whether it's Randolph with his layups and putbacks or Gasol with his hooks and jumpers. The duo has helped Memphis dominate inside and take a 3-2 lead in the best-of-seven series with a chance to eliminate the Los Angeles Clippers. It's a flashback to 2011 when...
Los Angeles Clippers forward Blake Griffin exited last night's contest against the Memphis Grizzlies in the third quarter due to a high ankle sprain. The ailment has caused the Clippers to consider Griffin as day-to-day, and he told reporters – including Arash Markazi of ESPN Los Angeles – that the injury got worse as the game went on."As the game went on, it got worse...
Despite taking an early two-game lead over the Memphis Grizzlies in their Western Conference quarterfinal matchup, the Los Angeles Clippers have fallen into a rut that has nearly cost them their playoff lives. While Chris Paul and company are still quite capable of playing on into the second round, the NBA odds are against them. Thanks to the sheer depth of their Memphis counterparts...
PLAYA VISTA, Calif. For three games, the Clippers have tried in vain to slow down the Memphis Grizzlies in their first-round Western Conference playoff series. For three games, they have failed miserably, unable to control the backboards, stop big men Zach Randolph and Marc Gasol or prevent Memphis from getting points in the paint. So maybe, as Chris Paul suggested Friday, the...
Ground and Pound Tonight in Los Angeles, for the first time in the series, the road team won, setting up Memphis for a closeout game... but honestly, this was the closeout game. The Clippers never truly threatened, despite getting a huge amount of home court calls and a game for the ages from Chris Paul. The Grizz won without anyone really playing all *that* great, though Zach Randolph...
The Grizzlies have played the Los Angeles Clippers enough the past year to know that nothing is over until the final buzzer. Sure, Blake Griffin is questionable with a sprained ankle and Chris Paul has a left thumb bruised. But the resilient Clippers are deep and talented. That is why the Grizzlies are focusing only on themselves and their defense, the inside games of Zach Randolph...
The battles continue off the court, as the fashion games are just starting to heat up in the 2013 NBA playoffs, Lets check out a couple fashionable looks from games 2 to 4 of  the 1st round. Unfortunately we won't be seeing Russell Westbrook(OKC Thunder) anymore, due to a knee injury suffered in Game 2 Vs. Houston. What is NBA playoffs fashion without Russell Westbrook ?? And...
NBA News

Delivered to your inbox

You'll also receive Yardbarker's daily Top 10, featuring the best sports stories from around the web. Customize your newsletter to get articles on your favorite sports and teams. And the best part? It's free!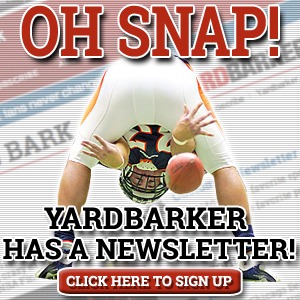 Latest Rumors
The Backyard

Today's Best Stuff

For Bloggers

Join the Yardbarker Network for more promotion, traffic, and money.

Company Info

Help

What is Yardbarker?

Yardbarker is the largest network of sports blogs and pro athlete blogs on the web. This site is the hub of the Yardbarker Network, where our editors and algorithms curate the best sports content from our network and beyond.