Found January 08, 2013 on Knickswag:
For 38 players in the NBA, Monday would have been the most important day for them this season as January 10th marks the day in which all the contracts of players on an NBA team will become guaranteed.  Why was Monday so important than you ask? Because for those players, 5 P.M. ET Monday was when they would be released by so that they can clear waivers by January 9th. The contracts for Chris Copeland and Rasheed Wallace will be guaranteed for the season. Knicks had tosulia.com/my_thoughts/66… — Al Iannazzone (@Al_Iannazzone) January 8, 2013   This would have had an impact on the Knicks, as two players currently on their roster, Chris Copeland and Rasheed Wallace, were both on non-guaranteed contracts.  Mixed with the injury to Raymond Felton, many people said the Knicks should have gone out and got another guard, but with a full 15 man roster that was not feasible without cutting a player. With that, many people then jumped to the idea of letting Copeland or Wallace go, as their contracts weren't guaranteed anyway.  This would have been a poor decision for Knicks general manager Glen Grunwald to make. Copeland gives the Knicks a legitimate scoring option on the bench in case of an injury suffered to any of the wings ahead of him on the depth chart.  He has been lights out when given the chance this season, as his per 36 minutes stats are quite impressive. If given those minutes, Copeland would average 20.6 points while shooting 49.1 percent from the field and 40.5 from the three point line.  He leaves something to be desired in other areas, averaging only 3.1 rebounds and 1.0 assists in the same time span, but there is no denying that he can fill it up. Wallace had very little chance of being released, even with his current injury that has caused him to miss the last 12 games, because he came out of a two year retirement from the coaxing of head coach Mike Woodson.  Wallace has earned his spot on the roster not only because of his veteran presence but because of his play on the court. When Wallace appears in a game, the Knicks have a 16-4 record, scoring 102.8 points per game, while giving up only 93.7 points per game to their opposition.  When Wallace does not appear in a game, the Knicks have a 7-6 record, scoring at nearly the same clip with 102.0 points per game, but playing much worse defense, giving up 102.5 points per game to their opponent. Wallace's presence on the court is something the Knicks miss dearly while he deals with the stress reaction in his foot, as he is very vocal on the bench and on the court, yelling out instructions for players on where to be on defense.  While on the court, Wallace leads by example, grabbing 10.2 rebounds, 1.6 steals and 1.8 blocks per game per 36 minutes. The production both Copeland and Wallace bring was not something worth losing to add a free agent point guard from the scrap heap to take over for Felton while he is injured.  Veterans Jason Kidd and Pablo Prigioni should be able to hold down the fort until Felton returns, as J.R. Smith is capable of running the point if asked and Carmelo Anthony can handle the ball as well.  With Iman Shumpert inching closer to a return, he too will help lighten the loss of Felton. It is wise for the Knicks to keep this current crew together so they are able to gel.  Depth is also something Woodson should utilize to his advantage; it is a luxury that not every coach in the NBA has.  When Woodson has used that depth, the results have been very favorable as the Knicks have a 14-3 record (.824) when nine or more players record 10 or more minutes played, compared to an 8-7 (.533) record when less than eight players play for 10 or more minutes.   Kenneth Teape @teapester725 – Knickswag Contributor The post Here to Stay for Wallace and Copeland appeared first on Knickswag - A New York Knicks Blog - News, Rumors, and more!.
Original Story:
http://knickswag.com/here-to-stay-for...
THE BACKYARD
BEST OF MAXIM
RELATED ARTICLES
Even when he's in street clothes New York Knicks forward Rasheed Wallace will try to intimidate you. Check out the stare down he gives the referees. What do you think? Intimidating…..or funny?
The Knicks clan got together for a "Season Subscriber Forum" at Cipriani Wall Street in NYC on Tuesday night for a"Meet The Knicks" event where season ticket holders got a chance to interact with the team through a Q&A session: Iman Shumpert performs his "Knicks Anthem" freestyle live:
Peter A – Knickswag The post Knicks Post Practice: 1/9 appeared first on Knickswag - A New York Knicks Blog - News, Rumors, and more!.
Ballertainment Kevin Garnett hurled fighting words at Carmelo Anthony during a Knicks-Celtics game If you have not heard by now, Carmelo Anthony was pushed to his limits Monday night when Kevin Garnett allegedly made disrespectful remarks about Melo's wife, La La Anthony. Carmelo was seen standing outside the Celtics team bus "waiting" for KG to exit the locker room. Many...
The NBA is looking into a Monday night incident after the Boston Celtics/New York Knicks game involving Carmelo Anthony and Kevin Garnett. Anthony appears to have tracked Garnett down after the game and went screaming after him  underneath the stands, near the Celtics team bus at Madison Square Garden. The act was said to be payback for a double tech called on the duo during...
Carmelo Anthony's pursuit of Boston Celtics forward Kevin Garnett will cost the New York Knicks star one game. The NBA announced that Anthony was suspended for Thursday's game in Indiana against the Pacers due to his actions following the Knicks' Monday loss to the Celtics. Anthony and Garnett got into an on-court tussle that resulted in a double technical foul in...
Pre Game News and Notes Boston Celtics vs. New York Knicks The Knicks and Celtics will face off for the first time this season with circumstances much different than in recent history.  This season, the roles have been reversed, as the Knicks are the alpha dog sitting atop the Atlantic Division with a 23-10 record as the Celtics are struggling to stay at .500 with a 16-17 record...
TMZ posted a grainy video of Carmelo Anthony and Kevin Garnett, completely surrounded by security personnel, exchanging words near the Celtics team bus on Monday night. No, the words 'Honey Nut Cheerios' cannot be overheard amongst the yelling:
You would have to have been under a rock the past 48 hours to not have knowledge of the situation that has gone on between Carmelo Anthony and Kevin Garnett. Anthony and Garnett indeed did take a beef from the court, and ended with the two having words and needing to be separated in front of the Celtics bus.  That was 2 days ago, and with the Knicks playing well right now, Carmelo...
What a great win in spite of Rondo's suspension. Speaking of Rondo's suspension, as you might suspect, Tommy was fired up about it. He especially was upset about the fact that Danny Ferry was a tattle tale and handed the video to the refs to take to the league. Tommy on CSNNE Celtics Pregame Live: "Danny Ferry went to Duke! My kid went to Duke! I'm so fired...
The post Jared Zwerling and Ian Begley of ESPN appeared first on Knickswag - A New York Knicks Blog - News, Rumors, and more!.
Knicks News

Delivered to your inbox

You'll also receive Yardbarker's daily Top 10, featuring the best sports stories from around the web. Customize your newsletter to get articles on your favorite sports and teams. And the best part? It's free!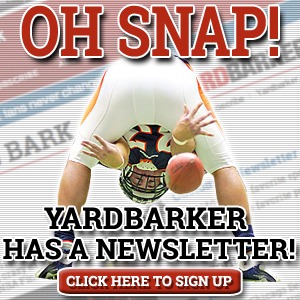 Latest Rumors
Best of Yardbarker

Today's Best Stuff

For Bloggers

Join the Yardbarker Network for more promotion, traffic, and money.

Company Info

Help

What is Yardbarker?

Yardbarker is the largest network of sports blogs and pro athlete blogs on the web. This site is the hub of the Yardbarker Network, where our editors and algorithms curate the best sports content from our network and beyond.