Posted October 23, 2012 on AP on Fox
PLAYERS:
LeBron James
,
Kyrie Irving
,
Anderson Varejao
,
Chris Paul
,
Kobe Bryant
,
Byron Scott
,
Antawn Jamison
,
Tristan Thompson
,
Alonzo Gee
,
C.J. Miles
,
Dion Waiters
TEAMS:
Miami Heat
,
Cleveland Cavaliers
,
Los Angeles Clippers
,
Los Angeles Lakers
When he infamously deserted the Cavaliers two summers ago, LeBron James took much more to Miami's glitzy South Beach than just his talents James robbed a Cleveland franchise of hope. Kyrie Irving has brought it back. After a sensational first season, the NBA's ruling rookie of the year is poised to help the Cavs take another step toward respectability - and maybe beyond. And, the 20-year-old Irving, with a polished all-around game that belies his youth, could be on the verge of becoming one of the league's biggest stars. Irving, though, has another pursuit in mind. ''I want to experience my first playoffs,'' he said. ''It would be Cleveland's first playoffs in three years if we do make it. That's the goal right now, to make the playoffs and go from there.'' Considering where the Cavs were not long ago, Irving's optimism alone is impressive. In the season after James left and before Irving arrived as the No. 1 overall pick, Cleveland fell from the league's upper echelon down the steps into pro basketball's subbasement. The Cavs set a league record by losing 26 straight games and finished with 19 wins - 42 fewer than the previous season with James. The future seemed bleak. Irving changed Cleveland's outlook. He was better than advertised last year. The expectation now is for much more. ''I know what's about to happen,'' said Cavs guard Daniel ''Boobie'' Gibson, who went to the NBA finals in 2007 as a teammate of James. ''The rest of the world should be prepared from something special, because Kyrie is. Very few players come around like him. He's just a special talent that the world will get to see real soon.'' Irving averaged 18.5 points, 5.4 assists and 3.7 rebounds in 51 games last season. He was easily the best thing about the Cavs, who finished 21-45. Of course, losing center Anderson Varejao for the final 41 games with a broken wrist didn't help the final result. Irving's year carried over into the summer, when he played against the U.S. Olympic team that went on to win a gold medal in London. To some observers in Las Vegas, Irving was at times the best point guard on the floor while playing against Chris Paul, Deron Williams and Russell Westbrook. Irving even challenged Kobe Bryant to a game of 1-on-1. He dropped jaws. Byron Scott's wasn't one of them. ''I'd seen it before,'' the Cavs coach said. Scott understands Irving and his potential better than anyone. He and the kid point guard share a close bond, one that has grown tighter and reminds Scott of the relationship he formed with Paul when the two were in New Orleans. Scott sees other parallels in the way Irving is developing into a leader. Last season, Irving may have been reluctant to challenge a teammate or raise his voice to demand more of the other Cavaliers. That's no longer the case. ''Kyrie - going into this year - feels a lot better in his position of being one of the leaders on the team and his experience of being here last year,'' Scott said. ''I expect that to grow as well. I expect him to be a great leader. ''As I told him, you have to lead by example.'' Irving's fully recovered from a broken hand he sustained this summer when he slapped a padded wall in frustration at practice. He's struggled with his shooting during the preseason, but Irving has added a post-up game after adding a few pounds of muscle in the weight room. The bulk should allow Irving to absorb some of the pounding he'll take when he ventures into the lane and takes an elbow or shove. ''He thinks he's Hercules Irving instead of just Kyrie Irving,'' Scott joked. Irving's hardly a powerful Greek god, and he won't be able to carry the Cavs alone. He'll need help, and the Cavs must find a way to replenish the scoring lost when Antawn Jamison, who averaged 17.2 points per game, left as a free agent. Cleveland needs more production from second-year forward Tristan Thompson, small forward Alonzo Gee, free agent acquisition C.J. Miles and rookie guard Dion Waiters, surprisingly selected with the No. 4 pick in June's draft by general manager Chris Grant. ''We're not looking at one guy,'' said Scott, beginning his third year in Cleveland. ''It has to be done by committee. It has to be two or three guys.'' Waiters came off the bench at Syracuse, but it appears Scott will pair him and Irving. Waiters spent the summer working on his conditioning after putting on some extra pounds before the draft. Scott pulled Waiters from a preseason game after he failed to run a play called during a timeout. It was some tough love from Scott, who intends to stay on top of Waiters. ''He understands that Coach is going to be hard on him because coach cares about him,'' Scott said. ''I have a unique connection with Dion because I played that position. I told him the reason I'm going to be hard on him is that I played that position and see greatness in him. He's just got to do it every single day.'' Because of his ability to take the ball wherever he wants, Irving will make things easier for Waiters. It needs to work the other way, too, for the Cavs to compete. Cleveland is probably a year or two away from legitimately moving back into playoff contention. Irving, though, believes the Cavs can make some noise this season. ''You don't know what could happen,'' he said. ''This year we do have the pieces that can fit coach Scott's offense. ''I'm excited for it.''
Original Story:
http://msn.foxsports.com/nba/story/Ir...
THE BACKYARD
BEST OF MAXIM
RELATED ARTICLES
The Miami Heat edged out the Charlotte Bobcats 98-82 on Tuesday night; and things were started off right by the Heat as LeBron James slashes through the lane and throws it down. LeBron James accumulated 10 points on 2-for-8 scoring, 4 rebounds, 8 assists, and 2 steals during this game.The post LeBron James Throws It Down Vs. Charlotte Bobcats (Video) appeared first on The NBA Mistress.
We all know that LeBron James is pretty skilled at passing the basketball but this effort last night against the Washington Wizards was pretty insane.Watch as he pulls off this between-the-legs ball fake and gets the foul call on the drive:
I am impressed with this, but McKayla is apparently not. Check out LeBron James' nasty between the legs ball fake against the Wizards on Wednesday night. The big guy has handles. H/T Footbasket Article found on: Cosby Sweaters
LeBron James is expected to play more at power forward this season as the Heat feature 'position-less' basketball.
LeBron James played from the outside-in while with the Cavaliers, attacking from the perimeter in one-on-one isolations.
Andrew Wiggins is the nation's top high school basketball prospect regardless of class. Here's a highlight reel of him at LeBron James Skills Academy.
While the San Antonio Spurs and coach Gregg Popovich didn't get a chance to see NBA Finals MVP LeBron James in their preseason visit to Miami on Saturday, Popovich knows enough of James to see that the all-star forward is improving after winning his first championship. While his fans might argue there's not much to improve on, Popovich told ESPN'S Miami Heat Index...
LeBron James with 20 assists? Mike Krzyzewski thinks it's possible. The Hall of Fame Duke coach -- and James' coach on the U.S. Olympic teams that won gold medals in Beijing and London -- said in a televised interview that he thinks the three-time NBA MVP may have more assist chances than ever before this season, especially with the Miami Heat having so many players who...
LOS ANGELES When the curtain and then the house lights came up Sunday night at Staples Center on Dwight Howards latest career chapter, the Lakers who were huddled together broke from their routine. Instead of the starters heading out together, they pulled back letting Howard go it alone. Except nobody had told him. They got me, Howard said. The stunt, typically reserved for...
Shane Battier sees LeBron James as possessing many of the important qualities that you need to play at Duke.
One of the first classes that we should teach children in middle school is how to properly use search engines on the Internet. This goes not only for your basics like Google and Bing, but also for social media sites, because holy crap there are some really messed up people on Tumblr. The moral of this random opening is that sometimes searching "Food" will bring you to bisexual...
Rasheed Wallace.  Yep, I dared team Ballin Like Smush to do it and he is now the proud owner of 'Sheed for $1 (until waivers on Thursday kicks in at least).  This, in a way, shows the beauty of an auction.  You can start nominating the top guys like LeBron James or try to squeeze [...]
NBA News

Delivered to your inbox

You'll also receive Yardbarker's daily Top 10, featuring the best sports stories from around the web. Customize your newsletter to get articles on your favorite sports and teams. And the best part? It's free!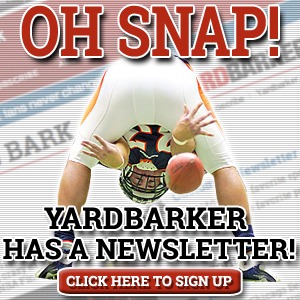 Latest Rumors
The Backyard

Today's Best Stuff

For Bloggers

Join the Yardbarker Network for more promotion, traffic, and money.

Company Info

Help

What is Yardbarker?

Yardbarker is the largest network of sports blogs and pro athlete blogs on the web. This site is the hub of the Yardbarker Network, where our editors and algorithms curate the best sports content from our network and beyond.