Found December 31, 2011 on Waiting For Next Year:
PLAYERS:
Anderson Varejao
,
Kyrie Irving
,
Danny Granger
,
Darren Collison
,
Anthony Parker
,
David West
,
Alonzo Gee
,
Antawn Jamison
,
Tristan Thompson
,
Tyler Hansbrough
TEAMS:
Cleveland Cavaliers
,
Indiana Pacers
,
Brooklyn Nets
A slice through the lane off an Anderson Varejao screen, open hardwood between him and the bucket, Kyrie Irving may have been just a little surprised that he was so wide open. As Danny Granger sliced through the lane, flying by in a panic to challenge the shot, he caused just enough disruption to break Kyrie's concentration at the hoop as his game-winning layup try spun off the back right side of the rim, sending the game to overtime. In that overtime, it was Danny Granger taking over as the undefeated Pacers got back a game they tried to hand to the Cavaliers down the stretch, who clearly wanted it more with their scrappyness and effort. This 98-91 overtime victory for Indiana will leave a bad taste in the 19-year-old rookie point guard's mouth, but Cavaliers fans have plenty to be encouraged with in their top draft pick and this battle against a much-improved Indiana squad.
For the first time in three tries, Kyrie Irving was very aggressive on the offensive end right out of the gate. He looked to attack Pacer point Darren Collison, not a top defender by any stretch, and pushed the ball off makes and misses alike. When the Cavaliers run, Kyrie has his best chance to distribute and score for himself as well. Irving finished with a team-high 20 points on 8-of-19 shooting, 5 rebounds, 4 assists, and 3 turnovers in 34 minutes. Of those eight field goals, five were layups, which speaks to Kyrie's ability to penetrate even in traffic and with a 7-foot shot blocker such as Hibbert looming. He also took several confident jumpers, though he missed a fair share of them late in the game. While he definitely has a long way to go, it's big for me at least to see Kyrie want the ball at the end of the game. He has shown the ability to get good shots even when the defense knows the offense is running through him, and that's what you need from your best player. Number two will have plenty of game-winning opportunities in his career with the wine and gold, so I'm not sweating this one too much, and I hope the young fellow isn't either.
What the Cavaliers showed as a unit tonight against the Pacers, a playoff team in my estimation in the current Eastern Conference landscape, was nothing short of impressive. Though their offense waned in the second half, their defensive toughness and will was pretty consistent throughout. Despite shooting 39% as a team (just 5-of-25 from three point land), the Cavaliers seemed more eager to get on the floor for loose balls, they were more focused on defense, and they got some timely shots from both Irving and Anthony Parker that set the scene for them to have a shot for the win.
One thing that was irritating in this one was the wine and gold free throw shooting. They got to the line 31 times, but connected on just 18 attempts for a 58% clip. Irving, a good free throw shooter, was just 4-for-7. The team has some rough free throw shooters in Samuels, Jamison, Thompson, and Varejao, so expect this to continue to be a hot-button issue all season long. The saving grace is that their guards (Irving, Sessions, Gibson) largely convert their free throws. The Cavs also gave up 17 offensive rebounds and were outrebounded 60-49, but Indiana's large frontline caused that more than a lack of effort.
The Cavs got a little banged up in this one, specifically Anderson Varejao. In the span of about five minutes of game action in the third, Andy turned his ankle, banged knees with a Pacer driving to the basket, and landed on his tailbone hard. The third injury came from a flagrant one foul by David West as he yanked Varejao down viciously by his shoulder as the Brazilian big man went up for a layup. Varejao takes a beating at the center position much more than he did playing power forward, so these bumps and bruises will continue. Let's hope that he can stay on the floor unlike last season. Boobie too injured his right ring finger in the third quarter, but he returned later in the second half.
When the Cavaliers got to overtime, the wind was out of their sails from the missed game-winner and there were overtime lessons to be learned. The Cavaliers had no answer for Danny Granger (though Alonzo Gee put up a valiant effort) as the Pacer guard poured in 9 of his 22 in the extra session. The sequence that sealed the deal was an Antawn Jamison's three point shot being blocked by David West and a Granger three that gave Indy a six-point lead with 1:29 to play.
As you guys probably know by now, I'm one of those guys who calls out bad officiating when I see it, admittedly sometimes maybe too much. However, last night's crew of Bill Spooner, David Guthrie, and Josh Tiven was one of the most clueless and aloof officiating displays for the entire span of a game that I've ever seen in the NBA. Perhaps the best example without creating a laundry list would be the offensive foul that Tristan Thompson was whistled for in the first half where he slightly extended his elbow on an offensive rebound as he went up for a dunk. Tyler Hansbrough had a similar play in the fourth quarter but lowered his head and made contact with the defender with his head and elbow, knocking him backward…. no whistle. NBA officials are nothing if they're not inconsistent. That's all I really ask for. One more I couldn't help but laugh at was the play in overtime where Gee knocked over his man while they had the ball, everyone stops because it's either a foul or a travel, there's no whistle, and everyone just looks around as the ball rolls out of bounds off the Pacers. Pacers ball! Of course.
The 1-2 Cavaliers head back home to The Q to take on the New Jersey Nets Sunday night.
(Photo:Michael Conroy/AP)
Original Story:
http://www.waitingfornextyear.com/201...
THE BACKYARD
BEST OF MAXIM
RELATED ARTICLES
19-year old point guard Kyrie Irving and 20-year old power forward Tristan Thompson are off to fast starts for the Cavs.  Irving has not shot the ball too well (33.3%) as he is 7 of 21 from the floor, but, he is still playing solid overall basketball.  Irving has played in 2 games (both starts) for the Cavs so far this year and he is averaging 23.0 minutes, 10.0 points, 3.5 rebounds...
Indianapolis -- Cavaliers rookie Kyrie Irving was taking advice this week from a coach other than Byron Scott. A cause for concern? Scott said in general terms it can be. But not when that coach is Coach K. Irving...
Kyrie Irving and the Cavaliers hope to bounce back from a heartbreaking loss when they entertain the reeling New Jersey Nets on New Year's Day.
The Cavaliers only shot 38.6% from the floor and they were outrebounded 60-49 last night, so they probably got blown out right?  Nope.  That is because the Cavs played stellar defense in holding the Pacers to 38.3% shooting from the floor.  The Cavs had the last shot in regulation, so they should have won this game, but Kyrie Irving's shot barely missed, sending the game into...
If theres one thing we should know about the NBA by now, its that you dont have to be a lottery pick to make an immediate impact. Granted, that may be the idea behind the NBA Draft, where the lousy teams get to celebrate for a day. But sometimes, the good teams win as well, discovering a gem later in the first round, or perhaps even in the second. Other times, the lousy teams get...
Nets face Cleveland Cavaliers, Kyrie Irving on Sunday
Gloria Clemente once told Billy Hoyle in White Men Can't Jump that, "sometimes when you win, you really lose, and sometimes when you lose, you really win." In her case I believe she was referring to either Jeopardy or 2-on-2 basketball games where guys where bicycle hats and / or fluorescent baseball caps while exchanging disparaging comments about each other's...
CLEVELAND — Antawn Jamison scored 23 points and the Cleveland Cavaliers made 16 3-pointers in a 98-82 win over the Nets on Sunday. Kyrie Irving, the No. 1 pick in the draft, had 13 points, four assists and four rebounds for Cleveland (2-2). Deron Williams led New Jersey (1-4) with 16...
Antawn Jamison scored 23 points and the Cleveland Cavaliers made 16 3-pointers in a 98-82 win over the New Jersey Nets on Sunday. Kyrie Irving, the No. 1 pick in the draft, had 13 points, four assists and four rebounds for Cleveland (2-2). Deron Williams led New Jersey (1-4) with 16 points. The Nets dropped their fourth straight game despite having all five starters score in double figures.
NBA News

Delivered to your inbox

You'll also receive Yardbarker's daily Top 10, featuring the best sports stories from around the web. Customize your newsletter to get articles on your favorite sports and teams. And the best part? It's free!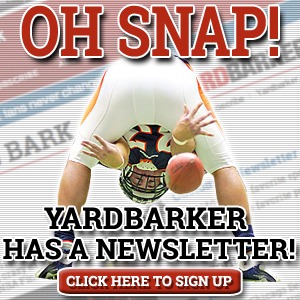 Latest Rumors
The Backyard

Today's Best Stuff

For Bloggers

Join the Yardbarker Network for more promotion, traffic, and money.

Company Info

Help

What is Yardbarker?

Yardbarker is the largest network of sports blogs and pro athlete blogs on the web. This site is the hub of the Yardbarker Network, where our editors and algorithms curate the best sports content from our network and beyond.