Found January 22, 2013 on Waiting For Next Year:
As he comes back to Ohio for the first time since leaving Thad Matta and his teammates at The Ohio State University, Jared Sullinger speaks of the few wake-up calls he has had during his young career as a power forward in the NBA. It was not much into his Sullinger's season when teammate and future Hall-of-Famer Kevin Garnett was digging his broad and boney left shoulder in the chest of the rookie. Attempting to gain position against a player who is more of a house than a habitant, Garnett jabbed and jabbed until Sullinger's body gave an inch. It would be at this point when the 6-foot-11-inch veteran would take a step back and effortlessly sink a jump shot over the extended arm of his would-be defender. As the ball splashed through the net, Garnett, with his trademark scowl, barked at his first-year teammate. "Welcome to the NBA, rookie." Though there has been some natural growth in Sullinger as a player and as a person, Doc Rivers — his new head coach — claims that his rookie power forward seemingly stepped on to the court and has been a consistent producer from Day One. Sure, his minutes have been sparse, but this comes with the territory of playing behind one of the best forwards to ever lace up a pair of high-tops. "He's just suited for this league," Rivers says of Sullinger. He is never going to be an athlete. He will never be spoken of in the same sentence as peers like Blake Griffin and Serge Ibaka given their ability to play above the rim. As Sullinger begins his early morning shootaround in anticipation of the Boston Celtics' upcoming contest against the Cleveland Cavaliers — one which will feature numerous amounts of friends and family who will welcome the Columbus, Ohio native back home — he steadily works on his face-up jump shot. Right at this time, it was revealed that point guard Rajon Rondo had recently become frustrated with Sullinger for his inability to convert on an alley oop. It would be Sullinger, not the All-Star in Rondo, who would get the defense of Rivers for not knowing what type of player the power forward is — one where his backside is his best weapon. "My mama blessed me with a beautiful backside," Sullinger said. "And you can tell her that." Yet another welcome-to-the-NBA moment has come at the hands of NBA officials who have whistled the big-bodied forward for a league-worst 4.7 personal fouls per game over the month of January. Despite limited minutes early on, Sullinger is among the league's top 10 in personal fouls. Rivers won't comment on the matter for obvious reasons, but the rookie forward is not about to make excuses for the frequent whistles. "I just need to be better with my hands and stop being out of position," he says. Other items Sullinger would not mind shared are his unspoken, but universally understood vindictive-like gratitude for those who panned his style of play — and health — enough to have him fall into the ready and waiting arms of the Celtics. In to ready and waiting mind of Kevin Garnett, a player who has, without pause, taken Sullinger under his wing to help him grown as a player and a person. A player who went from a risky addition out of high school to a 17-year professional with career averages of 20 points, 10 rebounds, a steal and a block with stellar percentages for good measure. A player who, also without pause, made teammates weep on the sidelines in the middle of a game. "I couldn't ask for anybody better," Sullinger says of Garnett. "When he yells, he's not yelling at you — he's just passionate and that's the way he teaches." – Photo: Scott Sargent/WFNY
Original Story:
http://www.waitingfornextyear.com/201...
THE BACKYARD
BEST OF MAXIM
RELATED ARTICLES
If you thought the trade rumors were bad before, just wait. According to Boston Globe writer Gary Washburn, Doc Rivers ripped into the Celtics Sunday night after their loss to Detroit 103-88. One tactic he unleashed was threatening to shakeup the roster to get players who are "committed to being a good basketball team." I gotta either find the right combination, the right...
Throughout the Celtics latest losing streak, there seems to be a lot of reflection going on within the team's locker room. A few days ago it was Doc Rivers questioning how bad the team 'wants it' and threatening to get rid of players if the team doesn't start winning. Last night Paul Pierce questioned the team's mental toughness. Among those currently in a state...
The Celtics, coming off their embarrassing loss to the Pistons, will head to Cleveland tonight to face the Cavs. The Cavs received some horrible news yesterday when it was revealed that Anderson Varejo will miss the rest of the season due to a blood clot in his lung. It was just a case of bad luck. The Celtics have had their own problems recently. After their loss in Detroit, Doc...
"I think that's the one thing this team lacks, that mental toughness, man. When we lose our confidence, I've never been on teams like that. We got to stay together, we got to play with confidence. "Yeah, definitely, it hurts me to say that. It's like I really sometimes don't believe it….We get down on ourselves. We got to go out there and believe we can win every game...
Here's Avery Bradley's original tweet (which he has taken down, since it appeared on CSNNE): "Please stop sayin he gave me 40. Nobody will ever score 40 on me unless they take 40 shots" Of course Kyrie Irving just scored 40 on Rajon Rondo a couple hours before Bradley tweeted this. Lest anyone make a big deal about this remember, Rondo when asked about Bradley&...
Clifford Ray isn't so sure about all this. Ray watched the Olympic gold medal game in August. He watched as a Spanish team without Ricky Rubio gave the U.S. men a scare, and he has a theory about why the Spaniards didn't end up handing the Americans a silver and keeping gold for themselves. "I knew that whenever they went to the Olympics and they went to the Olympics...
Greg Monroe (middle) loves playing the Celtics. It's been more than a year since the Celtics beat the Pistons.  On December 30th, 2011 Boston knocked off Detroit 96-85 in their first game at the Garden last season.  Since that day the Pistons are 36-63 against all other teams in the NBA combined, but 4-0 vs. Boston.  In fact, in those four games the Celtics have never even...
This is what happens when you let George Stephanopoulos call an inauguration ceremony attended by the greatest member of the Boston Celtics. This wouldn't be so bad if Bill wasn't wearing a Celtics hat. Where are the spotters from ABC? Maybe a simple, "George, coming up is a shot of Celtics legend Bill Russell," in his ear before giving him the Bill Russell shot. Let's...
If you haven't heard about the incident between Carmelo Anthony and Kevin Garnett when the Knicks played the Celtics at the Garden on January 7th, which led to Melo getting suspended for a game, then I'm not too sure where you've been. After Melo and Garnett were playing very rough against each other all game, including picking up a double technical, Melo went screaming towards...
Boston came into this game hurting. Losers of 3 straight, the Celtics surely looked at this game in Cleveland as a prime opportunity to get things back on track. Kyrie Irving had other ideas. "Mr 4th Quarter" disguised himself as "Mr 1st Quarter" in this one as he came out looking to make a statement against the East's All-Star starting PG Rajon Rondo. Irving was aggressive...
8 a.m. ET: Go ahead and try to figure out these Celtics, because all our attempts thus far have failed. They head to Cleveland on a three-game losing streak, and not even the dire situation in which the Cavaliers find themselves is enough to convince us that the Celtics will take care of business. The Cavs (10-32) are reeling from Monday's news that center Anderson Varejao, who...
NBA News

Delivered to your inbox

You'll also receive Yardbarker's daily Top 10, featuring the best sports stories from around the web. Customize your newsletter to get articles on your favorite sports and teams. And the best part? It's free!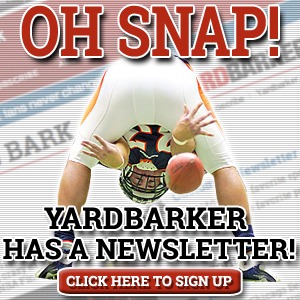 Latest Rumors
Best of Yardbarker

Today's Best Stuff

For Bloggers

Join the Yardbarker Network for more promotion, traffic, and money.

Company Info

Help

What is Yardbarker?

Yardbarker is the largest network of sports blogs and pro athlete blogs on the web. This site is the hub of the Yardbarker Network, where our editors and algorithms curate the best sports content from our network and beyond.