Found March 26, 2013 on The Sports Bank:
As you now have heard, Kendall Gill, former Illinois Fighting Illini star and Chicago Bulls pre-and-post game analyst for Comcast SportsNet Chicago (and WGN sometimes too) is suspended for the rest of the year. It's all in the station's hands, but Gill's job could be in serious jeopardy when CSN re-evaluates his contract this off-season. During his suspension, Gill won't miss much when it comes to Bulls basketball. He might missing the studio and the money, but this Bulls season is a lost cause. They have first-round elimination written all over them and the Derrick Rose returning or not returning drama has now mentally, psychologically and emotionally persecuted a fan base. It's now at Roger Clemens or Brett Favre level status. And I don't know who's at fault: the team, the doctors, D. Rose, Coach Thibs, the 3rd largest media market in the country, the Luvabulls, everyone all at once…but I do know the storyline is draining and irritating. This Bulls season can't end fast enough. I ...
Original Story:
http://www.thesportsbank.net/nba/bull...
THE BACKYARD
BEST OF MAXIM
RELATED ARTICLES
It may not be not be the return the city of Chicago is focused on, but every time this man makes his return to the lineup, positive results in the Chicago Bulls win column immediately follow. Did you know that the Chicago Bulls are 7-16 in games that Kirk Hinrich has missed, and 31-15 in games he has played? Despite averaging only 7 points 5 assists and 3 rebounds why are the Bulls...
Derrick Rose may not return to the Chicago Bulls this season, but if he does, it looks like he'll be ready. Video of Rose playing some of his teammates in one-on-one shows him making hard cuts and quick changes of direction just like he used to before he went down with an ACL tear during the first round of the playoffs last year. Questions of whether or not Rose's game would...
As Professor Farnsworth would say on "Futurama," good news everyone! Chicago Bulls' Derrick Rose is back on the practice court and going full blast on that injured knee.  Yesterday, the All-Star guard went through one-on-one drills (h/t Beyond The Buzzer) with his teammates where he showed he hasn't lost touch on his jumper and still has that quick first-step...
Via: @cjzero Have you ever wondered why 6'9″, 266 pound, muscle bound Carlos Boozer always settles for a 10 foot turnaround jumper instead of using his giant frame to get inside the paint, despite of the mismatch? Well, that's because he is actually a Jedi warrior and when you are a Jedi, you have this ability called "the force," which allows you to move objects with your...
Over recent years, we have seen many star players try to recruit other players to join their team. The stars in particular have had an interesting role in this, including the league's best player, LeBron James. Via the Sun Times, James tried to persuade Taj Gibson of the Chicago Bulls to join the Miami Heat. Obviously, the pitch didn't work, as Gibson is still in Chicago. Despite...
There was a prediction that existed among optimistic Chicago Bulls fans that their MVP Derrick Rose would pick Wednesday to return to the lineup to vanquish the mighty Miami Heat. Please click here to read this story. The post Dwyane Wade in, Derrick Rose still out as Miami Heat go for 28th straight appeared first on Players View.
Tom Boerwinkle, the former Chicago Bulls center who had a franchise-record 37 rebounds in a 1970 game against the Phoenix Suns, has died. He was 67. Bulls spokesman Tim Hallam said Wednesday that a family member informed team officials of Boerwinkle's death, and the University of Tennessee issued a statement saying the former Volunteers player died Tuesday at his home near Chicago...
Injured Chicago Bulls star Derrick Rose says he will not suit up against Miami on Wednesday and sounds like a player who just might miss the entire season. Rose squashed rumors that he might make his long anticipated return from surgery on his left knee against LeBron James and the Heat with two words at the morning shootaround: ''Not tonight.'' The comments came...
Marco Belinelli is going to continue therapy and will decide with the Bulls' training staff about his status against the Heat.
Nate Robinson had 22 points and 10 assists and Carlos Boozer added 19 points and 12 rebounds to lead the Chicago Bulls to a 104-97 victory over the Minnesota Timberwolves on Sunday night. Luol Deng scored 17 points and Taj Gibson had 12 points and 11 rebounds for the Bulls, who were missing Joakim Noah for the second straight game because of plantar fasciitis. They still dominated...
Deep down, Chicagoans don't prefer restaurants with ferns and fancy food as much as joints with sausage and beef, and don't skimp on the peppers. No lightweight palm trees, they are still fighting 20 degrees and snow in spring. And in sports, they prefer winning but accept losing, as long as the other guy goes home with a bloody nose. That's what's giving Chicago...
NBA News

Delivered to your inbox

You'll also receive Yardbarker's daily Top 10, featuring the best sports stories from around the web. Customize your newsletter to get articles on your favorite sports and teams. And the best part? It's free!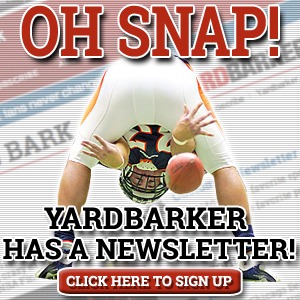 Latest Rumors
Best of Yardbarker

Today's Best Stuff

For Bloggers

Join the Yardbarker Network for more promotion, traffic, and money.

Company Info

Help

What is Yardbarker?

Yardbarker is the largest network of sports blogs and pro athlete blogs on the web. This site is the hub of the Yardbarker Network, where our editors and algorithms curate the best sports content from our network and beyond.