Found October 02, 2012 on Fox Sports North:
MANKATO, Minn. Andrei Kirilenko does not want to talk about the process that brought him to Minnesota. He said that once, last Friday, and he reiterated it Tuesday to a new crop of reporters from Mankato. It's not fair to anyone, Kirilenko said, and he's not going to spill the beans. So that's that. However, the veteran forward did say Tuesday that the two-year, 20 million contract he signed with the Timberwolves was not the highest offer he got. But money wasn't all that came into play for him, and he described the process of picking the Timberwolves as a puzzle. Some of the pieces: Kevin Love, whom he described as a superstar; Rick Adelman and his coaching style; the city and its size and even Alexey Shved, whom he said was "a little addition, like that little flavor." In fact, Kirilenko might be the first Timberwolves player ever to describe Adelman as beautiful. His summation of why he's a Timberwolf: "It's a beautiful contract, beautiful coach." Injury report: Swingman Chase Budinger sat out the end of practice Tuesday with a hamstring issue. He didn't pull it, but it's been nagging at him for a while, and in the course of the four-hour practice, it flared up. It shouldn't be a long-term problem. Backup center Greg Stiemsma, who will be limited at training camp with foot issues, played well. Adelman said that his timing wasn't there, but he just wants to see how the center recovers. Other than those two and point guard Ricky Rubio, the rest of the team was at full strength. Playing time for Shved: Since the Timberwolves signed Alexey Shved in July, there has been much speculation about his role this season. In the initial conference call to discuss the signing, president of basketball operations David Kahn cautioned that Shved might not have an immediate impact, but early indications are that he could. Yes, Shved is thin, but he's also taller than Adelman expected, and he's not getting manhandled on the court. He looked good in 5-on-5 on Tuesday, playing smoothly and quickly. "I just don't see him getting pushed around," Adelman said. "I said before, the thing that will be the biggest adjustment is at the defensive end. He's just going to have guys coming at him all the time, and that's where he's going to make his adjustment. He's going to get better offensively because he has skills." Kirilenko also discussed his teammate's strengths: "He's a young, talented guy who can really run and bring you a lot of energy on the floor. He's not afraid to take a shot in the crunch moment, which is needed on every team in the NBA. He's young, with the potential to keep growing." Kirilenko on international vs. NBA basketball: Much has been made of the Timberwolves' international presence this year, and Kirilenko did a good job of describing how the style of ball that he grew up playing can pair with the NBA game. To him, the two styles are mutually beneficial. "You know why I like European basketball, because there's a lot of tactic involved," Kirilenko said. "I know NBA, it's an individual game prevails. People like to play one-on-one. People like the athletic style of the basketball, but if you can combine athleticism and the tactics, I think you can have a great product. If the athletic guys can start playing good team defense . . . it's going to be impossible to beat. I think we can do it. Rick, that kind of coach, can really bring it." Follow Joan Niesen on Twitter.
Original Story:
http://www.foxsportsnorth.com/10/02/1...
THE BACKYARD
BEST OF MAXIM
RELATED ARTICLES
Minneapolis News and Weather KMSP FOX 9 Kevin Love threw out the first pitch at a Twins game last week, and he later made plans to return to Target Field to hit some batting practice with the team. Love had made a bet with a friend that he could hit a ball out of the park, and he proved he could do much more. During his batting practice session before Friday's game against the...
MANKATO, Minn. Andrei Kirilenko will be the first to tell you: Kevin Love is a superstar. Ask the veteran forward why he chose the Timberwolves, and he'll give a number of reasons. Every time, he lists Love among them. Why? Because, of course, he's a superstar. At the end of last season, president of basketball operations David Kahn and coach Rick Adelman began almost...
MINNEAPOLIS When it comes to Derrick Williams, hyperbole has not been a problem for the Timberwolves' coaching staff. In his rookie season, 2011's second overall pick was inconsistent and raw, so that even when he had a good night, it had to be qualified. It wasn't just "Derrick did well," but rather, "Derrick did well; maybe he can keep it up." ...
Minnesota Timberwolves bruiser Nikola Pekovic has shown up for training camp looking noticeably slimmer and more sculpted than he did last season. The Timberwolves reported for training camp in Mankato on Tuesday. They are counting on Pekovic to be a major part of the push for their first playoff appearance since 2004 and the big center from Montenegro looks like he's ready...
MINNEAPOLIS If you ask David Kahn, this was all about on-court improvement. The rest was a happy accident. Kahn isn't lying. The increased skill level and deeper roster are there. But it doesn't take long to see that there's something else, too, that's vastly different. It's some kind of accident that the Timberwolves managed to bring in two highly regarded...
The Minnesota Timberwolves began training camp recently, so they are making the rounds with appearances to generate buzz for their upcoming season. All-star power forward stopped by Twins batting practice Friday, and delivered this mammoth upper deck shot to left field: Minneapolis News and Weather KMSP FOX 9 The struggling Twins could have used some [...]
MANKATO, Minn. The NBA announced Wednesday its new guidelines on flopping, i.e. when a defensive player falls down intentionally in order to draw a charging foul when none is warranted. The new rules mandate that a player will receive a warning on his first flop, a 5,000 fine on his second, a 10,000 fine on his third, 15,000 on his fourth and 30,000 on his fifth each season. Six...
MINNEAPOLIS Media day 2012 is in the books, and the Timberwolves will head to Mankato for training camp for the remainder of the week. I'll be there with updates on Tuesday and Wednesday, but to tide you over until then, here's some more from Monday's information overload session at the Target Center: No two-a-days for Rick Adelman: While in Mankato, the Timberwolves...
Many of those who watched Wednesday's presidential debate between Barack Obama and Mitt Romney were enthralled by Romney's PBS comment. "I'm sorry Jim. I'm gonna stop the subsidy to PBS. I'm gonna stop other things," Romney said to moderator Jim Lehrer, who works for PBS. "I like PBS, I like Big Bird, I actually like you too." Wait, did Big...
MINNEAPOLIS Dave Benz has seen his fair share of sports. FOX Sports North's new Minnesota Timberwolves play-by-play announcer has already worked in eight different markets, covering sports at all levels and doing everything from in-studio shows to talk radio to reporting to, of course, play-by-play. Benz is wrapping up his job with Comcast Sportsnet Bay AreaCalifornia, where...
MINNEAPOLIS The Timberwolves begin training camp Tuesday in Mankato, where they'll stay for four days before returning to the Twin Cities after Friday's practice. They have eight days before their first preseason game against the Pacers in Fargo, N.D., and in that time, they'll need to solidify relationships and continue to implement coach Rick Adelman's system....
Timberwolves News

Delivered to your inbox

You'll also receive Yardbarker's daily Top 10, featuring the best sports stories from around the web. Customize your newsletter to get articles on your favorite sports and teams. And the best part? It's free!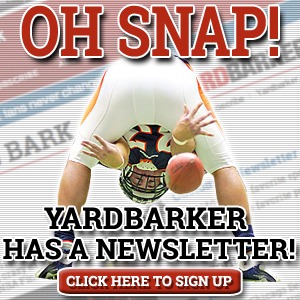 Latest Rumors
The Backyard

Today's Best Stuff

For Bloggers

Join the Yardbarker Network for more promotion, traffic, and money.

Company Info

Help

What is Yardbarker?

Yardbarker is the largest network of sports blogs and pro athlete blogs on the web. This site is the hub of the Yardbarker Network, where our editors and algorithms curate the best sports content from our network and beyond.