Posted January 16, 2013 on AP on Fox
PLAYERS:
James Dolan
,
Carmelo Anthony
,
Kevin Garnett
,
Mike Woodson
,
Spike Lee
,
Tyson Chandler
,
Greg Monroe
,
Lawrence Frank
TEAMS:
New York Knicks
,
Boston Celtics
,
Detroit Pistons
,
Brooklyn Nets
,
Toronto Raptors
,
New Orleans Pelicans
If MSG chairman James Dolan is listening to what Carmelo Anthony has to say in London, he'll probably be happy to hear it. Two days after the Newark Star-Ledger reported that Dolan had put listening devices on the court to monitor everything said to and by Anthony, the New York Knicks forward spoke about the hubbub. ''I got an owner that looks out (for me),'' Anthony said before practice Wednesday at London's O2 Arena. ''You can't beat that.'' The report said Dolan had technicians stationed at opposite corners of the court during Friday's home game against Chicago. Holding umbrella-shaped parabola microphones, they were told to record Anthony's interactions and send the tape directly to Dolan himself. Anthony and Boston forward Kevin Garnett exchanged words during the Celtics' 102-96 victory Jan. 7. Anthony, clearly thrown off his game and finishing just 6-of-26 from the field, later tried to confront Garnett near the locker room and team bus and received a one-game suspension from the NBA. Anthony would not reveal what was said by Garnett, only that it was something he felt a man shouldn't say to another man. ''If an owner tries to protect their players, trying to protect his player, you can't beat that,'' Anthony said one day after arriving in London. The Knicks are in the British capital to play a regular-season NBA game against the Detroit Pistons on Thursday, the second time the league has come to London for a meaningful game. And Knicks coach Mike Woodson easily was more interested in the Pistons than the miking story. ''I don't really care about the miking thing. I don't follow it and haven't followed it,'' Woodson said. ''I got better things to worry about than this miking thing that you guys are talking about.'' The Knicks are coming into the game off a 100-87 win over the New Orleans Hornets on Sunday. And after Wednesday's game, they won't play again until they meet the Brooklyn Nets on Monday. ''This is not about vacation and I don't think any of us is treating it that way. This is a regular-season game. It's a game that we got to win,'' Woodson said. ''It's not about vacation time. Vacation's in the summer.'' To make things seem even more like home, director Spike Lee walked out on court before Knicks practice. The longtime Knicks fan was wearing a big orange hat and a Knicks sweatshirt. ''The orange and blue, baby,'' said Lee, who has been in London many times but is in the city to watch his beloved Knicks for the first time. ''My wife gave me permission to come to the game.'' The NBA came to Europe in 2011, with the then-New Jersey Nets swept a two-game series against the Toronto Raptors at the O2, the first regular-season games to be played in Europe. Last year, there was no NBA at the arena, but it did host the Olympic gold medal game, something Anthony and Knicks teammate Tyson Chandler helped the United States win in August. ''How can I forget? It was a special time in my life, a special moment,'' Anthony said. ''Just to be back in this arena once again, having a chance to play one last time back here in London in front of the fans who've been very gracious to myself and the game of basketball.'' The schedule this year has only one NBA game in London, making it quite a long way to go for only 48 minutes of action. ''At the end of the day it's competition,'' Pistons center Greg Monroe said. ''This is a game we have to take very seriously. They're a very good team; we understand it's a business trip. ''We're enjoying ourselves as much as possible, but I think everybody is focused on the right thing.'' The Pistons had the earlier practice Wednesday, giving the players the afternoon off to explore the city. That's when the vacation feel is more likely to take hold. ''As long as they don't get trapped in the Tower of London,'' Pistons coach Lawrence Frank joked. ''That's part of the maturity of being a professional,'' Frank added. ''When you step off this hardwood, enjoy yourselves. But when you step back on, you got to be locked in.''
Original Story:
http://msn.foxsports.com/nba/story/Kn...
THE BACKYARD
BEST OF MAXIM
RELATED ARTICLES
Listen up! Talk trash to Carmelo Anthony at Madison Square Garden and you may wind up on tape. Days after Anthony's overreaction to some bad words led to an NBA suspension, MSG chairman James Dolan had listening devices monitoring everything said to and by Anthony, according to a report in the Newark Star-Ledger. The report Monday said Dolan had two MSG Network audio technicians...
Carmelo Anthony is featured in a new documentary series entitled "Playing for the City That Made Me. The new ad campaign is surrounding the release of Anthony's Jordan Melo M9. The three-part series shows us Anthony's New York roots, taking us back to the passion he had playing the game in his [...]
As a member of one of the league's most fashion-forward teams, keeping up off-court appearances is key for Carmelo Anthony. When he's not making the fashion rounds in New York City, he's showcasing his style sense abroad, catching runway shows in London, Paris and Milan. British GQ caught up with the Knicks forward before his team squared off against the Detroit Pistons at...
As we reported on Monday Knicks owner James Dolan weirdly had huge hidden microphones at each of the Madison Square Garden court last Friday when his team took on the Bulls.   Yesterday amid news of the wire taps, Dolan said it was for Melo's protection so he could show the league how much trash talk his star gets on a nightly basis. As Melo arrived at the team hotel in London...
Carmelo Anthony has shown, yet again, just how much of a "tough guy" he really is. In a recent article on ESPN New York, Carmelo Anthony said he had no problem with Knicks owner James Dolan recording conversations 'Melo had with players on the court to see if the trash talk crossed the line. I got an owner that looks out for me. You can't beat that for an owner...
New York Knicks owner James Dolan is one crazy guy.  After Carmelo Anthony and Kevin Garnett got in their heated on court argument, Anthony waited for Garnett at the team bus trying to straiten things out. Apparently Garnett said his wife La La "tastes like Honey Nut Cheerios."  The verbal fight resulted in technical fouls against each player, and a suspension for Carmelo for...
This week, NBA players will take the court in London for the first time since Team USA captured Gold over Spain in the Summer Olympics. Carmelo Anthony and the New York Knicks are slated to take on the Detroit Pistons at the O2 Arena in an effort to stimulate interest in the NBA coming to Europe on a more permanent basis. Commissioner David Stern is confident that it will happen...
New York Knicks forward Carmelo Anthony believes team owner James Dolan was recording his conversations on the basketball court to look out for him. Sources told ESPN that Dolan ordered technicians at Madison Square Garden to hold parabola microphones at either end of the court for last Friday's game against the Chicago Bulls to see if Click Link Below to Read More!
The injury-plagued New York Knicks welcome a week with just one game. The only catch is they had to travel to London for it. That's fine with the Knicks, who were focused more on the time off than the time change before going overseas for their game against the Detroit Pistons. The Knicks left Monday night and the game isn't until Thursday. They return home Friday and don...
Carmelo Anthony, Kevin Garnett, LeBron James, Rajon Rondo, and Dwyane Wade from the East. Kobe Bryant, Kevin Durant, Blake Griffin, Dwight Howard, and Chris Paul from the West. The jerseys will be available on NBAStore.com Photo Credit: NBAE/Getty Images
NBA News

Delivered to your inbox

You'll also receive Yardbarker's daily Top 10, featuring the best sports stories from around the web. Customize your newsletter to get articles on your favorite sports and teams. And the best part? It's free!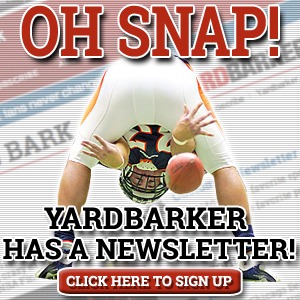 Latest Rumors
The Backyard

Today's Best Stuff

For Bloggers

Join the Yardbarker Network for more promotion, traffic, and money.

Company Info

Help

What is Yardbarker?

Yardbarker is the largest network of sports blogs and pro athlete blogs on the web. This site is the hub of the Yardbarker Network, where our editors and algorithms curate the best sports content from our network and beyond.