Found November 11, 2012 on Sportz Assassin:
PLAYERS:
Kobe Bryant
,
Steve Nash
,
Dwight Howard
,
Phil Jackson
,
David Stern
,
Chris Paul
,
Lamar Odom
,
Pau Gasol
,
Jerry Sloan
,
Metta World Peace
TEAMS:
Los Angeles Lakers
,
Los Angeles Clippers
As a Laker fan, I am glad to see that the franchise removed Mike Brown as its head coach.Don't get me wrong.  I think Brown is a good guy, a good coach and pretty much got jobbed in this whole deal.  Still, he didn't belong.  He wasn't Laker-like and certainly wasn't a fit for the roster that has been assembled.  The things he wanted to do may have worked for a different team but it was wrong for this one right now.This is a win-now franchise.  Kobe Bryant and Steve Nash may only have a few seasons left.  Dwight Howard is in the final year of his contract and could sign elsewhere if he wants.  There is absolutely no youth on this team to build the future on.  This is as win-now a franchise as there could ever be.  So installing a Princeton offense or whatever you want to call it may have been the wrong idea.  The learning curve is very thin.  And the fact that your defense ... which is your calling card ... has been poor really kills your scheme.It doesn't help that no one was in love with the hiring of Brown during the summer of 2011 and no one really had his back.Not to say that it may not have worked.  It just would've taken longer than maybe he had time to do it in.  Yes, Brown did get jobbed.  He inherited a Phil Jackson Laker team that had lost its identity.  He had essentially no training camp last season to get anything done.  Not to mention his roster was completely screwed up when David Stern inexplicitly nixed a trade that would've sent Chris Paul to the Lakers ... which the collateral damage meant Lamar Odom and Pau Gasol (both were included in the deal) suffered emotional issues -- which led Odom to being traded for nothing.  Brown went through a major roster overhaul this season when Dwight Howard and Nash were added (among others).  He wanted to install the Princeton offense but saw Nash, Howard and Kobe miss a lot of preseason time due to various injuries and recoveries.  In the Lakers' first five games of the season, Kobe Bryant had a sore foot, Howard was out of shape after back surgery and Nash has played all of a game and a half.   Under normal circumstances, he deserved more time.The thought was Brown had the upcoming six game homestand to right the ship.  If there wasn't any improvement then he was gone.  Only the Lakers laid a huge egg in Utah to drop to a 1-4 record and it sent up huge red flags.  The brain trust of the Lakers met and discussed it and they decided the end was now.My issue with it all was the fact that you KNOW that this was discussed during the offseason.  You don't fire a coach this soon into a season without having doubts about him prior to the season.  I can see them deciding early on "we'll let him start this season but we'll cut him loose if this doesn't look good."  With names like Phil Jackson, Mike D'Antoni, Jerry Sloan, Nate McMillian, Mike Dunleavy, the Van Gundys and several others that there are plenty of really good coaches out there that would love the Lakers' gig.  And that's where we are at now.  The key is to get this thing back on track ASAP.  The talent is there and if Phil Jackson decides to come back then it would be a bit seamless to plug him in.  Three main cogs understand the triangle offense (Kobe, Ron Artest and Gasol) but it should be simple for Howard to pick up.  How Jackson uses Nash ... by far the best point guard Jackson would ever have coached ... will be interesting to watch.  Either way, this should lead for another wild season in L.A.
Original Story:
http://sportzassassin2.blogspot.com/2...
THE BACKYARD
BEST OF MAXIM
RELATED ARTICLES
There was Steve Nash news buried underneath the Mike Brown firing and the Lakers' choices for hiring a coach. Nash will be sidelined another week because of a small fracture in his left leg, the Lakers said Friday. Nash consulted with Lakers doctors earlier in the day and the decision was made to continue holding him out. Nash has missed four games because of the fracture in...
It's not a surprise, but Steve Nash will miss another week.  When new started filtering out that the Los Angeles Lakers' guard could miss just 7-10 days, it seemed unlikely.  Now, the Lakers have confirmed that Nash will miss at least another week.According to the official blog of the Lakers, Nash will miss another week after being evaluated by team doctor Steve Lombardo...
Steve Nash will be re-evaluated on Friday.
Will Nash-D'Antoni reunion unleash Lakers' full potential?
The Los Angeles Lakers have hired former Phoenix Suns and New York Knicks coach Mike D'Antoni instead of Phil Jackson, reports LATimes.com. D'Antoni, 61, signed a reported four year deal that may pay him $12 million for three guaranteed seasons with a team option in the fourth year. He will join the team in a week or two after he recovers from knee-replacement surgery...
No matter the sport, players can go through hot or cold streaks during the season. In fantasy hoops, a cold streak to start the season gives owners the opportunity to try and grab a player who?s struggling at a discount. Here?s a look at some players to target if you want to land a buy low option: Buy Low Targets Steve Nash, G, LAL -- Nash started off slow, averaging 4...
The Pringles Man has come back to the NBA as Mike D'Antoni (and not Phil Jackson) will serve as the head coach of the Los Angeles Lakers. Steve Nash is pleased.The post Mike D'Antoni To The Lakers: The Return Of The Pringles Man appeared first on The Sports Fan Journal.
The San Antonio Spurs (6-1) will take on the new-look Los Angeles Lakers (3-4) in Los Angeles who haven't gotten off to good start. Aside from adding Steve Nash and Dwight Howard to the mix, the Lakers went through a coaching change firing former Spurs assistant coach Mike Brown and added Mike D'Antoni. Needless to say, this Lakers team will need a bit more time to get some...
Former New York Knicks head coach, Mike D'Antoni is trying his best to become relevant this year in the NBA. If talks with Phil Jackson break down, the Lakers appear to have a second option firmly in place. How would Mike D'Antoni fair with this older Laker team with his fast pace, point guard oriented offense? Well that's up for debate, but his winning record with Steve Nash...
Mike D'Antoni is burdened with bringing the 2013 Los Angeles Lakers to a place based off of expectations rather than the realistic capabilities of this particular group of guys. The NBA's most fascinating team made a drastic change earlier this week and now they take their rightful place as…well still the league's most fascinating team.  The change I'm of course referring...
In a surprise move, that is really not all that surprising, the Los Angeles Lakers have fired head coach Mike Brown five games into the season. The Lakers are off to a disappointing 1-4 start after rounding up Dwight Howard and Steve Nash to come to L.A. to play alongside Kobe Bryant and Pau Gasol. The Lakers preseason hype was even more than when the Miami Heat landed LeBron James...
NBA News

Delivered to your inbox

You'll also receive Yardbarker's daily Top 10, featuring the best sports stories from around the web. Customize your newsletter to get articles on your favorite sports and teams. And the best part? It's free!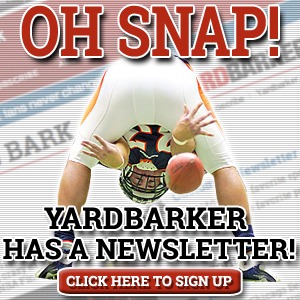 Latest Rumors
Best of Yardbarker

Today's Best Stuff

For Bloggers

Join the Yardbarker Network for more promotion, traffic, and money.

Company Info

Help

What is Yardbarker?

Yardbarker is the largest network of sports blogs and pro athlete blogs on the web. This site is the hub of the Yardbarker Network, where our editors and algorithms curate the best sports content from our network and beyond.