Found June 26, 2012 on Fox Sports:
LeBron James got a standing ovation from the studio audience as he began his appearance on CBS' ''Late Show with David Letterman.'' And at the end of the interview, James even got a compliment from Letterman - who was not exactly a fan of his joining the Miami Heat to begin with. The newly crowned NBA Finals MVP appeared on CBS' ''Late Show with David Letterman'' in New York on Tuesday night, and Letterman wasted no time before asking a tough question. The first offering from the late-night host: ''Well, now that you've got this out of your system, are you ready to go back to Cleveland and play some ball?'' James laughed it off. ''Right now, I'll play no ball right now,'' James said. Letterman had taken a jab or two at James in the past about his decision to leave Cleveland for Miami, saying Tuesday that he was ''furious'' about the move. In a 2010 episode of ''Late Show,'' Letterman told Jay-Z - a minority owner of the Nets - that if James left it would ''cut the heart out of'' Cleveland. And after the Heat lost in last season's finals, actress Betty White read Letterman's nightly Top 10 list of her ''tips for living a long and healthy life.'' No. 2 on that night's list? ''Never dwell on past mistakes,'' White said, ''especially you, LeBron.'' But on Tuesday, there were no mistakes for James and Letterman to dwell on for too long. Letterman asked the three-time NBA MVP how winning a championship changes things. ''I went from being ringless on Wednesday night to, you know, having a ring on Thursday night,'' James said. ''So it changed that.'' Later, Letterman told James that ''nobody loves a winner more than basketball fans, and you certainly are the big winner.'' James replied, ''I appreciate that.'' James, Dwyane Wade and Chris Bosh are in the midst of a media tour in New York. Bosh appeared on ''Live! With Kelly'' on Tuesday and Wade sat down for NBC's ''Late Night with Jimmy Fallon.'' On Wednesday, all three are scheduled on ABC's ''The View.'' Oprah Winfrey also taped an interview with the Heat trio in Miami on Monday, and that is scheduled to air on her network Sunday night. Letterman also spent time talking about the upcoming London Olympics with James, who also played for the U.S. team at the Athens Games in 2004 and the Beijing Games in 2008. James told Letterman that he expects Argentina, Spain and France to be good challenges for the Americans in London. ''Team USA, we try to go out there and showcase our talent at the highest level and represent our country the right way,'' James said. ''So, you know, we always look forward to bringing home the gold.'' As the interview was ending, Letterman took the championship trophy out from behind his desk. ''That's my baby right there,'' James said, giving the trophy a kiss. --- Follow Tim Reynolds on Twitter at http://www.twitter.com/ByTimReynolds
Original Story:
http://msn.foxsports.com/nba/story/Le...
THE BACKYARD
BEST OF MAXIM
RELATED ARTICLES
ON THE COUCH
LeBron James took his talents to New York on Tuesday night to appear on the David Letterman Show, and he brought his championship trophy with him. One of the highlights for me was the crack Letterman made about LeBron: "He's like Kim Kardashian. He got that first ring and now he's looking for more." LeBron had a moment kissing his champion ship trophy and Letterman retorted...
If you're wondering who LeBron James views as his primary competition in the NBA, the answer is Kevin Durant. During an interview with ESPN's Rachel Nichols, LeBron identified Durant, not Kobe Bryant, or Derrick Rose, or anyone else, as the player that pushes him the most. "For him to continue to work hard … he's going to be my inspiration," James said. "He's going...
Once you've been interviewed by Oprah, you know you've officially made it. The 2012 NBA Champions, Miami Heat Big three of  Dwyane Wade, Chris Bosh and Lebron James sat down to chat with Oprah Winfery after the celebration parade in Miami. All three gentlemen dressed to impress, Chris Bosh complemented his lengthy physique with a slim-fitted suit, D-wade sported a polished three...
As the stars of the Miami Heat continue their championship media tour, they stopped by ABC's "The View" to talk with the rag-tag group of famous ladies.Check it out the entire video in the below video:
Dwyane Wade plans to use the offseason to improve his outside shooting.
Turning on ESPN or talking with casual fans (or even die-hard fans) about the 2012 NBA Finals leads to one conclusion: this one is LeBron James' title. It has cemented his legacy and achieved status as an all-time great. Now it is just about rank-ordering him, but at least we can have those conversations. ESPN has run its segments trying to figure out what it would take to have...
Last night while I was watching my beloved Kardashians pretend to hate fame on Oprah's Next Chapter, a commercial aired about next week's episode. Next Sunday at 8pm on OWN (a channel most of my readers probably don't frequent!) Oprah will interview NBA Champs Chris Bosh, Lebron James and Dwyane Wade about their championship and the women in their life. I don't know if that...
Today, the city of Miami embraced the Heat with a championship parade. On Thursday night, immediately after the Miami Heat won the 2012 NBA Championship Dwyane Wade, LeBron James, and Chris Bosh charged the winners suit and in a roar of celebration and doused Pat Riley and his white Armani shirt with Dom Pérignon Vintage 2003 Luminous. Pat Riley said with a smile "Now we grow...
It's been over a week since the Miami Heat won the NBA title, yet it's hard to be sure if the vitriol towards the franchise or LeBron James has abated or not. If you caught the post-championship appearance on "Late Night" where the three-time MVP was given a standing ovation from the crowd, you'd probably [...]
With the fourth pick in the 2012 NBA Draft, the Cleveland Cavaliers selected Syracuse shooting guard Dion Waiters. Having made a play for the second-overall pick prior to the draft, the Cavaliers were relegated to staying in their lottery-given spot and addressed a weakness in their roster. A dynamic scorer, the 6-foot-4-inch Waiters averaged 12.6 points and 2.5 rebounds during the...
While LeBron James and Chris Bosh take on the rest of the world in London as part of Team USA, Dwyane Wade will be recovering from left knee surgery. Wade's chronic left knee issues will require a procedure in the coming weeks that eliminated the Heat star from Olympic participation. The U.S. roster won't have Bulls' point guard Derrick Rose or Orlando Magic center...
While watching the Draft my son Bryce ask "Is Ray Allen gonna play for the Heat". I said "I don't know, I hope so". — LeBron James (@KingJames) June 29, 2012 Ray looks horrible in a Heat uniform. Thanks Avery from our Shout Box for the tip.
Heat News

Delivered to your inbox

You'll also receive Yardbarker's daily Top 10, featuring the best sports stories from around the web. Customize your newsletter to get articles on your favorite sports and teams. And the best part? It's free!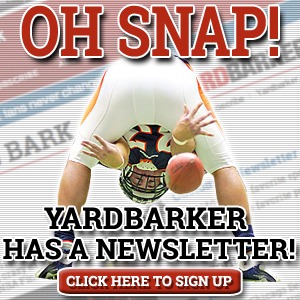 Latest Rumors
The Backyard

Today's Best Stuff

For Bloggers

Join the Yardbarker Network for more promotion, traffic, and money.

Company Info

Help

What is Yardbarker?

Yardbarker is the largest network of sports blogs and pro athlete blogs on the web. This site is the hub of the Yardbarker Network, where our editors and algorithms curate the best sports content from our network and beyond.