Found December 06, 2012 on NBA 24/7 365:
As you know, Kobe Bryant joined an elite group as the Lakers defeated the Pelicans on Wednesday night.  With his driving score at the 1:15 mark of the second quarter, Bryant became the NBA's fifth 30,000-point scorer, putting his name among the likes of Michael Jordan, Karl Malone, Wilt Chamberlain, and Kareem Abdul-Jabbar.  Pretty special company for one of the most remarkable scorers of my lifetime, and the ultimate tribute to the way he's been able to withstand the test of time.  Indeed, longevity has become one of the most impressive aspects of Kobe's 17-season career.  Other superstars have risen since he played his first All-Star game in 1998, and it can be argued that a handful achieved a comparable level of play.  What none of them have been able to do is maintain elite status for as long as Kobe Bryant, who leads the NBA in scoring at this very moment.  To me, it's not Kobe's peak that sets him apart from his peers; it's his durability, which is a testament to his work ethic.  If there's one thing I can appreciate about Kobe Bryant — a man who has shattered the hopes and dreams of many of my favorite teams — it's his work ethic. In honor of Kobe's accomplishment, I'd like to discuss four of his 30,000 points, and the way that they impacted me as a basketball fan.  Bean has made more than his share of memorable buckets, and I could run off a list with the greatest of ease… but I'd prefer to focus on a pair of shots that altered my perspective on the game that I love. To me, the points scored in this video represent the paramount of all Kobe Bryant moments.  To watch him confidently pound the ball as he weaves his way up the floor, to remember how certain I was that he wouldn't miss… it still gives me chills.  I'm presently sitting in the very same place I sat in 2006, and I remember how this game (and the series as a whole, really) changed my outlook as a basketball fan.  Back then, I don't think I recognized the significance of Kobe's deciding shots in terms of my own attitude… but to consider it now, their impact becomes very clear. When I was younger, I didn't necessarily appreciate the greatness of those players I didn't like.  While I wouldn't say that my feelings ever rendered me a complete moron, some of my personal preferences certainly developed into biases that effected my ability to look at the game in a completely rational manner.  More importantly, these biases prevented me from enjoying my favorite game to the fullest.  To make a long story short (and relevant), I grew up in New England.  I was introduced to the game by a lifelong Laker hater and it felt pretty natural to wholeheartedly dislike Kobe Bryant — even before I had a reason, and no matter how great he was. By 2006, I'd been a hardcore NBA fan for a couple of years.  I was beginning to develop a strong set of my own opinions, and I'd adopted the run-and-gun Suns as my postseason favorite.  Phoenix would meet up with Los Angeles in the first round, and as far as I was concerned I had a clearcut horse in the race.  I still wasn't overly fond of Kobe, and a strong allegiance to Tim Thomas made my give-a-**** level pretty damn high.  I wasn't exactly thrilled to see the top-seeded Suns fall behind 1-2 in the series, but I knew everything would be fine if they could win game four. The Phoenix Suns did not win game four.  Not only did they not win, they lost in the most heartbreaking way possible — by two points, in overtime, on a buzzer-beating shot by the villain, Kobe Bryant.  His pull-up jumper had given the Lakers a commanding 3-1 series lead, and my horse appeared to be going down… yet I specifically remember being so overwhelmed by this unbelievable game that I couldn't wipe the stupid grin off my face.  The wonder of the moment felt absolutely surreal, and my amazement at what I'd just seen and the joy of having witnessed it simply overrode my other emotions.  At that very moment, I think I had a basketball epiphany.  While my love of the sport was already evolving, this was the definitive moment that truly, honestly made me a fan of the game first.  Essentially, it subconsciously hammered home what I consider to be a valuable lesson in appreciation. And it all set the stage for my guy Tim Thomas to be the hero!  Man, what a fantastic series that was.  Unbelievable. Note: Big ups to Smush Parker.  His role in the game-tying play always gets overlooked.  How often does a guy get a steal from Steve Nash in a situation like that?
Original Story:
http://nba247365.com/?p=8787
THE BACKYARD
BEST OF MAXIM
RELATED ARTICLES
LA Laker Kobe Bryant became the youngest NBA player to score his 30,000th point last night. Bryant is 5th all time. 1 Kareem Abdul-Jabbar 38,387 2 Karl Malone 36,928 3 Michael Jordan... Full story at Bob's Blitz ~ http://www.bobsblitz.com
Kobe Bryant engraved his name into the history books even more than it already is, tonight. Bryant became the youngest player in NBA history to reach the summit of 30,000 points, at just 34 years, 104 days old. A feat only four other players have accomplished in the history of the league — Wilt Chamberlain (31,419 points), Kareem Abdul-Jabbar (38,387), Karl Malone (36,928...
Kobe Bryant and Turkish Airlines.. What?
NEW ORLEANS (AP) -- Kobe Bryant scored 29 points, making him the fifth player in NBA history to score 30,000, and the Los Angeles Lakers snapped a two-game skid with a 103-87 victory over the New Orleans Hornets on Wednesday night. Bryant entered the game needing only 13 points to eclipse the scoring milestone and did so with a short jumper late in the first half that was perhaps...
Ballertainment Kobe Bryant becomes fifth NBA player to score 30,000 points Kobe Bryant hit a milestone today that put him in a unique "fraternity." He scored his 30,000th career point in the NBA and became the fifth player to do so behind Kareem Abdul-Jabbar, Karl Malone, Michael Jordan, and Wilt Chamberlain. Bryant surpassed Shaquille O'Neal on the list Wednesday when the...
Kobe Bryant scored 29 points, making him the fifth player in NBA history to score 30,000, and the Los Angeles Lakers snapped a two-game skid with a 103-87 victory over the New Orleans Hornets on Wednesday night. Bryant entered the game needing only 13 points to eclipse the scoring milestone and did so with a short jumper late in the first half that was perhaps the least spectacular...
ROCKET FUEL
Earlier in the week, Los Angeles Lakers' Kobe Bryant called out teammate Pau Gasol and said that he needs to "put on his big boy pants." Needless to say, the entire Lakers team has not played well, and it isn't just Gasol that has had a hard time adjusting to all the new pieces and [...]
For those of you that think Los Angeles Lakers guard Kobe Bryant is getting a tad old, you might want to check out this clip. During Wednesday night's game against New Orleans Hornets, Kobe picks the pocket of rookie guard Austin Rivers and takes it to the other end for a two-handed slam dunk:
A couple of days ago, Los Angeles Lakers star Kobe Bryant was quoted by media members telling Pau Gasol to put on his "big boy pants".Well, it appears that Gasol and the Lakers forgot their "big boy pants" as they blew a 13-point lead in a loss to the Houston Rockets on Tuesday.During the Houston radio telecast of the game, announcer Craig Ackerman celebrated...
Oklahoma City star Kevin Durant, who is now at 10,517 career points after scoring 36 in the Thunder's 114-108 victory over the Lakers Friday night, remembers growing up and watching Kobe Bryant dominate.  "I didn't really get to see a lot of Jordan in his prime," said Durant, who then playfully took a jab at Bryant. "But seeing Kobe, I know he's an old fart."...
Quote of the night goes to Houston Rockets radio voice Craig Ackerman with the epic call at the end of the Rockets' game against the Los Angeles Lakers.  After losing to the Magic, Kobe Bryant said the struggling Pau Gasol needed to "put on his big boy pants".  After giving up a 17 point lead, the Houston Rockets defeated the Lakers and Ackerman proclaimed, "The Lakers...
NBA News

Delivered to your inbox

You'll also receive Yardbarker's daily Top 10, featuring the best sports stories from around the web. Customize your newsletter to get articles on your favorite sports and teams. And the best part? It's free!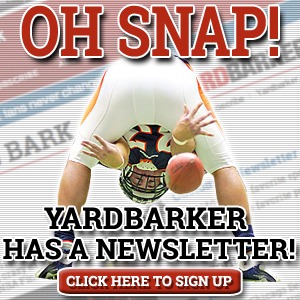 Latest Rumors
Best of Yardbarker

Today's Best Stuff

For Bloggers

Join the Yardbarker Network for more promotion, traffic, and money.

Company Info

Help

What is Yardbarker?

Yardbarker is the largest network of sports blogs and pro athlete blogs on the web. This site is the hub of the Yardbarker Network, where our editors and algorithms curate the best sports content from our network and beyond.