Found January 25, 2013 on Wizards Extreme:
PLAYERS:
John Wall
,
Randy Wittman
,
Kevin Garnett
,
Kevin Love
,
Flip Saunders
,
Bradley Beal
,
Josh Howard
,
Andrei Kirilenko
,
Dante Cunningham
,
Derrick Williams
,
Ricky Rubio
,
David Kahn
,
Rick Adelman
,
Luke Ridnour
TEAMS:
Boston Celtics
,
Minnesota Timberwolves
Earlier this week, Wizards Extreme teamed up with the John Flesta (@jflesta) of Timberpups.com to preview tonight's matchup between the Wiz and the Wolves. The post is in Q&A format, with the answers to three questions pertaining to both of our respective squads. John provided some good insight on the state of the Timberwolves and I did the same for our Wizards. Here is a simulcast of the post. We'll start with my answers regarding the Wizards. First and foremost, John Wall is back in action and looks like he is close to 100% already.  What have you noticed thus far in his play – strengths, potential weaknesses, where he may be struggling, etc.?  Abdullah: Wall's return has posed an immediate impact on the team, as the Wizards find themselves playing with a refreshing sense of aggression and fluidity that's been rare to the Wizards faithful up until his recovery from the stress fracture in his knee. Over the past week and a half, the Wizards have won 5 of their last 7 games, including wins over Oklahoma City, Denver and Portland. Wall has defied several concerns regarding his conditioning, physical strength, and his overall rust from being away from the game for so long. While he displays the same speed and agility we've been used to, Wall has also been facilitating the offense in a more disciplined manner. However, Wall has also proven that he still has some improvements to be made. His mid-range jump shot remains questionable, although his form has clearly improved. At times, Wall finds himself underestimating his speed down court, which usually results in making the wrong decision in transition, leading to a charging foul or a turnover. But overall, Wall's long absence has proven his worth, as the Wizards now find themselves in the midst of newfound success, with John Wall being the catalyst.   Tell us how you feel about Randy Wittman, but please keep it PG-13.  As a former coach for our Pups, I remember Wittman driving fans criminally insane in Minnesota.  Has he made any improvement whatsoever?  Would you like to see him return as coach next season?  Abdullah: Wittman's tenure in Minnesota is very similar to his current one in DC. Besides the short stint he had coaching Kevin Garnett in 2006 and then-rookie Kevin Love in 2008, Wittman's basketball teams have been sorely untalented. When his predecessor Flip Saunders was fired 17 games into the season last year, Wittman was called upon to take over a squad in complete disarray and misdirection. If you follow DC sports, you'll clearly notice the blame for the team's failure is directed more towards the men in upper management, as opposed to the coach himself. While Wittman does endure scrutiny for his questionable player rotations and strategies, many consider Wittman to be a victim of a bad culture and a coach who has had very little talent to work with. Wittman's Wizards finished the season last year riding a six-game win streak, but several key injuries and managerial mishaps led to an underachieving lineup and the worst start in franchise history. As mentioned in my previous answer, the Wizards are now back at full strength with John Wall back in the lineup, along with a healthy Nene and a vastly progressing rookie in Brad Beal. In his short time as Wizards coach, Wittman has proven that with the right tools and personnel, he can make for a respectable coach in the NBA. Rumors swirled recently that Bradley Beal might be available for the right price.  What do you think of the rookie and his play thus far?  What does he need to improve on to become a complete player for this franchise (or another)?  Can the team build a contender with both Wall and Beal?  Abdullah: Bradley Beal got off to a bit of a slow start to his NBA career. As a player who was touted for his deadly shooting and abilities to create scoring opportunities, Wizards fans initially observed a player who lacked aggression and shot poorly from the field. Just a few weeks later, Wizards fans observed a player who was named Eastern Conference Rookie of the Month for December. During that span until now, the 19-year old has found his comfort on the floor and is no longer shy about attacking the rim. Beal shows great poise and confidence. His skill set is starting to take great shape as he has shown his ability to create offense and find open space for high percentage jumpers. These factors all led to the dismissal of potential trade offers and the decision to keep him in DC with the pursuit of eventually constructing one of the more dangerous backcourts in the league along with John Wall. And now meet the Timberwolves...or the "Pups" as they like to call them... How frustrating has the health of Kevin Love been this season and how have the Timberwolves been able to fill the void with the absence of his inside presence as well as threat as a shooter around the perimeter? John: Kevin Love's broken hand from knuckle push-ups essentially set the tone for what was yet to come this season for the Timberwolves.  This freak accident started off a stretch of terrible luck in the injury department that has hit the vast majority of the lineup.  To be honest, before losing Budinger, Roy, Pekovic, and/or Shved (not to mention Josh Howard or the random games that JJ Barea and Andrei Kirilenko have missed … yes, this is all in a half a season) the Wolves were doing "OK" and treading water in Love's earlier absence from the team.  However, the roster is far too deep in the water at this point and it is hard seeing this team stay afloat while Love recovers from the surgery and extended amount of time he's now scheduled to miss (8-10 weeks after the surgery, which happened about a week after the injury occurred.  This was due to … the surgeon being sick and out of the office.  You can't make this stuff up with how the season is going.) At this point, they aren't able to make up for Love's absence.  Earlier in the season, Kirilenko, Dante Cunningham, and Derrick Williams were filling in admirably and rotating nicely based on match-ups.  Unfortunately, that isn't happening anymore.  To your last point, the team is abysmal from beyond the arc.  Love's hand injury led to a lot of his own struggles here when he was playing, but there really isn't another player on the current roster that can consistently hit a three pointer right now.  What are the general outlook and opinion of Ricky Rubio and his potential success as a member of the Timberwolves? How much of a difference maker is he when on the floor and how does his game compare to John Wall's? John: (Disclaimer: I'm a huge Rubio backer) Rubio is struggling to find his form right now as he continues to fight his way past the torn ACL injury from last season.  He is passing up too many open shots and then when he is taking them, they are consistently falling flat and drawing iron.  He has shown flashes of brilliance, but you won't see it in the box score on most occasions, as the team has been very strict in limiting his minutes and will continue to do so for the foreseeable future.  Ricky is very clearly who David Kahn and company want to build around.  Assuming he shakes the rust off over the course of the rest of this season and comes back to form (and beyond) to what was seen in his rookie year, you can expect a maximum offer on the table waiting for Ricky to sign.  There are a lot of "what if" scenarios to play out between now and then though, so it is impossible to say whether or not he remains with the team through all of that.  His potential success is off the charts.  On the court, his vision is bar none.  He almost singlehandedly made the bounce pass cool again in the NBA last season.  From what is seen from afar, teammates love playing with him.  You can sense his leadership on the court and it seems to carry over to practice and the day to day life with teammates.  I believe he is more "valuable" than Kevin Love.  I'm not saying he is "better", but I do believe he is more valuable to winning games for this franchise.  Frankly, they need each other to succeed in Minnesota, but Rubio definitely makes everyone else around him better and I can't necessarily say the same thing about Love.  With the halfway point of the season approaching, the Wolves are just a few games out of the final playoff spot. What areas do the Wolves need to address in order to make their second half push and secure that spot? John: Simply put: Health and good luck.  Unfortunately, the former is nowhere to be found and it isn't coming back to this roster anytime soon.  With Budinger out until February/March, Love out until March or so, Roy out indefinitely (and probably done), and Rubio still working out the kinks, it just seems like too much to overcome.  The team's recent play suggests that they have finally hit that threshold where enough is enough.  They have not looked very good over the past few weeks and I fear that there isn't an end in sight to this. It also doesn't help that Rick Adelman has left the team to be with his ailing wife and the sidelines have been left to Terry Porter.  (To clarify this so it isn't interpreted incorrectly – Adelman needs to do whatever it is he feels best for his family.  The point I'm making here is we are very clearly "trading down" when going from Adelman to Porter on the sidelines.)  While a tremendous amount of the current situation is due to injuries, you will likely get a chance to see a few head scratchers from the coach in Friday night's game.  To be honest, I've already talked myself into the fact that this team is not going to make the playoffs again this season.  Going into the trading deadline, I don't expect to see a significant move made.  However, I wouldn't be shocked if JJ Barea or Luke Ridnour is moved for more of a true SG.  In the offseason, I do expect at least one of them moved, potentially with Derrick Williams, as the former #2 pick in the draft will have a new home for the '13/'14 season.  Hopefully, those one or two moves provide the team with a significant upgrade at the SG or SF position to move into next season with.
Original Story:
http://www.wizardsextreme.com/2013-ar...
THE BACKYARD
BEST OF MAXIM
RELATED ARTICLES
John Wall is back in the starting lineup for the Washington Wizards. Coach Randy Wittman said Wall would start for the first time this season Friday night against the Minnesota Timberwolves. Wall had been coming off the bench since making his season debut Jan. 12. He missed the first 33 games while recovering from a stress injury to his left knee cap. Wittman said Wall will continue...
John Wall made his first start of the season in a win Friday over the Minnesota Timberwolves. Wall played well, making 6-of-10 shots and 2-of-3 free throws for 14 points. The Wizards point guard added a rebound, five assists and two blocks. Despite starting, Wall played few minutes -- just 21 -- than his last five games. In those games, he averaged 27.2 minutes (14.4 points...
The Washington Wizards have found some stability since John Wall returned from injury. Getting Ricky Rubio back hasn't had that effect for the injury-plagued Minnesota Timberwolves. Back from their western swing, Wall and the Wizards will try to extend their season-high home winning streak to four on Friday night when the Timberwolves try to get on track with the first of two...
John Wall had 14 points and five assists in his first start of the season, and the no-longer-last Washington Wizards finally hit double digits in wins Friday night with a 114-101 victory over the Minnesota Timberwolves. Wall, who came off the bench for the first seven games after his return from a knee injury, had assists on the Wizards' first two baskets in a game in which...
The Washington Wizards have found some stability since John Wall returned from injury. Getting Ricky Rubio back hasn't had that effect for the injury-plagued Minnesota Timberwolves. Back from their western swing, Wall and the Wizards will try to extend their season-high home winning streak to four on Friday night when the Timberwolves try to get on track with the first of two...
WASHINGTON -- The Washington Wizards have been called many names this season. Following their latest victory, one moniker no longer applies: last place. John Wall had 14 points in his first start of the season and the Wizards moved out the NBA's basement with a 114-101 win over the Minnesota Timberwolves on Friday night. Jordan Crawford paced six double-figure scorers with...
wizards 86 bulls 73 1/26/2013 - Verizon Center, Washington, DC ESPN Boxscore NBA.com Game Highlights     Emeka Okafor: Even though he wouldn't admit it was just him in the locker room after the game, John Wall has really been the one factor for improvement with every single player. For the first part of this season, Okafor's play was frustrating...
WASHINGTON -- Emeka Okafor tallied 15 points and 16 rebounds, and John Wall also had 15 points as the Washington Wizards won their fifth straight home game with an 86-73 victory over the Chicago Bulls on Saturday night. Nene's 16 points led the Wizards (11-31), who took control with a 34-11 run overlapping halftime. Washington has won 7 of 10 games after starting the season...
WASHINGTON -- Earlier this season when they endured nightly jabs on and off the court, the Wizards might have been content simply running with the Bulls. Now with its full contingent in place, Washington is delivering the gory knockout blows. Emeka Okafor tallied 15 points and 16 rebounds, and John Wall also had 15 points as the Wizards won their fifth straight home game with an...
Emeka Okafor had 15 points and 16 rebounds, helping the surging Washington Wizards beat the Chicago Bulls, 86-73, on Saturday night. John Wall and Nene each scored 16 points for Washington, which has won consecutive games for the second time this season. The Wizards have won five straight at home for the first time in five years and seven of 10 overall. It's a marked improvement...
       AT              Friday, January 25th, 2013 7:00 PM ET TV: Comcast SportsNet Plus HD Steve Buckhantz and Phil Chenier   Radio: 106.7 FM/1500 AM Dave Johnson and Glenn Consor   Ricky Rubio John Wall Timberwolves Projected Starting Lineup      Wizards Projected Starting Lineup      ...
As successful as their recent homestand was, the Chicago Bulls have been even better lately on the road. A visit to one of the Eastern Conference's worst teams would appear to give the Bulls a prime chance for another win away from home, but the Washington Wizards have proved difficult to beat at home lately. The Bulls will seek a sixth consecutive road victory and their season...
NBA News

Delivered to your inbox

You'll also receive Yardbarker's daily Top 10, featuring the best sports stories from around the web. Customize your newsletter to get articles on your favorite sports and teams. And the best part? It's free!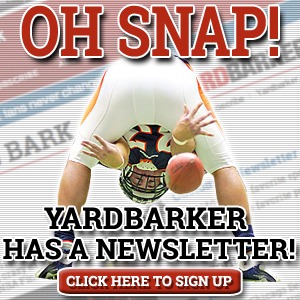 Latest Rumors
Best of Yardbarker

Today's Best Stuff

For Bloggers

Join the Yardbarker Network for more promotion, traffic, and money.

Company Info

Help

What is Yardbarker?

Yardbarker is the largest network of sports blogs and pro athlete blogs on the web. This site is the hub of the Yardbarker Network, where our editors and algorithms curate the best sports content from our network and beyond.