Found June 25, 2012 on Fox Sports Florida:
MIAMI If his dramatic finish to the NBA Finals was the last game of his career, Mike Miller can live with that. If thats the one thing Im remembered for, Ive fooled a bunch of people, Miller said about scoring 23 points in 23 minutes last Thursday when Miami eliminated Oklahoma City to win the Finals 4-1. The Heat swingman said after Mondays championship parade he could know more soon about whether heath problems might force him to retire. He said its 50-50 he will need back surgery for a bulging disk, and he expects to see a doctor later this week for an MRI. It will be hard for me to walk away, but at the same time I got to make the right decision, said Miller, a 12-year veteran who starred at the University of Florida. I want to be able to play with my kids at some point. Millers back really was hurting during the playoffs, but he was vague about it because he didnt want to be shut down, so I didnt let them dig too far into it. If his back checks out, Miller would like to return next season to the Heat. Im going to play as long as I can, said Miller, who also was scheduled Monday to have an exit physical. If (the back is) something that can be fixed and I can play, Im going to play. But there are a lot of variables. Whats best for everybody, I got to really seriously take a long look at that. Miller has three years and 18.6 million left on a five-year, 29 million contract he signed before last season. Its possible the Heat could amnesty Miller during the allowed July 1-7 period, which would result in him get all his remaining money and the Heat being able to remove him from salary-cap and luxury-tax considerations. According to the new collective bargaining agreement signed before this season, teams can amnesty one player during the life of the CBA who was on the roster when the rule was enacted. If the amnesty rule isnt used by the Heat next week, they could use it next year or after then. For sure, were going to have discussions, Miller said about talking to Heat officials before the upcoming amnesty period expires. They may want to amnesty me anyhow. Who knows? Its just the way this business is. Im just happy I was able to be part of this. If Miller is not an amnesty victim and he no longer can play, other options could include Miller being bought out or league doctors eventually ruling he's permanently disabled, and some of his money later could come off Miami's books. Miller joked hes simply an old man. But he sure didnt look like one last Thursday. Chris Tomasson can be reached at christomasson@hotmail.com or on Twitter @christomasson
Original Story:
http://www.foxsportsflorida.com/06/25...
THE BACKYARD
BEST OF MAXIM
RELATED ARTICLES
ON THE COUCH
LeBron James took his talents to New York on Tuesday night to appear on the David Letterman Show, and he brought his championship trophy with him. One of the highlights for me was the crack Letterman made about LeBron: "He's like Kim Kardashian. He got that first ring and now he's looking for more." LeBron had a moment kissing his champion ship trophy and Letterman retorted...
If you're wondering who LeBron James views as his primary competition in the NBA, the answer is Kevin Durant. During an interview with ESPN's Rachel Nichols, LeBron identified Durant, not Kobe Bryant, or Derrick Rose, or anyone else, as the player that pushes him the most. "For him to continue to work hard … he's going to be my inspiration," James said. "He's going...
You don't have to be a basketball analysis to note that Miami Heat PG Mario "Chalmy" Chalmers gets yelled at a lot. You also don't have to be an analyst to know that 1. In the midst of being a very good player he really does have some astounding brain farts 2. sometimes he gets yelled at when it doesn't appear to be his fault 3. it seems the yelling doesn't really phase...
Today, the city of Miami embraced the Heat with a championship parade. On Thursday night, immediately after the Miami Heat won the 2012 NBA Championship Dwyane Wade, LeBron James, and Chris Bosh charged the winners suit and in a roar of celebration and doused Pat Riley and his white Armani shirt with Dom Pérignon Vintage 2003 Luminous. Pat Riley said with a smile "Now we grow...
Last night while I was watching my beloved Kardashians pretend to hate fame on Oprah's Next Chapter, a commercial aired about next week's episode. Next Sunday at 8pm on OWN (a channel most of my readers probably don't frequent!) Oprah will interview NBA Champs Chris Bosh, Lebron James and Dwyane Wade about their championship and the women in their life. I don't know if that...
PRESERVING THE PAST
Employee and friend of Taj Gibson, Floyd FSharp Johnson, had this amazingly awesome birthday cake made today for the Bulls power forward, an homage to the legendary dunk over Dwyane Wade in the 2011 Eastern Conference Finals: photos via Twitter @sharkpbk
Dwyane Wade plans to use the offseason to improve his outside shooting.
When LeBron decided to take "his talents to South Beach" a couple years ago, Dan Le Batard celebrated "LeBronakuh" with a classic rant on his radio show in Miami. Le Batard was more than happy to embrace the villain role and has gloated with similar rants usually after the Heat had closed out a playoff series. To no one's surprise, a hopefully much more bundled...
  It's the Cabbage Patch, y'all! Now, show us some Macarena moves…
Tonight was a great way to celebrate the Miami Heat's victory over the Oklahoma City Thunder in the NBA Finals. We broke down the Finals player by player. Adam Cristo was live at the American Airlines Arena for the party and parade today and he give his thoughts and observations. We recapped the Jerry Sundusky trial and his convictions on 45 of 48 counts of sexual child abuse....
2012 NBA Finals Recap Look, I was just happy once the 2012 NBA Finals finally started. It was one thing for every national sportswriter, blogger, Governor, and late-night TV host to offer their fly-on-the-wall predictions. And it was entirely another for every Hollywood Celebrity, family member, and professional colleague to throw down their own gauntlet. But once my 85 year old...
Heat News

Delivered to your inbox

You'll also receive Yardbarker's daily Top 10, featuring the best sports stories from around the web. Customize your newsletter to get articles on your favorite sports and teams. And the best part? It's free!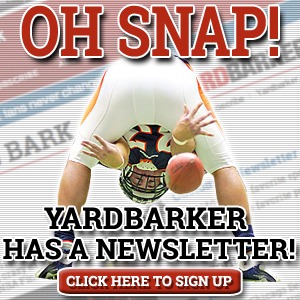 Latest Rumors
The Backyard

Today's Best Stuff

For Bloggers

Join the Yardbarker Network for more promotion, traffic, and money.

Company Info

Help

What is Yardbarker?

Yardbarker is the largest network of sports blogs and pro athlete blogs on the web. This site is the hub of the Yardbarker Network, where our editors and algorithms curate the best sports content from our network and beyond.