Found November 02, 2012 on Down with Goldy:
PLAYERS:
Rashad McCants
,
Rick Adelman
,
Kevin Love
,
Ricky Rubio
,
Luke Ridnour
,
Brandon Roy
,
Randy Foye
,
Alexey Shved
,
Malcolm Lee
,
Andrei Kirilenko
,
Chase Budinger
,
Kevin Mchale
,
Dante Cunningham
,
Derrick Williams
,
Louis Amundson
,
Nikola Pekovic
,
Greg Stiemsma
TEAMS:
Minnesota Timberwolves
,
Utah Jazz
,
Boston Celtics
Ricky Rehabbing Knee So, I had planned on doing a little blurb about every team in the NBA leading up to a grand Timberwolves finale today.  I made it through the Eastern Conference and I'm freaking exhausted.  So, today I'm doing the Wolves season preview as planned, and maybe I'll haiku the crap out of the rest of the conference early next week. Chance for the playoffs Hangs in the balance by just a few knee tendons If I knew how to photoshop, I'd draw a face on that mole. Say what you will about KAHN, he's certainly had his ups and downs as the GM for the Timberwolves.  One thing that continues to be a theme though is if you can't play, you're out.  Even if he drafted you and thought very highly of you (Flynn>hi) - he doesn't keep you around long if you don't perform.  Another thing that is fairly easy to see is how the Wolves have gained depth under the KAHN regime. Remember when guys like Rashad McCants, Sebastien Telfair and Craig Smith were playing major minutes? Also, I don't know how he did it, but getting Rick Adelman was a stroke of luck/genius.  It could be as simple as Kevin Love's connection to him, but man, he is one good NBA coach.  I'm sure all of the money helps too. Let's break down our 2012-13 Timberwolves by position. Point Guard - There is no doubt that Ricky Rubio was a sensation in 2011...right up until the horrible knee injury that resulted in a torn ACL and LCL.  Watching that poor dude roll on the ground was pretty sad.  Seeing him now as he prepares to return (mid-December is the latest projection), he appears to be in high spirits and ready to roll.  Rubio probably won't be going for 35mpg like he did last season, rather they'll work him back slowly, so I wouldn't expect a big jump from the 10 points and 8 assists he had last year.  He truly is a player that everyone on the court better and I can't wait for him to get back.  In the meantime, Luke Ridnour and JJ Barea are more than capable backup point guards.  Ridnour (12ppg, 4.8apg) signed a 4 year, $16MM deal in 2010 that was panned by most, but he's been a solid player.  Look for the 32.2% he shot from 3 point range to jump back up to the 37-38% range.  Barea (11ppg) was banged up a lot last year, but I like his aggressive play style and he'll chip in as well.  Shooting Guard - Brandon Roy is back!  You may remember the Timberwolves briefly had his rights before we pissed them away for Randy Foye and $1MM cash money.  Roy went overseas and had super secret wolverine type procedures to repair his knees with adamantium.  He'll be playing 30+ minutes right off the bat, so we'll see how he holds up I guess.  I'm hopeful and with the injuries I can see Roy being a 17-18+ppg game until Love and Rubio return.  This guy can score and can finish games, and if he's 90% of his formal self we have a legit 2-guard.  Alexey Shved was a sneaky signing from Russia and I and many other internet knobs have compared his game to Rubio's.  It's true in that he's an excellent ball handler, he's all over on the court, he runs the floor.  It's different in that he's bigger (6'7") and he's a better shooter.  He may not play much early as Ridnour and Barea may see time at the shooting guard as well, but I see him playing more as the year progress.  Malcolm Lee is a second round pick from UCLA that is in his second year with the Wolves.  He's considered a pretty good defender and by most accounts is work hard to improve his all-around game.  I don't see him playing a lot unless they're even further decimated by injuries at this point. Small Forward - The Wolves landed another Russian import and former all-star in Andrei Kirilenko.  One thing previous Wolves' teams have lacked is a lock-down type defender.  Kirlienko can be that guy.  He's big enough to play the small or power forward position and he's very nifty inside.  He moves well without the ball and runs the floor on the break.  He even shoots a decent percentage from the 3 (35.7%) over his career.  He's also average more than a block and a steal per game through his career.  He doesn't need to be a focal point of an offense to be effective, which is extremely useful.  Chase Budinger was also added this year when the Wolves traded their #18 pick to Houston for him.  Kevin McHale satisfied his man-crush for Royce White with that pick and the headaches have already begun. (maddencruiser)  Budinger is a good offensive player; he's athletic, he runs well and can shoot it.  Dante Cunningham was obtained in a trade to Memphis for Wayne Ellington.  Cunningham is a physical player that is known for his defense and rebounding skills.   Power Forward - Kevin Love, work-out machine, busted his hand doing kick ass high intensity knuckle pushups and will be out until at least late November. We'll also see plenty of Derrick Williams this year and he'll start in Love's absence.  He had a couple of big pre-season games and he really needs to show something early in the year.  He had surgery on his nose of all things in the off-season to improve his breathing which apparently will allow him to work out more and just get along better in general basketball-wise.  I wouldn't be surprised if Kahn shops Williams this year as there is kind of a logjam at SF/PF, but I doubt he'd give up Williams for peanuts, but it's definitely time to put up or shut up.  Louis Amundson is a warm body at the PF position that can't shoot and is kind of a long-haired Mark Madson. Center - Nikola Pekovic, who I've always been a fan of because I think he's probably buried a couple of bodies in Montenegro, had a big breakout last season.  He's leaner and even meaner this year and I expect big things.  In fact, Pek and Roy will likely be the main options early in the year.  Like Love, Pekovic is a monster on the offensive glass. He averaged 14 points and 7.4 rebounds last year, but that doesn't reflect how great he was when his minutes picked up.  Greg Stiemsma was brought in from the Boston Celtics and is taking a break from his acting career in the Hellboy movies.  He brings a strong defensive presence as well (recognize a theme, we have some defenders!).   So, there you have it, a quick recap of the roster.  There's a lot to be hopeful for even with the injuries.  As long as Roy doesn't break and Rubio and Love return in December, we're going to watch some playoff basketball come spring. 
Original Story:
http://feedproxy.google.com/~r/DownWi...
THE BACKYARD
BEST OF MAXIM
RELATED ARTICLES
Anyone who knows Brandon Roy can attest to that fact that Roy is a real calm and cool cat both on and off of the floor. But come Friday evening in Sacramento, the Minnesota Timberwolves guard will likely be a ball of nerves as his NBA comeback tour kicks off in Minnesota's regular season opener. It has been a very long and very interesting 19 months since Roy last played in...
MINNEAPOLIS Rick Adelman told Brandon Roy not to worry about the missed shots. Dont worry about the 10 field goals, the five three-pointers, the two free throws. Theyll come. My, what a positive after a 92-80 win that came in spite of the Timberwolves offense, in spite of Roys shooting, in spite of so much. But Adelman isnt delusional. Hes been doing this too long to be. Hes had...
MINNEAPOLIS With 67 seconds remaining in the Timberwolves' 2012 home opener, the sold-out Target Center crowd at once took its feet. It was uncanny, almost, the unity with which an entire arena rose and realized that the season it had been dreaming of since long before the last one ever ended would begin with a win. The fans got just a minute to revel in it. They should have...
MINNEAPOLIS The Timberwolves held their final practice on Thursday before the regular season begins Friday night at home against the Kings. Finally.They'll be one of seven teams come Friday that have yet to play a game and the only Western Conference team that won't have taken the court. If it weren't for the Knicks-Nets cancellation, the Timberwolves would have been...
The T'Wolves are an interesting team, a nice young core with little experience, but tons of talent. However, they are starting the season facing injuries to major contributors on the team. Kevin Love and Ricky Rubio won't be back for a while out with a broken hand and recovering from ACL surgery respectively. They did add Andrei Kirilenko and Chase Bundinger which should be able...
(Eds: APNewsNow. Will be updated. AP Photos.) By DAVE CAMPBELL AP Sports Writer Brandon Roy's once-balky knees have been holding up. Now the Minnesota Timberwolves are going to put those valuable joints of his to the test. When the Timberwolves host Sacramento on Friday night, Roy will take the court and complete a remarkable comeback from chronic pain in both of his knees...
MINNEAPOLIS On Wednesday, James Harden's deal in Houston got done, as did Steph Curry's with Golden State and DeMar DeRozan's in Toronto. Chicago and Taj Gibson took it down to the wire. So did Jrue Holiday and Philadelphia, but both got their money. As the clock ticked to midnight, these and other members of the draft class of 2009 learned their fates; the winners saw...
The Minnesota Timberwolves fell apart last season after Ricky Rubio went down with an injury. How they'll fare with both him and star Kevin Love sidelined to begin the 2012-13 campaign remains to be seen. Brandon Roy and a host of newcomers make their team debuts Friday night when Minnesota hosts the Sacramento Kings, who will look to clean up their play after dropping their...
J.J. Barea had 21 points and five assists in 28 minutes for Minnesota, helping the Timberwolves overcome a weak shooting performance in their season opener and beat the Sacramento Kings 92-80 on Friday night. Brandon Roy pitched in 10 points, six assists and five rebounds and Andrei Kirilenko added 10 points, seven rebounds and five assists as both players returned to NBA action...
The Minnesota Timberwolves may be in position to gain a rare win over the Toronto Raptors. The Timberwolves have lost 14 of their last 15 in this series and eight straight in Toronto heading into Sunday night's matchup with the 0-2 Raptors. Minnesota (1-0) hasn't won in Toronto since Jan. 21, 2004. But the Timberwolves, who visit Brooklyn on Monday, start their first set...
NBA News

Delivered to your inbox

You'll also receive Yardbarker's daily Top 10, featuring the best sports stories from around the web. Customize your newsletter to get articles on your favorite sports and teams. And the best part? It's free!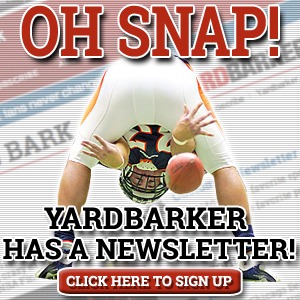 Latest Rumors
Best of Yardbarker

Today's Best Stuff

For Bloggers

Join the Yardbarker Network for more promotion, traffic, and money.

Company Info

Help

What is Yardbarker?

Yardbarker is the largest network of sports blogs and pro athlete blogs on the web. This site is the hub of the Yardbarker Network, where our editors and algorithms curate the best sports content from our network and beyond.